In the News
Please select from the list below to view our most recent news stories:
November 6, 20020 - SiteSeer Technologies Discusses COVID-19 Data Challenges
SiteSeer Technologies, creator of SiteSeer Professional site selection software and Void Analysis Pro, hosted a webinar on October 29, 2020, with five data partners: ChainXY, UberMedia, Synergos Technologies, Inc., Planned Grocery and INRIX. The webinar, titled "Dealing with Data Challenges Created by COVID-19," delved into the various ways that the widespread effects of COVID-19 are impacting the data used in the SiteSeer platform by retailers, chain businesses, brokers and developers, and communities. (Read more).
March 16, 2010 - How to cash in on the census
Abstract: You can order a meatball sub at any Subway store in the country, but you can't necessarily order the same drink. The line-up at the soda fountain can vary by zip code -- and that's thanks to census data... (read more)
July 11, 2008 - Retailers, Data Sources and Cities - Bridging the Information Gap
Abstract: In the winter of 2007, Social Compact and the International Council of Shopping Centers (ICSC) embarked on a joint research effort to bridge informational gaps in retailers' site selection processes in urban neighborhoods ... (read more)
July 1, 2007 - Digging Deep - Progressive Grocer
In retail site selection, mistakes can be detrimental to a company's health. Just ask chains that have entered a new market prematurely, only to be forced to shutter a store because the growth never came, or the multitudes of grocers that are running unprofitable in-store pharmacies because they didn't first consider the powerful market share of existing drug chains... (read more)
August 23, 2006 - A Discussion with Robert Welch, President, Synergos Technologies - Directions Magazine
"I recently had a discussion with Robert Welch, president of Synergos Technologies, about a new addition to the company's PopStats demographic product. The latest release of PopStats, which is updated every quarter, includes 15 neighborhood consumer segmentation categories. The company is the first to include lifestyle classifications in a demographic data set that is updated quarterly..." (read more)
July 2006 - What, No Comps? - Chain Store Age
"In a surprise move in May 2006, home-improvement giant The Home Depot stopped issuing comparablestore sales (or comps) numbers, becoming the first major retailer to withhold sales data for stores open at least one year, a closely watched measuring stick in the retail industry. While many analysts and investors quickly criticized Home Depot's move as a "bad decision," the discontent against comps has been building for a while..." (sorry, link no longer available)
April 2006 - Are you serving your healthy eaters? - Convenience Store Decisions
"The employees of a bank branch office in Austin, Texas only have one choice when they're in a rush for lunch_ the convenience store across the street. That's bad news for their health. "I'm pretty much limited to sandwiches and juice, because I'm trying to eat healthy," says Bob, the bank's graphic designer..." (read more)
February 2006 - Big Business in Small Markets - Chain Store Age
"To the 170,000 residents of Waco, Texas, the developer that builds the new mall and the retailers that inhabit it are heroes, riding in on bulldozers and supply trucks to save the townspeople from retail scarcity... (sorry, link no longer available)
January 26, 2006 - Estimating Post-Katrina Populations with STI: PopStats - GIS Cafe
"As we move into 2006, we are well aware that entire populations have regrouped or moved as a result of Hurricane Katrina and Rita. With the loss of homes, businesses and schools, not only an entire way of life, but an extraordinary amount of data was also lost... (read more)
January 5, 2006 - Data Says Jefferson County Population on the Rise - KBTV NBC News
"Jefferson County officials say a rise in population could be just the momentum the county needs to keep on growing. Synergos Technologies Inc.,a research marketing firm, says the population in Jefferson county grew by 4,425 from July to December of 2005 ... (sorry, link no longer available)
October 2005 - Special Report: Heated Growth - QSR Magazine
"The Southeast is where the action is," says Robert Welch, president of Austin-based Synergos Technologies, a company known for its population experts. Every three months, Synergos conducts market studies geared toward the retail industry. In these studies, called STI: PopStats, Synergos defines hot markets as ... (read more)
July 11, 2005 - Q&A with Robert Welch, President of Synergos Technologies Regarding STI: PopStats - Directions Magazine
Austin-based Synergos Technologies releases updated population statistics (STI: PopStats) quarterly. We were interested in finding out more about who finds value in frequently updated population stats and contacted the company's president, Robert Welch, to find out more... (read more)
Announcements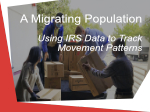 A Migrating Population - Using IRS Data to Track Movement Patterns
Check out the maps now!
Chat with us for more info
---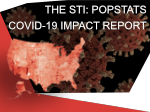 The PopStats™ COVID-19 Impact Report:
Available Now!
Chat with us for more info
---