Testimonials
What Companies Are Saying about STI
Synergos Technologies Inc.'s data is used by companies from a wide range of industries, including retail, real estate, healthcare, telecom, utilities, and finance. As diverse as they are, all of our customers share one common denominator — they all want to make more informed, accurate, and profitable business decisions regarding their current and future locations.
Our clients understand and appreciate the ROI of sophisticated, results-oriented demographic data, such as STI's leading-edge products — STI: PopStats™, STI: LandScape™, STI: WorkPlace™, STI: Spending Patterns™, STI: BlockPoint™, STI: Market Outlook™, and STI: Colossus™.
Here are just some of the many comments shared by our clients about STI's leading-edge data.
"We have been using PopStats since it first became available for three primary reasons. First, I was impressed that I could get all of my demographic data from one source. Secondly, PopStats was the only product that was updated quarterly, including population counts, ethnicities, incomes, and seasonality. Third, I have great confidence in the source of the data — residential postal delivery."
— Dale Caldwell, Kroger Corp.
"We greatly appreciate that Robert added Puerto Rico population estimates to PopStats at our request. This is a very successful market for us, and gaining access to this data has allowed us to think more strategically about our stores in that market."
— Jillian Beydilli, Walgreens
"To expand into new high-growth markets, we needed regularly updated population estimates that accurately reflect current population changes. We became so confident with PopStats we decided to use its entire data set exclusively. Now we are expanding new housing development with much greater confidence."
— Kyle Kretsinger, Weingarten Realty
"We have used PopStats since 2004 and have enjoyed greater confidence in our population counts, especially in market areas undergoing rapid change. With PopStats accurate quarterly data, we are able to build more powerful predictive models, assess information in the field, and make better real estate decisions — all with greater confidence than ever before."
— Brian Strickland, Family Dollar
"PopStats gives us seemingly infinite knowledge about our customers - where they live, work, and travel. With PopStats we can conduct much more sophisticated market research, including locating our best customers by factors that are critical to Del Taco, such as ethnicity and income. This provides a major customer-targeting advantage, particularly in new markets."
— Andy Verostek, Del Taco and Captain D's Seafood Kitchen
"STI: PopStats gave us a much better understanding of our market's seasonality, as well as the occupancy rates related to the new home construction. As a result, we were able to make more informed and more profitable site development decisions."
— Ken McWilliams, Crosland
"Based on the unique views of Poinciana's population growth provided by STI: PopStats, we expect to open a new retail center several months sooner than we initially expected."
— Mike Wiggins, Crosland
"Synergos is always extremely responsive to my questions and demographic data needs, which only adds to the fact that PopStats is the best product available for demographic statistics."
— John Tippetts, Munson Research
"Synergos Technologies' exceptional customer service is truly refreshing. We can call them about any issue and get immediate response. It's rare to find this level of customer responsiveness today."
— Paul Rappoport, Centris Corp.
What you would like to build today? We hope to make you a satisfied client.
Announcements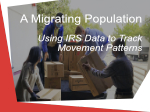 A Migrating Population - Using IRS Data to Track Movement Patterns
Check out the maps now!
Chat with us for more info
---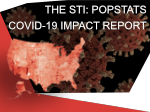 The PopStats™ COVID-19 Impact Report:
Available Now!
Chat with us for more info
---