STI: Data Depot
Sharing Unique Resources with Our Clients
Please take full advantage of our free GIS data and reporting software — exclusively available to our clients.
STI: Data Depot. For years, STI developed terabytes of data in MapInfo formats. Now, we have made this vast universe of data products available to all PopStats™ users for their GIS research activities — completely free of charge. The data includes Tiger data, USGS data, demographic data, satellite visual imagery, ISIS data (source code), and more. We consider the STI: Data Depot to be one of the perks of being a PopStats user. We hope you find it to be a valuable resource. Let us know what you think.

STI: ISIS. This Interactive Statistical Information System is a Map Info-based executive tool. The tool was created for internal use at STI to quickly and easily create maps and reports. Now it is available for PopStats users who want to a simple way to use PopStats data. While this reporting software program is free to use, if you need technical support for STI: ISIS, it is available through ROIC Analytics on a fee-based service.
In order to access the depot you will need a login ID and password. Please contact a STI team member for that information. If you have your ID and password, click here to enter.
Announcements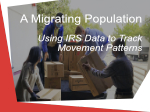 A Migrating Population - Using IRS Data to Track Movement Patterns
Check out the maps now!
Chat with us for more info
---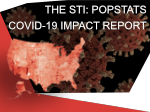 The PopStats™ COVID-19 Impact Report:
Available Now!
Chat with us for more info
---