Insight
Gain Insider Knowledge About Our Products, Events, and Research
In this section of our website you'll find the latest insights on our products from several different perspectives, including our quarterly company e-newsletter, summaries from our past User Conferences, success stories from our clients, and white papers based on market research using STI data products. Here are brief descriptions of our insights:
Client Success Stories. Many of our clients have gained significant results from our products. In this section of our website, we have gathered a selection of these success stories. Learn first-hand how other companies are applying STI products to their market research activities and how they are improving their decision-making processes, as a result.

White Papers. We have created several white papers that explore specific areas of market research. Currently, we have three separate white paper series, including a Power series, a Tech series, and a series of Briefs. Our Power series provides insights on how companies can enhance the potential of their market research activities. Our Tech series explores concepts related to the science of market research. Our Briefs series offers short and entertaining discussions about our industry's jargon and processes. Please delve into new ideas in market research within our expanding library of white papers.

STI: PopStats™ Research Conference. Each year after our Research Conference, we prepare Conference Summaries with brief synopses of all the sessions. The Summaries provide a review of the highlights of each event for those who attended and a convenient overview of the insight shared at the Conference for those who could not be there with us. Read all of our past Conference Summaries here.

STI: PopViews. Our electronic newsletter is especially designed to share behind-the-scenes insights and commentary on the latest PopStats quarterly releases, other STI products, and company updates. Read our current and past issues of PopViews here.
Announcements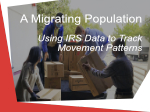 A Migrating Population - Using IRS Data to Track Movement Patterns
Check out the maps now!
Chat with us for more info
---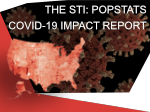 The PopStats™ COVID-19 Impact Report:
Available Now!
Chat with us for more info
---