STI: PopViews eNewsletter
Read About Updates of Our Products and News
STI: PopViews, our semi-annual electronic newsletter, is especially designed to share news about Synergos Technologies Inc. and our data product suite. In PopViews, we share behind-the-scenes insights and commentary on the latest PopStats quarterly release, other STI products updates, and company news.
The idea for PopViews came from our clients' desire for more information. In particular, following each new quarterly release of PopStats, we always receive emails and phone calls from clients who have questions regarding our personal observations on the updates. PopViews gives us the perfect way to share our product enhancement insights with everyone on a regular basis.
Read our current and past issues of STI: PopViews here.
Announcements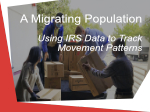 A Migrating Population - Using IRS Data to Track Movement Patterns
Check out the maps now!
Chat with us for more info
---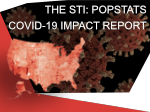 The PopStats™ COVID-19 Impact Report:
Available Now!
Chat with us for more info
---