STI: PopViews (Spring 2006)
Modeling Hurricane Katrina
Creating a Way to Measure Population Changes in the Gulf Coast.
We're pleased to report that the leading topic in our first issue of STI: PopViews is especially compelling - the impact of Hurricane Katrina on the Gulf Coast states' population counts. Since Katrina hit the U.S. shores on August 29, 2006, I've been asked by researchers many times: "What's going on in these areas?" and "How will the hurricane impact population counts?" Clients have also asked: "Will PopStats' January 2006 release take into account post-Katrina population changes?" The answer is yes!
Our clients' next question is: how is Synergos Technologies planning to analyze the Gulf Coast region's population changes? In fact, we started our research in the weeks immediately following the event by looking for new data sources and creating a new model especially for this analysis. Our research continued through the end of December, including a site visit to the heart of the disaster - New Orleans. All of our clients will gain the benefits of our in-depth research, which is available only through STI: PopStats' one-of-a-kind population estimating model.
Please take this opportunity to learn more about the unique mathematical model we created to calculate Katrina-based population changes, which other data providers have dismissed as an "anomaly." This discussion includes our first-person account of the New Orleans area.
Creating a Post-Katrina Population Estimation Model
In PopStats' October 2005 release, the "Read Me" document outlined three options that we could offer our clients for creating fourth quarter estimates of the populations in New Orleans and other Katrina-affected areas. We could either:
Simply set the population counts to zero on October 1, 2005, thereby, assuming that there was very little population in the affected areas at that time.

Ignore the storm, considering it a deviation from the norm, and assess the Gulf Coast states' fourth-quarter populations as if the disaster never happened.

Recognized the storm, but instead of being date-specific, set the populations to what we believed they would become during the fourth quarter.
Many clients told us that they preferred the third option. In fact, it is the most realistic approach, because it allowed us to both recognize the tragic event, but also not restrict ourselves to a specific date regarding an event that is and will continue to be in great flux.
Our biggest challenge in calculating post-Katrina population counts has been the lack of traditional government data for the impacted areas. The data that we normally rely on to create the PopStats model is in such great disarray that its accuracy is suspect. The most significant loss is reliable postal delivery statistics.
Many people don't realize that postal delivery statistics are available based on the decisions of each postmaster in each area. Clearly, in most cases, it behooves the postmaster to share accurate and timely postal data. However, they are not required to do so. New Orleans' postmaster has elected not to disseminate the area's current postal delivery statistics now - or any time in the near future, and, in fact, has instead opted to quote pre-Katrina statistics.
Due to the lack of traditional population-estimating data, we needed to devise a new model that would allow us to calculate population changes in Katrina-affected areas. We created this new model based on the information that was available, including data from FEMA, USGS, and state and local government sources. To ensure the model's accuracy, we calibrate it by personally visiting the New Orleans area - the most devastated of all of the impacted Gulf Coast markets. What follows are excerpts from our personal experience and insights.
A Tale of Three Parishes
Eyewitness Observations
If you're not familiar with the New Orleans area, here's a quick geographic overview of the primary populated areas:
Jefferson Parish lies to the West of New Orleans, separated from the city by a system of levees and bridges

Orleans Parish includes the city of New Orleans

St. Bernard Parish lies to the East of New Orleans, separated from the city by a system of levees and bridges.
On December 5th, we flew to New Orleans and traveled the area by car for the next three days. As we criss-crossed the region one harsh reality become very clear: The Katrina-related impact was actually two disasters within one tragic event:
The hurricane itself, which was an uncontrollable act of nature.

The levee system failure, which was a manmade disaster waiting to happen.
This distinction is important, because, although the two disasters are related, they must be viewed as separate events with regard to the recovery efforts. In other words, some of the current damage and recovery problems are related specifically to the hurricane itself and others are related only to the failure of the levee system. The recovery of the two disasters has taken distinctly different paths. Here's what we observed in brief:
Jefferson Parish was affected almost exclusively by Hurricane Katrina itself. Although some water did flow over the levees, no levees actually broke in this area. So the damage that occurred was related only to the storm's wind and rain. As a result, Jefferson Parish is back in business today.

The damage in Orleans Parish is primarily due to the levee breaks. If they had not broken the city would not be anywhere near as devastated as it is today. In fact, New Orleans would already be enjoying a near full recovery - versus an unknown future.

St. Bernard Parish, although the smallest Parish, is the hardest hit of the three. While it experienced two to three feet of flooding, it's not yet clear if the primary damage was created by the storm or the levee breaks.
What follows is a more detailed account of our first-hand, on-site observations during our early-December 2006 tour of the area.
Jefferson Parish
What Hurricane?
As we zigzagged through Jefferson Parish, we saw that even in the areas that were most affected by Katrina, communities are thriving based on three easily verifiable facts: Christmas wreaths, garbage cans, and traffic. We saw Christmas wreaths on many homes' front doors, found garbage cans neatly lining the neighborhood streets, and actually spent a lot of time sitting in traffic. In fact, as we drove up and down the neighborhoods and through retail areas, we couldn't help but think two words: What hurricane? Yes there were some trees still down here are there and many damaged roofs, but otherwise it's difficult to tell that Katrina was ever even in the area.
As far as business goes, we have three words: "Hurray for independents!" Today it is the independent business owners who are spearheading the revival of Jefferson Parish. In fact, we talked with a number of the local business owners who had reopened their shops. They are not letting a few broken windows or some storm-trash slowdown commerce in their hometown.
At the same time, the chains are pouring huge numbers of dollars into the area to get their stores up and running. This was clearly evident by the large number of contractors and construction workers onsite cleaning up the mess, and installing new floors, walls, and fixtures.
St. Bernard Parish
Slow Recovery Forecasted
The saddest section in the New Orleans area is St. Bernard Parish. This community, which had a pre-Katrina population of about 67,000 people, has only about 2,700 residents today according to our estimates. Of the three Parishes we visited it, is the smallest and is, by and large, a bedroom community to New Orleans. Further, St. Bernard Parish is located in a relatively remote area and has the least amount of infrastructure in place to support recovery efforts. Like most suburbs, its residents are predominately employees in businesses located in the nearby large city. Without those jobs, St. Bernard Parish residents do not have the resources to rebuild - and right now there are very few job opportunities in New Orleans.
The great irony is that New Orleans could use these residents to employ in its businesses as they come online, but the residents of St. Bernard Parish also need schools for their children and other services before they can return. All things considered, even optimistically, this Parish won't be sufficiently restored to habitable conditions until late January. And since most families probably won't return until the school year ends and before they can get jobs, it is highly likely to be among the last areas in Louisiana to recover from the storm. As a result, the population will stay low for the foreseeable future.
Orleans Parish
Elevation, Elevation, Elevation
The impact of the two Katrina disasters in New Orleans was a very different story from its neighbor to the east. In fact, it was startling to be in the nearly fully recovered, thriving Jefferson Parish one minute and the very next minute to be in a world caked in mud. This dramatic change of scenery occurred simply by driving across a bridge of no more than 50 yards over a levee that separates Jefferson Parish from Orleans Parish. The sad fact is that New Orleans was hit by two disasters: the Hurricane itself and the levee breaks.
As we continued up and down the streets of New Orleans, we observed many unique sights, including vast areas of the city totally deserted. Although some of the homes have been cleaned up on the outside, they are clearly not lived in because they have no windows or interior walls. However, even in neighborhoods that were nearly totally devastated by the wind and water from both the storm and the levee breaks, we occasionally found "hilltops" with two to three homes that were totally spared. They sat amid the devastation looking picture perfect, right down to their green lawns. In fact, if you could look at these few homes and ignore their surroundings, you would be totally unaware that anything adverse had occurred in the area. But they are, in fact, surviving on a rare island within a world caked in mud.
After all is said and done, in Orleans Parish the level of disaster that a particular home or business experienced boils down to one thing - elevation. If a home or business sat on any elevation above sea level whatsoever the building was spared. This explains why both the Garden District and French Quarter are two areas virtually unaffected by the disasters.
Since most PopStats users are probably most interested in the population changes and recovery prospects within New Orleans, we'll share our succinct opinion: Until the city's infrastructure is resurrected, including the school system, no business of any substance is going to occur. The good news is some of the city's infrastructure is coming online fairly quickly. Power and water are returning in most areas. In fact, some utilities are taking this opportunity to improve their services beyond their pre-Katrina conditions. For example, SW Bell is replacing its entire copper phone system with fiber optics. Although these changes are not visible, they are contributing to creating a city that will be an even better place to live than it was before.
Other signs of recovery include an A&P in the French Quarter doing a banner business, major hotels are operational, popular tourist attractions are open for business, and trendy restaurants are serving their world-famous cuisine. In fact, we were able to get tables at Baccos, K. Pauls, and Antoine's with no wait (versus the typical two to three hours), because the one thing you won't find in New Orleans are the usual crowds. When all is said and done, there's no reason why tourism can't return to the city in its nearly full regalia by Mardi Gras. So if you ever wanted to vacation in New Orleans, we'd recommend visiting now - to both enjoy the smaller crowds and to help boost its recovery.
The good news about New Orleans recovery effort is offset by the bad news. The current population living and working in Orleans Parish includes either single people, elderly citizens, or married people whose spouse and children have evacuated to other cities. Largely, families with children have set up homes in other cities such as Baton Rouge and Houston, so their children can be enrolled in operational school systems. New Orleans schools are largely closed, and until the school system is restored city wide, it's unlikely that any significant percent of the population that evacuated will return. We suspect that many parents may chose to wait until the current school year is over before they attempt to return to New Orleans, assess the damage to their homes, fix their homes, and return to living there - if they decide to return at all.
Trapped in the Ultimate Catch-22
How Quickly Can New Orleans Move to Restore its City?
In all three Parishes, the middle class is overwhelmingly leading the reconstruction and recovery. Clearly the middle class has the greatest vested interest in rebuilding their homes. Plus, they have just enough resources to do the job and the incentive to make it happen. Whereas the poor and wealthy are moving slower; probably because the wealthy simply have other alternatives, so getting their homes rebuilt doesn't necessarily have to be priority for them. And the poor residents are facing the same problems in returning and recovering that kept them from leaving during the disaster - they have extremely limited resources.
It's a sad situation indeed, because so many people want to see New Orleans return to its full glory. But the lack of commerce is probably the greatest deterrent to the recovery. It's the ultimate catch-22. Businesses need employees and customers; but employees and customers need jobs and schools.
Today the greatest conundrum for the resurrection of New Orleans - a city, ironically, that prided itself and build its unique culture on a laze-faire, slow-down-and-smell-the-roses attitude - is now facing the question: How quickly can we move to restore our city?
We predict that some retailers will hold off in planning new store development in these areas, while others will see the Gulf Coast states as a golden opportunity. Whatever your decision, PopStats' new population estimating model will keep your business abreast of the population changes taking place in these areas and other Gulf Coast markets affected by the manmade and natural disasters.
Announcements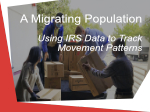 A Migrating Population - Using IRS Data to Track Movement Patterns
Check out the maps now!
Chat with us for more info
---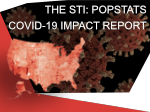 The PopStats™ COVID-19 Impact Report:
Available Now!
Chat with us for more info
---