STI: PopViews (Spring 2008)
What's New in STI: LandScape?
Expanding Our Neighborhood Segmentation System
STI: LandScape was introduced two years ago at the first PopStats User Conference as an innovative new neighborhood segmentation system. Today, we're proud to report that the product has matured into a demographic tool that is counted on by many PopStats users for gaining clearer insight into their markets. What we had hoped for the product has come to fruition - companies are using its 72 neighborhood segments and unique lifestyle indices to better target their current customers, find new customers in new markets, and conduct other market research studies.
Just as PopStats continues to grow with every new release - providing companies with access to an expanding range of data fields - LandScape also continues to grow with an ever-increasing set of neighborhood characteristics. We have just added six new indices (five related to crime and one to migration) to LandScape's original 10 lifestyle and health indices. And we've added five new "indicators" of consumer behavior related to environmental issues. All LandScape indices can be used in tandem with the product's neighborhood segments to add greater depth and breadth to any market research project.
Here is a brief look at the new features available in LandScape's 2008 release, which will be delivered in May 2008.
Five New Crime Indices. Every 3.1 seconds in America one property crime is committed and every 22.7 seconds one violent crime is committed, according to the Federal Bureau of Investigations (FBI). These and other crime facts represent critical information for retail businesses - because high crime could mean low business volume. If your stores are located in high crime areas, you'll risk losing customers as well as property. LandScape's five new Crime Indices, called The Crime Warp, rank the levels of crime in neighborhoods across the U.S. according to the FBI's most recent Uniform Crime Report. LandScape tracks crime data according to the FBI's five major areas of crime including:
Burglary. This is the unlawful or forcible entry into any residence, including garages and hotel rooms. This crime usually, but not always, involves theft.

Larceny. The unlawful taking of property, including shoplifting, pick pocketing, and stealing.

Motor Vehicle Theft. Includes stealing automobiles, trucks, buses, motorcycles, snowmobiles, and other moving vehicles.

Robbery. Taking or attempting to take anything of value from a person or persons by force or threat of force or violence.

Aggravated Assault. An unlawful attack by one person upon another for the purpose of inflicting severe or aggravated bodily injury.
New Migration Index. North Americans are more mobile than ever before, according to leading research - ranging from residents moving within and between states to international migrants moving from other countries. In fact, today U.S. migration is playing a larger role in population redistribution as compared to birth and death in the past, according to the U.S. Census Bureau. This constant movement of people from one location to the next continually changes the personalities of neighborhoods in many ways, including socially, economically, environmentally, and politically.
LandScape's innovative new Migration Index, called "Americans on the Move," is unique to neighborhood segmentation. The power of this index is its ability to help researchers determine how many people are moving into and out of specific trade areas. The
Migration Index ranks population migration across the U.S. at the county level based on data from the IRS's migration files. Access to the data migration data fields on each county include:
The top 50 counties people are moving from

The percent of people migrating from within a state who are not already accounted for in the top 50

The number of people migrating from outside a state who are not already accounted for in the top 50

The percent of international migration.
Five New Environmental Indicators. How big of a factor does the environment play in trade area research? It depends on what you are selling. For example, if you are selling boats, the answer is that the environment is an enormous consideration. After all, if you aren't near water local residents will not have much interest in purchasing boats. However, while this is a literal example of the impact of the environment on businesses' location decisions, there are a wide range of other ways that a trade area's environment could be impacting your locations, customers, and profits. LandScape offers the following five powerful ways to consider the environment when conducting market segmentation research (all ranked at the neighborhood level):
Exploring Ecoregions. The Ecoregions Index ranks geographical data from the U.S. Geological Survey organization (USGS).

Birds-Eye Views. The Terrain Index ranks geographical data on elevation and terrain from the USGS.

Water World. The Water Access Index ranks the proximity of U.S. neighborhoods to navigable bodies of water based on geographical data from the USGS. High scoring neighborhoods are within two-hour drives to lakes, rivers, oceans, or reservoirs.

The Business Climate. The Weather Index ranks weather data, including climate and norms, from the National Climatic Data Center (NCDC).

The Gardening Zone. The Planting Index ranks geographical planting zone data from the U.S. Department of Agriculture (USDA).
Would you like to see any of these new LandScape indices and indicators in action? Please contact us for samples.
Do You Need Zip Code Level Data?
We've Got It!
Several PopStats users work at the zip code level and have requested access to our data by zip codes. We are pleased to report that this data is now available, including our own boundary files for mapping. These files are being sold for an additional charge based on the number of releases of PopStats per year you subscribe to and the number of users of the data in your organization. Please contact us for more information on zip code level data access.
Announcements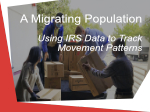 A Migrating Population - Using IRS Data to Track Movement Patterns
Check out the maps now!
Chat with us for more info
---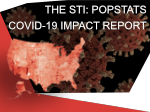 The PopStats™ COVID-19 Impact Report:
Available Now!
Chat with us for more info
---