STI: PopViews (Spring 2009)
STI Partners with Mediamark — STI: LandScape Now Offers Consumer Insight from MRI's Survey of the American Consumer
Mediamark Research & Intelligence's Survey of the American Consumer is the leading national survey on consumers' purchasing habits. Now its insight has been combined with STI: LandScape, the only consumer segmentation system to include consumers' lifestyle attitude indices. Through this alliance between two of today's leading consumer data providers, market researchers will gain access to an unprecedented new selection of consumer intelligence at the neighborhood level.
STI and Mediamark created this new partnership "to be more responsive to companies conducting consumer research, and to extend Mediamark data in a way that is meaningful to more market researchers and agencies," says Kathi Love, President and CEO of Mediamark. "A growing number of companies are using STI: LandScape to segment their markets, and we want to ensure they also have convenient access to our consumer survey data."
Robert Welch, President of STI says: "Now, the combined impact of STI: LandScape's consumer attitudinal indices and Mediamark's survey data will not only show companies where their current and prospective customers live and what their targeted consumers' attitudes are on everything from politics to health, but also their propensity to purchase everything from media to vehicles to computers. This in-depth consumer insight opens the door to new opportunities for more profitable decision making and new frontiers in market research."
Businesses can access this new STI-MRI data from Mapping Analytics, a consulting firm specializing in customer segmentation, site selection, and sales territory design. Mapping Analytics is providing the analytic expertise, oversight, and reporting required to combine STI: LandScape's innovative consumer segmentation data with Mediamark's survey data. A wide range of robust consumer-intelligence reports are available, including Consumer Behavior Ranking and Cluster Tiering. For more information, contact Mapping Analytics at (877) 893-6490.
Two New STI Products Under Development — STI's Product Offering to Include STI: TradeZones and STI: MarketOutlook
Robert Welch is currently developing two new products that will be available in the coming months - STI: TradeZones and STI: MarketOutlook. Both products will expand STI's data offering in ways that practically help companies better understand their markets, consumers, and potential customers.
"We are always looking for new ways to help our clients improve market research," says Lesley Woodring, Executive Vice President. "We are excited about adding these two new products to our demographic data suite. They will help our clients better understand their trade areas in new ways and assist them in making even more profitable decisions."
Descriptions of the two new STI products currently under development:
STI: TradeZones. This new product is a workplace segmentation system. Most people spend one-half of their waking hours at work. During these hours they make a multitude of purchases, from breakfast, to lunch, to clothing, to personal items. Excellent questions for market researchers are: Who works in my trade areas and what services and products do they want? STI has already segmented consumers according to where they live with STI: LandScape. Now, we are applying the same accurate and timely data (STI: PopStats) to workplace segmentation. This product will segment a variety of workers, including private-sector employees, public-sector staffers, 9-to-5 workers, swing-shift workers, and night-shift workers. STI: TradeZones is specifically designed to help market researchers understand businesses located in their trade areas, so they can make more informed decisions.

STI: MarketOutlook. Are there sales gaps in your trade areas? Knowing the answer to this question can enable retailers to better understand and sell to consumers. STI's existing product, STI: SpendingPatterns analyzes consumer demand for specific products, shedding up-to-date insight on what consumers are willing to spend on specific products, such as a loaf of bread. The new product, STI: MarketOutlook, will reveal the other side of the supply-and-demand equation by answering questions such as: How many retailers are selling bread to customers? In this way, it will help answer the key question: Does the existing retail supply meet the current consumer demand for specific products and services? This product will reveal the gaps in sales in hundreds of common consumer categories.
STI PopStats Assists in Fraud Detection — Award-Winning Mapping System Detects Food Stamp Fraud in Louisiana
We are excited to report that STI: PopStats plays a key role in a new business intelligence technology that recently won a prestigious DM Review 2008 Innovative Solutions Award. The technology was designed by the Louisiana Department of Social Services (DSS) to help detect fraudulent activity in the state's Food Stamp Program. The system uses STI: PopStats data to provide a baseline for analyzing food-stamp recipient's geodemographic characteristics and to predict fraudulent behavior based on these variables.
Louisiana is one of the first states to use GIS technology to detect fraud by helping identify trends and patterns in the Food Stamp Program. Now, food stamp purchases by individuals can be mapped to determine, for example, if patterns in location change or if individuals travel an unusual distance to purchase large amounts of merchandise from certain stores.
"STI: PopStats gives us a complete understanding of who is out there," says Raymond Pease, Director of DSS's Fraud and Recovery Section. "With this information we can better plan our fraud investigations. We are also exploring other ways that DSS can use PopStats demographic data, such as in disaster planning or in developing new public-service programs."
Regarding the award, DSS Secretary Kristy Nichols said, "DSS has renewed its commitment to leading the way when it comes to modernizing our delivery of services and targeting any misuse of funds." In announcing the award that recognizes groundbreaking solutions that provide proven business value, DM Review's senior editor Valerie Valentine called Louisiana's GIS technology a "precedent-setting example."
Meet the Newest Addition to the STI Team — Bill Korthals, Manager of Internal Brands
We'd like to introduce everyone to our newest STI Team Member. In case you haven't already met Bill Korthals, he is STI's Manager of Internal Brands as of August 2008. Prior to joining STI, Bill's career included positions as a GIS Team Leader and GIS Analyst in state government and as a Senior GIS Specialist at a leading oil and gas information technology firm. While these are two diverse industries, his role had one primary common denominator: implementing new geographic information system (GIS) processes that improved performance. Among his many projects he managed, designed, and launched a conversion from one mapping platform to another.
At STI, in his position as Manager of Internal Brands, Bill retains the same objective of developing projects that improve business performance for our customers, in particular, their access to robust demographic data. He has a particular expertise in Web-based mapping applications, and is using these skills to explore new product opportunities for our client base. "I am very enthusiastic about geospatial technology and data. Every day I am learning new techniques and looking for ways to implement cutting-edge technology in the geospatial industry." Bill earned a BS and is working on a MA in GIS from Texas State University.
Three Demographic VARs Join STI's Partner Network
Synergos Technologies welcomes three new Value Added Resellers to our partner network: Forum Analytics, x-span results, and Site Dynamics. Here are brief introductions to our newest partners in the delivery of high-quality geodemographic services and products to the market research sector.
Forum Analytics. Forum Analytics has been serving retail customers since 2001. Having analyzed over 50,000 retail sites generating $70 billion in annual revenue, Forum's experienced staff of statisticians, analysts, and programmers brings a creative blend of academic and applied expertise to bear on every project. A partial list of clients includes household names such as Little Caesars, Yum! Brands, Ace Hardware, J Crew, and Trek Bicycles. With over 40 years of combined retail expertise, Forum knows the food service and retail industries. Headed by Paul Sill, President, Forum will provide the analytics needed to validate or challenge instincts resulting in true data-driven decision making. The company is headquartered in Chicago. Learn more at: www.forumanalytics.com.

x-Span Results Inc. Founded in 2000, x-span results inc. provides real-estate decision makers with technologies that drive efficiency and productivity across all dimensions of the site development and management process. Leading retailers use x-span's flagship products, Site Decision Systems and SiteDecSys.com, to conduct scenario planning and disseminate information that reduces the complexity and improves the quality of real-estate decisions. x-span solutions are customized to incorporate each client's unique business drivers, and scalable to meet the needs of any size organization. Leading x-span results are partners Tracy Nagel and Andy Straker. The company is headquartered in Durham, N.C. Learn more at: www.xspanresults.com.

Site Dynamics. Site Dynamics offers SiteXcelleratorT, a web-based software platform that allows state, regional, and local economic development agencies, utility companies, and others to put their sites and buildings online and in front of expansion-ready companies. The platform allows website visitors to search for sites and buildings in their markets, and combines the best mapping technologies with value-added reporting and intuitive search capabilities. As the only web-based site selection and property promotion application developed by site selection professionals, SiteXcellerator combines labor and demographic data and employer data in an easy to use interface that is fully integrated with clients' websites. Site Dynamics is headed by principals William Hearn (COO), David Septoff, and Ben Zenick. The company is headquartered in Atlanta. Learn more at: www.sidyn.com.
Coming Soon: New Website for Synergos Technologies
By the end of May 2009, we will be launching a new, updated website. We have two primary objectives in this project:
Combining our two separate websites, including the one for our company, Synergos Technologies (synergos-tech.com), and the one for our flagship product, STI: PopStats (popstats.com).

Adding fresh product information and industry insight. This additional information will benefit both our current clients and new clients by helping everyone better understand how our product suite helps companies' research markets and make smarter decisions.
The re-design of our website represents the next phase in our ongoing mission to keep our current and future clients informed on updates to our existing products and our new products and services. Consolidating information from our two websites and adding pertinent new insight on our product suite will help keep everyone better informed.
Last year we added a wealth of geodemographic data to our website - which we announced at the 2008 User Conference. This data, which is available only to STI: PopStats' clients, is located in our STI: Data Depot. The Data Depot includes: Tiger files, USGS, demographic data, satellite visual imagery, and much more. This wealth of free information has been well received and appreciated by our clients over the past year.
We will continue to look for additional opportunities to share robust demographic tools and information with our clients. Look for more demographic insight this Spring on our new website. We'll let you know when it launches.
STI Receives "Data Partner of the Year" Award from SRC
We are pleased to announce that Synergos Technologies was named by SRC as the Data Partner of the Year for "bringing unmatched value in advanced data products and projections for each SRC customer, partner, and reseller."
This is one of eight awards that SRC announced at its Extend 2009 global customer and partner conference in Broomfield, Colorado, in March. Each year SRC, a leading provider of Geographic Business IntelligenceT technology, recognizes customers and partners who demonstrate superior results using SRC technology related to GIS.
STI is in good company with other SRC award recipients that demonstrated innovation and measurable business results, including Walmart, Quiznos, AT&T Mobility, Jones Lang LaSalle, and Mapping Analytics.
"SRC's customers and partners are doing amazing work with geospatial technology, and we are proud to recognize their efforts," said Dean Stoecker, SRC chief executive officer. "These innovations are helping companies everywhere make the smartest use of their data to cut costs and maximize revenue during this challenging economy."
STI: PopStats Now on LinkedIn — Join Our New Online PopStats User Community
An STI: PopStats Users Group is now on Linked In. This private community of STI: PopStats users is an opportunity for everyone to stay in touch with, receive updates from, and ask questions of other PopStats users. As of early March the new community had 30 members. If you would like to receive an invitation to join, please contact Lesley Woodring: lwoodring@popstats.com.
Announcements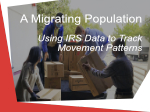 A Migrating Population - Using IRS Data to Track Movement Patterns
Check out the maps now!
Chat with us for more info
---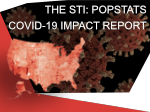 The PopStats™ COVID-19 Impact Report:
Available Now!
Chat with us for more info
---