STI: Economic Information Repository
Click into a Wealth of Business Information
Today, there is a wealth of economic information available from a wide range of organizations - but it is all scattered across the Internet. Since many of the reports and resources offer companies' compelling insight into different aspects of the economy that could directly impact their business operations, Synergos Technologies is gathering the most valuable information all in one place - on the STI: Economic Information Repository page of our website.
Most of the documents listed here are large volumes packed with economic facts, statistics, and commentary. They are published anywhere from quarterly to monthly. This webpage will be dynamic, with new information posted as it is discovered. STI's goal is to make this resource as informative and relevant to market researchers in the U.S. as possible.
The economic information currently available for download and viewing includes the following resources:
Announcements

Check out the blog
with our partner!

---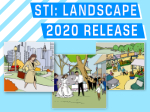 STI: LandScape 2020 Release:
Available Now!
Chat with us for more info
---

April 2020 Estimates:
Available Now!
Chat with us for more info
---