Carl's Jr. (CKE)
CKE Restaurants Boosts Market Decision Making with PopStats
Before CKE Restaurants opens a new location it conducts two essential market analyses: predictive models to measure both the sales potential of the trade area and the impact of a new store on existing Carl's Jr. and Hardee's restaurants in that market. STI: PopStats™ data is essential to both.
"Having timely, accurate population data is vital to our new location decisions," says Mike Sawyer, Market Planning Manager. "With PopStats we have greater confidence in our predictive models. We trust our sales potential predictions and our assessments of a new store's potential cannibalization of existing locations' sales." CKE Restaurants currently operates over 3,000 restaurants in 43 states and 13 countries. The company plans to open 44 new stores in 2009.
"We started using PopStats in 2007 to support our aggressive growth plans," says Mike. "Our previous population data was not sufficient. We wanted the best possible data available. That's what we have with PopStats both in terms of the quality of the population estimates, and also the abundant scope of variables in the product. It goes beyond any other demographic data available today."
Supporting Market Optimization
To target optimal trade areas for new locations, Mike says that CKE uses a variety of PopStats data variables, including population estimates, growth trends, income categories, ethnicity, and occupation breakouts. "These variables help us hone in on our ideal customers."
After CKE experienced the power of PopStats data for site selection, the QSR company discovered additional ways to use the data to support strategic decision-making. "PopStats' accuracy and extensive depth and breadth has allowed us to focus on the bigger picture of market optimization," says Mike.
He adds that PopStats data's wide range of demographic variables "means that we can look at our market opportunity at different levels and from different perspectives."
Exploring Market Opportunities
In addition to site selection, CKE is using PopStats data for market development, franchise support, marketing, and existing store assessments. "This is research we could not address until we started using PopStats," says Mike.
Market development. "We want to know the market capacity in both large and small DMAs," says Mike. "So we now create market capacity analysis, market ranking reports, and trade area prioritization studies. As a result, we know where to focus our long-range growth plans for both Carl's Jr. and Hardee's stores."

Franchise support. CKE applies PopStats data to the preparation of market studies used to help new franchisees better understand the market conditions in new locations. "We show them the characteristics of their trade areas in terms of population density, income levels, and ethnicity," explains Mike. "This helps them make decisions that align with their business goals as well as our corporate objectives."

Marketing decisions. CKE uses PopStats data to help determine which stores are the best candidates for dual-branding concepts, including its Green Burrito menu concept in Carl's Jr. stores and its Red Burrito menu concept in Hardee's stores.

Existing store assessments. Along with new store assessments, CKE also conducts research to determine the viability of existing stores, to see if they need to be remodeled or re-located to boost performance, or if they need to be closed. "We can now hone in on which stores merit our investment dollars."
"We could not conduct our extensive range of strategic market research until we started using PopStats," says Mike. "Today we rely on it to make a wide range of smarter and more profitable business decisions."
Elevate Market Projections
To more accurately evaluate your markets like CKE Restaurants, contact Synergos Technologies about STI: PopStats data suite today.
Announcements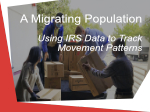 A Migrating Population - Using IRS Data to Track Movement Patterns
Check out the maps now!
Chat with us for more info
---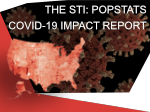 The PopStats™ COVID-19 Impact Report:
Available Now!
Chat with us for more info
---