Rent-A-Center
PopStats Furnishes Multiple Departments with Insight at Rent-A-Center
With just over 2,500 brick & mortar stores located across the U.S., Puerto Rico, Mexico, and Canada, Rent-A-Center is no longer primarily focused on opening new stores. That doesn't mean the rent-to-own industry leader's real estate research department has slowed down. To the contrary, it's actively engaged in a wide range of market research for its existing stores — from leasing strategy assessments, to market prioritization evaluations, to store optimization studies.
What's more, Rent-A-Center's research professionals do not only conduct research for the real estate operation. Several other departments also request maps and reports, including merchandising, human resources, and franchising.
"The research department provides a lot of value in the company beyond the real estate department," stated Ross Beaton, Senior Director of Real Estate Market Development.
The purpose of spreading geodemographic far and wide is to achieve one essential objective —making better, more informed decisions. It helps that the entire company has confidence in its primary data source — STI: PopStats.
"PopStats provides the building blocks for a lot of decisions made in multiple departments across the Rent-A-Center enterprise," noted Ross.
Data Quality is Paramount
Rent-A-Center chose PopStats data after conducting an internal analysis, comparing it against all competing demographic products in the marketplace. "PopStats emerged on top," stated Jim King, Director of Market Planning.
"Fundamentally, it's just great data. Its unique methodology proves that. It's obvious that a lot of thought and integrity went into creating the population estimates. That's why PopStats is behind almost every decision we make."
No matter which department requires demographic data to make better decisions, they all have one requirement above all at Rent-A-Center — accuracy.
"We depend on PopStats to accurately inform our trade area research at every level," said Jim. "PopStats' high quality is, first and foremost, of great value to us."
In fact, quality is essential, especially because in the past, real estate decisions at Rent-A-Center were made by operations managers based on existing store performance, local-area knowledge, and gut instinct. However, that approach occasionally resulted in building new stores in over-penetrated markets, inadequate returns on investment (ROI), and premature lease termination. Adding PopStats to market analysis helped prevent those costly site selection mistakes.
Along with data quality, Jim cited four additional values that keep Rent-A-Center committed to PopStats:
Product Transparency - "The product methodology is sophisticated, but STI makes it accessible to customers and easy to understand," said Jim.
Product Delivery - "Even with quarterly updates, they've never missed a deadline. The team always delivers their product updates on-time, which we appreciate."
Company Reputation - "PopStats' reputation in our industry is incredible thanks to the data's high quality, and the company's transparency and personal service," noted Jim. "It's a great relationship-driven company. I've only heard good things about them. That's very rare in our industry. So, it's a big differentiator from other demographic data providers."
Personal Services - "STI is accessible to its users," said Jim. "They are very personal. They close the gap between their customers and their team. For example, at the company's annual conference, product users can meet the team, check in with other users, and learn about the latest and greatest features of STI's data products."
"All of these qualities set the data apart in the marketplace," noted Jim.
Research Projects at Rent-A-Center
Rent-A-Center performs a wide range of real estate research studies using PopStats including:
Market Prioritization - "The data allows us to set priorities based on our target demographics, such as income, to create models that influence our expansion efforts."
Acquisition Strategy - "We have an active acquisition strategy for evaluating competitors," said Jim. "It includes researching the existing trade areas around our competitors' stores."
Leasing Strategy - Every quarter, Rent-A-Center puts about 125 to 150 of its stores through a store leases evaluation. "A market's rate of growth in a market may influence our future leasing strategies," noted Jim.
New Store Opportunities - Although new store growth is currently not on the front burner, the company keeps its options open and conducts analysis of any potential new location opportunities.
Store Closing Straregy - It takes the same level of research to close a store as it takes to open a new store, according to Jim. "Most of our store closings are optimization efforts, so they require careful analysis before to determine where the greatest opportunities lie."
Beyond Real Estate — Research for Other Departments
At Rent-A-Center, every department appreciates quality demographic insight, especially when visualized with our GIS mapping capabilities.
"There's not a department in our company that is not touched in some way by demographic research," noted Joshua Chlapek, Rent-A-Center's Manager of GIS. "Once other departments discovered what we can do for them in terms of research, they started coming to us with specific market research requests."
The company's real estate department regularly creates demographic maps and reports using PopStats for these departments:
Merchandising - Rent-A-Center's operations department requests market research for a wide range of initiatives, for example, to tailor a merchandising mix. Knowing the demographic details of exactly who lives near specific store locations helps them choose the right mix of product for the customer. Further, merchandising decision-making also reflects the part of the country and the local marketplace's characteristics.
Human Resources - Rent-A-Center's HR team benefits greatly from market research regarding staffing issues. For example, in certain areas, stores need Spanish-speaking associates. Data from PopStats helps them calculate the percent of Hispanic customers near each store so they can staff accordingly.
Franchise Strategy - Many Rent-A-Center franchisees seek greater real estate insight to, for example, choose locations and make store expansion decisions.
Rent-A-Center's research department has not only found multiple ways to benefit its real estate department, but also to benefit other departments across the enterprise. The result has been much more informed and profitable business decisions within every department.
Announcements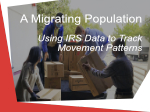 A Migrating Population - Using IRS Data to Track Movement Patterns
Check out the maps now!
Chat with us for more info
---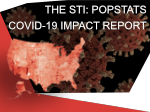 The PopStats™ COVID-19 Impact Report:
Available Now!
Chat with us for more info
---