Smashburger
Smashburger Carves a Huge Chunk of the U.S. Burger Market Using STI: PopStats
Smashburger, a burger chain started in Denver in 2007, is not just smashing beef patties these days (its signature cooking technique). It's also smashing records in new store openings — 100 stores a year! And STI: PopStats is bringing precision data to the company's decision making process — ensuring the burger chain makes all the right moves in its race to compete in its highly competitive burger restaurant category.
In 2007, Smashburger opened in Denver with one store and a vision to become a significant competitor. But the company's market research process was hindering its growth.
"We began humbly with just a simple spreadsheet," said Elliot Schiffer, Director of Real Estate Strategy. "We quickly realized we needed a smarter and faster research engine. We created an advanced modeling system — and powered it up with industry-leading data like PopStats."
The next evolution for Smashburger was creating a six-step, multi-layered process to meet the company's aggressive annual growth goals.
"We're a young brand and we're doing some fun things in GIS," stated Schiffer. "And PopStats is giving us the population insight we need to make the right location decisions rapidly, over and over again."
Smashburger's Six-Part Market Research Model
By early 2015, Smashburger had opened 310 restaurants in 33 U.S. states, and seven countries, with half of the U.S. stores owned by franchisees by using this six-step market research modeling process:
Maps Demographic Characteristics of Targeted Markets - The fast food chain examines each market's characteristics from three perspectives using PopStats: demographics, brand building, and infill opportunities. With that population insight, the team can decide which markets possess the right demographic characteristics of its ideal locations.
Models Demographic Changes in Markets Over Time - Using PopStats' historic data, this step allows Smashburger to track how each market has grown, declined, or stayed the same over time. "This helps us quickly kick out the markets that have changed and no longer meet our ideal store stats," said Schiffer.
Inputs Geographic Data into Models - By step three, Smashburger starts looking at non-population related variables in each market, such as natural and manmade barriers, drive times, and food pod clusters. These data inputs allow the fast food operator to more accurately understand, quantify, and adjust for other elements of store sales impact, along with the "human factor."
Identifies New Market Opportunities - This step opens up the possibility for the burger chain's team to proactively analyze new trade areas for opportunities. "We recently used this step to gather a ton of demographic and geographic data on 15 markets, so we could identify infill opportunities," says Schiffer. "For example, in one market, we identified 21 potential locations."
Views Next-Best Strategic Locations - Schiffer and his GIS team create maps for meetings with directors highlighting every prospective targeted site. "The maps help our company's executive team visualize the markets and pick the one or two next-best locations they want to pursue out of all of the locations we identified as potentials."
Pinpoints Micro-Markets - "By examining markets at a low level we can better determine the most efficient way to build out fast in small areas," says Schiffer
Precision Data Supports Rapid Decision Making in Multiple Markets
Schiffer says that PopStats has been a critical component of its market research. "Through research, speaking to industry experts, and our own experience, we've found that PopStats provides the most accurate data in the marketplace as well as data sets not available elsewhere."
Today, PopStats data is "an essential factor in helping us find ideal markets and choose our best possible locations," he added. "Growth is very important to our business and the PopStats growth data is key to our projections.
"Our model sits 'on top' of PopStats data. Without accurate data, we don't have accurate models. Our model and PopStats data has helped us eliminate potential underperforming restaurants and also identify trade areas where the demographics are changing or population is shrinking. And that has been a key to our rapid growth trajectory."
Announcements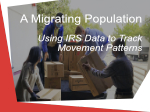 A Migrating Population - Using IRS Data to Track Movement Patterns
Check out the maps now!
Chat with us for more info
---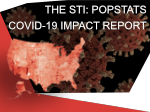 The PopStats™ COVID-19 Impact Report:
Available Now!
Chat with us for more info
---