Del Taco
Del Taco Leverages STI: PopStats™ Data To Improve Customer Segmentation and Achieve More Profitable Site Selection
The nation's number two Mexican quick-serve chain*, Del Taco is a Southern California icon. In fact, California transplants often describe the area's geography by Del Taco locations. As the company opens locations in new markets, finding such symbolic locations that best serve its customers is a challenge. Recently, Del Taco turned to STI: PopStats for help.
"PopStats gives us seemingly infinite knowledge about our customers — where they live, work, and travel — right at out fingertips," says Andy Verostek, Market Planning Analyst at Sagittarius Brands, parent company of Del Taco and Captain D's Seafood Kitchen. "With PopStats we can conduct much more sophisticated market research, including locating our best customers. Also, Landscape™ actually segments customers by factors that are critical to Del Taco, such as ethnicity and income. This provides a major customer-targeting advantage particularly in new markets."
In the midst of an aggressive expansion, Del Taco opened 33 restaurants in the past 15 months and last year signed development agreements for more than 50 additional locations. As the company is moving into new markets and new states, Verostek is tapping into the demographic power of STI: PopStats, STI: Workplace™, and STI: Landscape.
"Our growth presents a challenge, because we are opening restaurants in so many markets for the first time," explains Verostek, who does market planning for both Sagittarius restaurant chains. "The PopStats product suite gives us critical insight into these trade areas, so we can effectively choose the best locations. What's more, the data is helping us better understand our under-performing locations."
According to Verostek, PopStats data delivers four leading advantages to his site selection research:
Identifying top-performing store demographics. One important capability that Del Taco gained from PopStats is a demographic profile of its best performing stores. "This allows us to compare the demographics of every site we research to our ideal location model according to age, income, employment, lifestyle, and more," notes Verostek. "This tool has had a significant impact on how we evaluate new locations and it has given us the target customer benchmark we had been looking for."

Creating information-rich site maps and charts. Verostek says that having the ability to create information-packed visuals with PopStats, Workplace, and Landscape data has allowed him to communicate better with other departments such as real estate and marketing. "The visuals simplify complex data, which, for our research, can include up to 400 data points. Everyone involved in development can easily see, at a glance, the pros and cons of each potential location. This has greatly elevated GIS-related conversations within the company."

Gaining greater confidence from C-level decision makers. Since adding PopStats products to its market research, Del Taco's management team has found that the research can trump gut feeling. "Every prospective site is pre-screened with this technology so that our real estate team, corporate executives, and franchise owners have unbiased data on each location before they spend a dime. Recently, we looked at a site that on the surface looked great, but when I applied the data, the customer mix in the trade area was off base," Verostek said.

Improving business success for franchisees. One of the reasons that Del Taco attracts so many high-quality franchisees is its proven track record for success — including site selection. Franchisees see the company's in-depth site selection evaluation processes and learn first-hand how seriously the company takes this critical step. "Sometimes franchisees will come to us with locations in mind, so we use our market research to evaluate their locations' pros and cons," explains Verostek. "They are usually impressed with the sophisticated insight and appreciate being able to evaluate sites for the best possible success."
Overall, PopStats gives Del Taco the tools it needs to better target customers, particularly in new markets. "At the end of the day, we want our best Del Taco customers coming through the doors at every one of our restaurants. This benefits both our franchisees and our overall brand," says Verostek. "PopStats helps us meet this goal."
* According to Nation's Restaurant News.
Announcements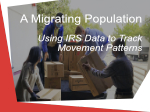 A Migrating Population - Using IRS Data to Track Movement Patterns
Check out the maps now!
Chat with us for more info
---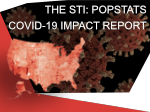 The PopStats™ COVID-19 Impact Report:
Available Now!
Chat with us for more info
---