The Retail Connection
TRC Makes Multi-Million-Dollar Decisions with PopStats
The Retail Connection (TRC) began using STI: PopStats in 2011 thanks to one of the company's clients. "We had a high-profile retail client who would only use PopStats data in its market research, and in order to win their business, we felt it would be crucial to use the data they were already accustomed to using," explains Rob Darnell, Director of Research.
"After acquiring the product, I realized how rich the data is. I was impressed with its depth and breadth," says Rob. "Not only was it more accurate than the data we had been using (our own spot-checking and ground-truthing confirms this assertion), but also the dataset gave us access to some data we had not had access to before. It stood to reason that our other retailer clients might also appreciate this robust dataset."
It turns out other retailers did appreciate the higher-caliber data. So, along with PopStats, TRC expanded its data repository to include STI: LandScape, STI: Spending Patterns, and STI: Workplace. "Our caliber of retail clients appreciates the value of knowing as much as they can about the locations in which they are investing. They also appreciate the high level of accuracy that the PopStats data suite delivers."
Along with the data quality, TRC also appreciates access to the PopStats team. "Whenever we have questions about the data, we know we can call on Synergos Technologies and get the answers we need," notes Rob.
The PopStats team not only answers the phone, he says, but also digs deep to find answers. "If they don't immediately know the solution, they'll dig until they find it."
The exchange is often reciprocal, notes Rob. "Sometimes our questions inform the PopStats team in ways that help them improve the data. This is a rarity in my experience in dealing with other demographic data providers in the past."
TRC's Success Stories
TRC applies the PopStats data suite to its research in the traditional ways, including conducting market analysis and running reports — from simple to complex. For example, a broker may ask for a breakdown of ethnicity and income within a five-mile radius around a prospective location. Also, they may use the data to better understand an area around a site in more esoteric ways than mere population demographics.
Thanks to PopStats, TRC, which provides the full range of real estate services — including brokerage, advisory, investment, and management — has many client success stories, including a leading golf organization and a nationwide fitness club company.
Golf Organization Scores Next Site. When the company was looking for its next Dallas-Fort Worth, Texas, location, the TRC real estate team identified and researched 15 locations. It culled through thousands of market details and statistics as well as demographics and psychographics that could impact the company's success. The location it selected turned out to be a high achiever in daily revenue.

Fitness Club Finds Right Demographic Fit. With a portfolio of fitness centers in markets like New York City, Los Angeles, and Miami, the company worked with TRC to find a prime, high-impact location for its first Texas operation. One of the primary challenges was locating a space large enough in an area that was surrounded by the desired demographics — in particular, residents with significant household incomes. The chosen location is both affluent and progressive, just like its locations in other cities.
TRC's Secret Weapon: LandScape
Of the four PopStats products that TRC deploys to analyze U.S. markets, Rob calls LandScape the firm's "secret weapon." He says, "While neighborhood segmentation is not new, STI is doing things with its data that no one else is doing — for example, creating indices. It's 21 Lifestyle and Environmental Indicators give us the opportunity to further segment consumers by lifestyle attitudes that influence their purchasing styles.
"We view LandScape indices as demographic shorthand. They give us a way to answer 15 questions in one map. In fact, that's the best kind of map you can create: One that tells multiple stories in one image — not just who lives there, but also how they live there, what they do and don't do, and what they purchase and don't purchase. All of that wisdom goes into the mix to give retailers clearer insight into their customers, so they can make informed business decisions before making huge investments."
Rob and his team appreciate LandScape's unique indices, which include 10 lifestyle indicators (five health and five social), and 11 environmental indicators (including ecosystems, crime, and migration). For example, "we can simply add the Technology Pioneers index to our research in specific markets, and immediately see the correlation between innovation adoption and occupations, education, and industry affiliations."
"Or we can add the Health Zones index to gain an amalgamated score of four leading CDC datasets — the population's body-mass index, people's propensity to eat veggies and fruits, the number of smokers, and people's activity levels."
Occasionally, TRC runs into a situation where a retail client or broker gathers demographic data from some other source, especially if they like the numbers better, such as a larger population count in a trade area. In those cases, Rob and his team educate them about the value of accurate data versus run-of-the-mill data, explaining why it's different and why that difference is important.
"After sharing our perspective, the projects typically proceed with PopStats data instead of another providers' demographic data," explains Rob. "PopStats speaks with authority, and that's hard to beat when you're making multi-million-dollar real estate decisions."
Announcements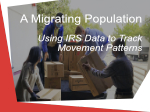 A Migrating Population - Using IRS Data to Track Movement Patterns
Check out the maps now!
Chat with us for more info
---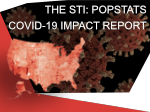 The PopStats™ COVID-19 Impact Report:
Available Now!
Chat with us for more info
---