2007 PopStats Research Conference Summary
TABLE OF CONTENTS
Wed. March 21, 2007
SESSION 1 - Segmentation - A Historical Perspective/ STI Overview, Robert Welch
SESSION 2 - MRI Essentials, Mediamark Rep
SESSION 3 - The Top 50 Growth Markets in the U.S., Robert Welch
SESSION 4 - It Takes More than Demographics, Paul Rappaport
SESSION 5 - The Minority Report, Robert Welch

Thr. March 22, 2007
SESSION 1 - Delivering the Right Information to the Right People, Phil Lee
SESSION 2 - Bridging the Gap Between Customers and Lifestyles, Dale Caldwell
SESSION 3 - The Merging of Segmentation and Gravity Models, Elliott Olson
SESSION 4 - Enhancing Predictive Models with LandScape, Jim Stone
SESSION 5 - Using Real Estate Research throughout the Enterprise, Hartwell Hooper
SESSION 6 - Buy, Build, or Run Away, Kyle Kretsinger
SESSION 7 - STI: PopStats Methodology - Redux, Robert Welch

Fri. March 23, 2007
SESSION 1 - Solidifying Retailer Perception of Growth in an Area, Adam Schwegman
SESSION 2 - Addressing Research Challenges in a Changing Market, Mark Kambalken
SESSION 3 - Optimizing Tenant Mix, Robert Welch

Overall Conference Comments:
Very satisfied. Has more research than other conferences

Excellent speakers - like the variety, including retail, developer, product.

Superior in every way.

A lot more relevant content than other conferences.

My favorite conference - a real research-oriented event.

Appreciate understanding the theory behind the STI products we've purchased.

Loved understanding the data's methodology - Robert's presentations were my favorite.

Definitely satisfied - a good mix of speakers.
---
Wednesday, March 21, 2007
---
SESSION 1 - Segmentation - A Historical Perspective/ STI Overview
Presenter - Robert Welch, President, STI, Austin Texas
Robert kicked off the 2007 PopStats User Conference, which was dedicated to Lifestyle Segmentation, with a slide show that overviewed the three important elements used by STI to define segmentation. First, there is the layman's notion of segmentation, which is a basic demographic report, which includes traditional demographic data such as incomes, ages, ethnicity, and households. In this case, segmentation is used basically as shorthand to find people with similar demographics, such as income levels, occupations, and ages. In effect, they are simply giving each group of like-demographics a name, and the name relays basic demographic facts about each group of consumers.
There is also a visual element to segmentation whereby markets are segmented and classified according to demographic factors relevant to the researcher. Finally, there is the K-means method. Robert said STI uses factorial analysis of segmentation, which he terms as "divide and conquer." In this methodology, STI finds the segment breaks that make sense and are of a manageable size.
Robert explained that there are four ways that segmentation came to exist in market research (they are not mutually exclusive):
Traditional - for example, wealthy people always lived in certain neighborhood.

Development - this dictates how segments get created more than any other factor. Home developers build homes with specific people in mind, such as starter homes for young families with children or lux homes for mature families with money.

Perception - this includes people's notions that they need to live in certain environments, such as parents want good schools and singles desire urban life.

Environmental - environment often plays a role in where people feel comfortable. For example, some people want to live near mountains, water, or in the country.
Lesley Woodring of STI wrapped up this session by giving a quick overview of STI: LandScape, STI's lifestyle segmentation product, including its 72 segments, 16 categories, and 15 indices. She explained that LandScapes indices really set it apart from competing segmentation systems. She overviewed a brief case study where one store used LandScape to segment a particular market and how another store did not segment the same market. In the end, their market research results were radically different.
Session Comments:
Helped me to understand the basics.

A brief overview each year is great.

Love the LandScape data! Great work!

Very informative.
SESSION 2 - MRI Essentials Presenter -Mediamark Representative, New York City
A rep from Mediamark (MRI) described where panel data fits into consumer segmentation. Founded in 1979, MRI is a leading provider of consumer research. The company interviews approximately 26,000 U.S. adults in their homes each year, asking about their use of media, their consumption of products, and their lifestyles and attitudes. This is the largest survey of its kind. He explained that Mediamark merges its research on consumers' likes and dislikes with segmentation data on a national level. He overviewed the company's methodology for interlinking panel data with segmentation data.
Session Comments:
Well done.

Very interesting.
SESSION 3 - The Top 50 Growth Markets in the U.S.
Presenter - Robert Welch, President, STI, Austin Texas
Robert introduced STI's first-ever Top 50 Growth Markets report to the Conference attendees. He explained how a few months earlier a client had asked for an overview of the nation's fastest growing markets. Once he created the document, he decided to share it with all attendees. He reviewed how he created the list by drawing overlapping 15-mile trade rings (tiling) across the entire U.S. Then he applied three growth criteria to each ring:
Current population - must be over 60,000.

Per year growth - must be greater than 2%.

Growth projection - must be greater than 8,500 per year.
Robert said the reason he didn't use MSAs in the process, was because high-growth tends to occur around the borders of two counties. By using a circular tiling method, he was able to better calculate growth along county borders. Also, MSAs are so large that the growth tends to get muffled.
Session Comments:
Wonderful.

Please do this at every conference.

Great idea and information.

Like the ethnicity aspect.
SESSION 4 - It Takes More than Demographics
Presenter - Paul Rappoport, Professor, Marketing Systems Group, Fort Washington PA
Paul shared the results of a series of test analyses conducted at MSG. The first involved the company's national survey of 55,000 responders, who were asked questions about their technology usage, including telephone and cable. MSG modeled this data down to the block group level using PopStats's age and income data.
The company also embarked on an analysis that compared LandScape's segments to sales data in the cable industry to understand broadband penetration and switching from cable to another transmission mode (DBS). Using Nevada as a test site, MSG discovered that LandScape led to a significant reduction in statistical sampling errors. A large part of the reduction had to do specifically with LandScape's lifestyle indices.
From this research, Paul said that MSG reached the following conclusions:
Achieved greater efficiency in computing demographics.

Could add a variety of demographic dimensions that vary in importance from model to model.

Found variations at the block group level, since LandScape segmentation is defined by block groups.
Session Comments:
Increased my confidence in and validated LandScape data.

Liked the information on how if you build your own segments based just on demographic data, they will be lacking. Thank you.

Interesting.
SESSION 5 - The Minority Report
Presenter - Robert Welch, President, STI, Austin Texas
Robert discussed how PopStats data variables are created, including race, age, income, group quarters, workplace, and spending patterns. He explained how, in general, different classes of variables are derived on a system of checks-and-balances. In this way, a certain percentage of each variable is fed into the model and a certain percent are held back to provide the check. By executing this checks-and-balances with each set of variables, market researchers are assured a high degree of confidence with PopStats.
Robert also introduced the STI: ISIS platform (Interactive Statistical Information System), and showed how ISIS can be used to demonstrate some of STI's data variables in STI. He also announced that STI was making it freely available to all PopStats users.
Session Comments:
Very insightful.

Keep up the in-depth product discussions.

This was a great presentation. We are going to use ISIS much more.

Explanation of this topic is always important.

Thanks for this segment.

This increased my confidence in PopStats ethnicity data.
---
Thursday, March 22, 2007
---
SESSION 1 - Delivering the Right Information to the Right People
Presenter - Phil Lee, TerraGo Technologies, Atlanta GA
In an effort to help make market researchers aware of new technologies that might impact their research in a positive way, STI invited TerraGo to overview its product. Phil described the company's GeoPDF product and provided a visual demonstration. He showed how the GeoPDF Toolbar turns Adobe Reader into a powerful geospatial application that gives users the ability to view, manipulate, and update mapping data, while leveraging Adobe collaboration capabilities to share information with others in the field and at home base. GeoPDF's features include the ability to view maps with multiple coordinate displays, measure length and area, turn layers on and off, and search map attributes.
Session Comments:
Very interesting application.

Wow - hadn't seen this product before - very interesting. Great technology.

Good presentation for non-users.
SESSION 2 - Bridging the Gap Between Customers and Lifestyle Categories
Presenter - Dale Caldwell, AVP, The Kroger Company, Cincinnati OH
Dale presented an overview of how Kroger uses loyalty cards and LandScape neighborhood segments to help make merchandising decisions within its stores. When the company finds that certain segments respond well to certain merchandise, it can share that insight across its store entire network. Dale also described Kroger's original five self-created customer segments, how they correlated to LandScape's 16 consumer categories, and how Kroger successfully transferred over to LandScape.
Dale reviewed how in an effort to help operators improve store performance, Kroger conducted an extensive study of nine individual Kroger customers and correlated their purchases to U.S. demographic lifestyle segments. He said the company used its customer data to determine the residence location of every individual customer who used their value card over a four-week period. Then it compared the summary results for each type of customer at each store against U.S. Census lifestyle data via STI: LandScape to estimate locations where performance lags or exceeds expectations.
The customer component of its study, provided by Kroger affiliate dunnhumby USA, distinguished eight uniquely different types of current customers by analyzing long-term buying patterns and purchase histories. Kroger used this information within LandScape to create a neighborhood analysis of potential customers.
Session Comments:
Great job - good sharing.

Great summary on count analysis.

I'd love to see how they progress with this project.
SESSION 3 - The Merging of Segmentation and Gravity Model
Presenter - Elliott Olson, President, Dakota Worldwide, Minneapolis MN
Elliott gave an excellent overview of a gravity model, providing an historical perspective and discussion how they've grown in use and value in recent history. He also noted that gravity models are currently embarking on a new growth cycle by incorporating lifestyle segmentation into the model.
Elliott also discussed how segmentation can affect merchandising practices in a grocery store and how that can ultimately impact site selection. He laid out several premises and went on to prove each one. Elliott postulated that if a grocery chain plans to build a new store in a new location, and takes segmentation into account, it will know better if that store should stock specialty items such as gourmet food or health food. In this way, segmentation can provide valuable insight beyond just sales forecasts. By conducting both kinds of research, the company will know not only that they not only have a good site for a store, but also what merchandise will appeal to consumers in each neighborhood.
Session Comments:
Elliott has such depth in his knowledge - always great to listen to him.

Very interesting - Elliott explained his model very simply - thanks.

Very cool.
SESSION 4 - Enhancing Predictive Models with LandScape
Presenter - Jim Stone, Chief Development Officer, geoVue, Woburn MA
Jim gave a simple overview of correlating customer data with lifestyle segmentation to create a sales forecasting model, and revealed the results of the model used in the site selection process. He showed how well the data coordinated with the model, especially STI: LandScape's indices. He said they matched up really well with the correlation coefficient: Each helping to explain the other.
Session Comments:
Great presentation.

Great endorsement.

Good presentation - would love to see another example.
SESSION 5 - Using Real Estate Research throughout the Enterprise
Presenter - Hartwell Hooper, CVS Pharmacy, Woonsocket RI
Hartwell spoke in general terms about CVS's site selection evaluation process and some of the tools the company uses. He overviewed the company's tried-and-true step-by-step process and explained that when they conduct each step efficiently they consistently get the best answers to the company's site-related questions.
Session Comments:
Great practical daily examples of how they operate.

Excellent session - shared great use of their processes.

Good to see what others are doing.

Excellent analysis.

Amazing.

I was very impressed with Hartwell's information.
SESSION 6 - Buy, Build, or Run Away
Presenter - Kyle Kretsinger, Director - Market Research, Weingarten Realty, Houston TX
Kyle walked through the steps his company takes when conducting site evaluations to help Weingarten determine whether its clients should buy, build, or run away from various sites. He described the Weingarten Demographic Index, in which the company takes key PopStats variables and rank-orders them with different shopping centers. With this rank-ordering, the company is able to determine if the shopping center is a good acquisition opportunity, a potential good build site, or a site from which they should run away. Kyle emphasized how important the Weingarten Demographic Index is in the company's day-to-day operations.
Session Comments:
Very good, especially with handouts. Nice to see developer use.
SESSION 7 - STI: PopStats Methodology - Redux
Presenter - Robert Welch, President, STI, Austin Texas
Robert overviewed PopStats' methodology with specific reference to how the household population estimates are derived and the variety of models that go into that estimate. Then he discussed population forecasts and how they are derived, and the differences between a five-year and ten-year forecast.
Regarding PopStats' methodology, Robert reviewed the many models that comprise the PopStats' model including:
ZIP+4 Model. This model is based on over 28 million ZIP+4s, representing over 116 million households. This model is the primary determinate in understanding population growth and decline. Vital to the process is that Synergos Technologies maintains its own street files that feed into PopStats, because "we do not want spurious third-party data entering into the calculation."

Postal Delivery Model. This model is based on postal delivery statistics provided by the postmasters in each market across the country. This model's primary purpose is to understand trends in existing populated areas.

Spread Model. This model, which is based on macro-level postal counts, performs double-duty: It both calculates populations in rural areas where ZIP+4s are limited, and serves as a checks-and-balance for the previous two models.

Census Model. This is the grand master of all the models, which STI also calls the "black box." It pulls together the other three models using an extreme set of heuristics (if-then questions). In short, it is the final decision-maker of the estimate.
The PopStats methodology also includes automated processes for overcoming any and all anomalies present in the data, including ZIP+4 inaccuracies, data smoothing issues, conversions (lofts), and overrides. Robert said that the PopStats estimates are calculated on six computers working together in a pseudo-parallel processing manner. "We have created a self-correcting artificial intelligence modeling system that learns from itself."
Session Comments:
Always good to hear about the process.

Always the best, most valuable session again.

I love to hear about the methodology behind the data we use.

Very helpful.

Great explanation.

This is why I came here - well done.

I need this every year.
---
Friday, March 23, 2007
---
SESSION 1 - Solidifying Retailer Perception of Growth in an Area
Presenter - Adam Schwegman, Cousins Properties, Atlanta Georgia
Adam discussed several issues including: the concept of a market center as defined by Cousins Properties, that The Avenue is the company's trade name, the marketing research tools that Cousins uses internally, how Cousins is dependent on PopStats' population growth maps, and how the company uses metro studies to understand subdivision development. He also described how Cousins launched an internal system that can graphically explain the neighborhoods that surround a particular shopping center development. The company uses these maps as sales tools to get retailers interested in properties.
Session Comments:
Good to see developers represented.

Good presentation.
SESSION 2 - Addressing Research Challenges in a Changing Market
Presenter - Mark Kambalken, JCPenney, Plano Texas
Mark discussed how Penney has traditionally been a mall developer, but now the company is moving into freestanding stores. This has been a radical change for Penney, because it had previously been highly dependent upon mall developers and mix of retailers. Now with a go-it-alone strategy the company has discovered that it has had to put greater emphasis on market research. It has also had to face the reality that consumers had pre-defined perceptions about Penney, viewing it as a mall department store.
Mark said this was both a blessing and a curse. It was a blessing because when they shopped there and gained low prices, consumers felt that they were truly getting value for their money. It was also a curse, because being on their own outside of the mall environment created consumer confusion about the stores. As a result, Penney had been walking a fine line regarding consumer perception and sales. Today the company is striving to be both a department store and discounter and is quite successful in this objective.
Session Comments:
Good stuff.

Great job - enjoyable.

I like to see retailer presentations, and what they need from data and developers.

Great to hear about site location factors for retailers.
SESSION 3 - Optimizing Tenant Mix
Presenter - Robert Welch, President, STI, Austin Texas
In the final session of the 2007 PopStats Research Conference, Robert experimented with having an open discussion on theory: in other words, concepts that have not been proven. He presented the topic of optimizing tenant mix using linear programming, which simply means "making a plan." He explained how linear programming is based in mathematics and can, therefore, work for us in terms of revealing certain key pieces of information. The attendees were interested in what mathematics might reveal and how that could improve their decision-making capabilities. The end of the session was opened to a very lively discussion about how this idea could be practically used and expanded upon. Ultimately, it was determined that researchers really enjoy a theoretical discussion.
Session Comments:
I like seeing theory: it's very helpful. Good stuff.

Very interesting.

Yes. Very interesting - Robert does so well explaining in understandable terms.

More theory and ideas in building analytical expertise is great. Showing more step-by-step of how analysis is done is helpful.

I would like to see more theory.

Interesting to see the theoretical plus an example of the bridge between the theoretical and the practical.

Excellent. I like the pure theory.
Announcements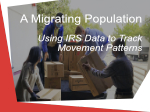 A Migrating Population - Using IRS Data to Track Movement Patterns
Check out the maps now!
Chat with us for more info
---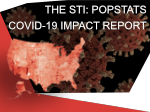 The PopStats™ COVID-19 Impact Report:
Available Now!
Chat with us for more info
---