2010 PopStats Research Conference Summary
Fifth Annual Event Meet or Exceeds 97% of Attendees' Expectations
Attendees of the Fifth Annual STI: PopStats Research Conference and User Forum came to Austin, Texas, March 24th to 26th to learn new developments underway at STI, how to better use STI's industry-leading data products, and to discuss shop with their peers in the market research industry. They did not go away disappointed. They rated this Conference a success - with over 97 percent reporting that the Conference either met or exceeded their expectations (almost 55 percent said it exceeded their expectations). Over 77 percent said they will attend this Conference again. In fact, referrals are the number one way that people hear about the PopStats Research Conference.
Nearly 83 percent of the attendees said they come to the event for the content. Adding that they primarily attend to hear STI staff members, retailers, and researchers speak about market research. Nearly 97 percent of the attendees said they will recommend this Conference to others.
This year's event included Robert discussing several topics including: new initiatives launched and underway at STI, the newest product called STI: Colossus, the upcoming 2010 Census data, the mathematical definition of true optimization, and the PopStats methodology. Researchers from CVS, Walgreens, Del Taco, and Kroger discussed their unique applications of PopStats data. And a wide range of speakers discussed how they use data to find and market to consumer niches.
As a follow up to the event, we've prepared a User Conference Brief with synopses of all the sessions. This is both a review of the highlights for those who attended and an overview for those who could not attend. This report begins with overall comments shared by the attendees about their experiences at the event.
TABLE OF CONTENTS
Wed. March 24, 2010
SESSION 1 - What's New and Major Initiatives Taking Place, Robert Welch, STI
SESSION 2 - Increasing Store Traffic Among the $4 Trillion Women's Market, Miriam Muley, Author, "The 85% Niche"
SESSION 3 - LGBT - Marketing to Lesbian, Gay, Bisexual, and Transgender Markets, David Morse, Author, "Multicultural Intelligence"
SESSION 4 - Evolution through Revolution: An Enterprise-wide GIS Solution, Jillian Beydilli and Ben Farster, Walgreens
SESSION 5 - Take "Juan" and Call me in the Morning: Hispanics as an Antidote to the Recession, Manuel Delgado, CEO, Agua Marketing
SESSION 6 - The Tale of Three Trade Areas: Asian, Hispanic, Foodie, Don Scott, Retail Research Group

Thr. March 25, 2010
SESSION 1 - True Optimization, What's It All About?, Robert Welch, STI
SESSION 2 - Defining Store Trade Areas Using Loyalty Cards, MS Bing, and SQL Server 2008, Harwell Hooper, CVS
SESSION 3 - Drilling for Dollars: The Neighborhood Market DrillDown, Carolina Valencia, Social Compact
SESSION 4 - A Tale of Two Neighborhoods: Assessing Cultural Assimilation in Ethnic Communities, Andy Verostek, Sarittarius Restaurants, LLC
SESSION 5 - But is it Relevant?: Understanding Trade Areas, Erica Jones, Dunnhumby USA
SESSION 6 - Leveraging Trade Area Information: The Step to Marketing, Cindy Reid, Mapping Analytics
SESSION 7 - Census Data Update and Request for Enhancements, Robert Welch

Fri. March 26, 2010
SESSION 1 - STI PopStats Methodology, Robert Welch

ATTENDEE COMMENTS
One thing that I learned, is that licensing STI data is much more than just "buying data." It's also like joining an exclusive club where you become connected to a passionate support network of staff and colleagues with access to Robert and an understanding of his methodologies.

The PopStats Research Conference is more useful than all the other industry conferences put together.

This Conference is very intimate and relaxed. A great place to share ideas.

This is the best - presenters, topics, networking with other attendees, appropriate length, and, of course, the hospitality.

The Conference supplies much information on insight at the same time allowing each person to see and connect with people in other business types.

The day flew by, which is a great testament to how interesting and relevant all the speakers and topics were.

Provides the opportunity for the PopStats users to ask very detailed questions about the data and learn from you (and each other) how we can better use the data we're buying.

Every topic was relevant to my job.

Where do I give a "5" to the hospitality?

STI's Research Conference is the only event in the industry that brings together such a diversity of industries. It's an opportunity to expand beyond my typical daily work processes.

I've been a Claritas user for 14 years and have never seen a true methodology session! This fully allows me to better present data to my senior executive team. Fully converted PopStats user!
---
Wednesday, March 24, 2010
---
SESSION 1 - What's New and Major Initiatives Taking Place
Presenter - Robert Welch, Synergos Technologies
Robert led off the 2010 PopStats Research Conference with an overview of STI developments in the past year. Highlights of his presentation included the following:
The Year in Review - General. STI sales grew by 38%, led largely by companies' conversion from competitors' data products, STI's customer base grew in all traditional categories and in new areas, including health care and the public sector.
The Year in Review - Products.

PopStats. Enhancements in the past year include: five-year race forecasts, refinements in labor force and unemployment rate data, and the product's new Data Dictionary was launching with the April 2010 release. Attendees previewed 10 pages of the new Dictionary in their Conference notebooks.
Market Outlook. This new gap-analysis product launched in mid-2009. Robert discussed how ROIC analytics has leveraged the product's data in a new service offering.
BlockPoint. This product, which launched in 2008, has been a "phenomenal success," said Robert, because it takes PopStats data down to the block level, including populations, group quarters, household, and workplace data.

The Year in Review - Events. STI has a new website, which contains all of the company's product literature, unique informational resources, and free data and tools at the client-access-only STI: Data Depot. Also, PopStats was in the news in March, being cited with leading retailers in a CNNMoney.com article about upcoming new Census data. Robert also overviewed the growth trends of several major cities based on PopStats data.
Upcoming Product News.

STI: Colossus. Robert introduced STI's newest data product, which is an econometric-like product that will launch in May 2010. It will contain millions of datasets from over 200 agencies, including transportation, finance, agriculture, and labor - all from one singular source. It is designed to include time-series data, imagery, video, audio, and reports. It will support three primary research project types: impact analysis, economic development, and preferred market analysis. The acronym of Colossus stands for County-Oriented Longitudinal Statistical Series for the United States. For more information on this unique, industry-leading data product, see STI's website.
PopStats. In anticipation of the new Census data, PopStats will include a new system for compressing data.
WorkPlace. New data will be added to this product including: retired workers, K thru university students, unemployed, self-employed, and stay-at-home spouses.
TradeZones. This workplace segmentation data is targeted to launch in August 2010.
Attendee Feedback:
Very good overview. It's good to have a yearly update and breakdown.
Always love to know what's new and coming down the pike.
Would like to expand this topic - more time to dive into new tools and releases.
Excellent. These sessions and Robert's talk is why I come to this Conference.
As a prospective client, I found this to be a great introduction to existing and new products.
I love hearing about the innovations, and thinking how to apply the data. And, of course, Robert is always engaging!
SESSION 2 - Increasing Store Traffic Among the $4 Trillion Women's Market
Presenter - Miriam Muley, Author, "The 85% Niche"
The power of women in the marketplace is author Miriam Muley's favorite topic. She wrote all about it in "The 85% Niche - The Power of Women of All Colors." She said they are responsible for $4 trillion in sales, making them the third largest economy in the world. "This is not a niche audience to be marginalize." Miriam spoke to the misconceptions and opportunities in the women's marketplace. For example, all women over 50 are not poor, sad, and alienated. "They are actually successful, vibrant, and want a challenge." Miriam stated that "women of color are the crown jewel of purchasing. Twenty-five percent of black women spend $10 billion annually just to look good." She noted that there is an incredible benefit to culturally diverse markets: "Research shows that groups with greater diversity tend to perform better than homogenous residents." Miriam offered the Conference attendees four tips:
Rethink how you communicate with women, for example, women take more time and consider more variables than men when making purchasing decisions.
Over deliver on customer service.
Train sales staffs on how to interact with women in general and women of color in particular.
Leverage the power of women referring other women.
Attendee Feedback:
Lots of good material and presented in a very impressive fashion. Very professional speaker: well prepared and very poised. Obviously very comfortable presenting in conference settings.
She was very informative, effective, and knowledgeable.
I've read a lot of research on the buying power of women, but liked hearing more on women of color.
Speaker was knowledgeable and the information was relevant.
SESSION 3 - LGBT - Marketing to Lesbian, Gay, Bisexual, and Transgender Markets
Presenter - David Morse, Author, "Multicultural Intelligence"
Through a lecture that included video examples of LGBT marketing, author David presented the results of an online survey of 926 gay and lesbian consumers, conducted by New American Dimensions. Sixteen million adults self-identify as gay or lesbian. David reported that "this is a complex consumer segment." He advised attendees to avoid stereotyping them. The two most important facts to consider are that: These groups appreciate when companies take a sincere and respectful approach to marketing to them, and companies will attract the ire of watchdog groups if they don't follow that guideline. The online survey found that there are five primary segments within the gay and lesbian community:
Habitators. This represents about 25% of the GLBT segment, and includes consumers who are generally serious and responsible.
Gay Nesters. At 23% of the population, this group lives life in the middle, ranks high on careers, and for them "coming out" is a big event.
Super Gays. This group represents about 20% of the population. It ranks highest in being out.
Party People. At 14%, this group most fits the typical stereotype of gays who are body-conscious.
Closeted. Tend to live a "normal" life and live in rural areas.
Attendee Feedback:
Good segmentation data. Very useful for those who don't know about the subject.
Very interesting.
Interesting topic. As more data becomes available it will be interesting to see this expanded upon.
I've never heard anything on this topic, so I found it fascinating.
Introduced me to a group I do not usually consider when evaluating a site.
SESSION 4 - Evolution through Revolution: An Enterprise-wide GIS Solution
Presenter - Jilliam Beydilli and Ben Farster, Walgreens
Walgreens' GIS division began in 2000 to find better locations. It was used only for retail site analysis until 2004. As the company grew to today's 7,000 stores, the company began expanding beyond this use, especially to help support new services, such as on-site medical clinics. Today all 25 divisions of the drug store chain use GIS tools, such as mapping and demographics, including operations and advertising. Walgreens has developed most of its own enterprise tools, including Walmaps, Mobile GIS, and a Competitive Location Database. GIS tools are used in multiple ways including:
Sales demand analysis
Business issue research
Mobile data capture
Location targeting
"Good data is the key to the success of these enterprise tools," said Jillian. "If the underlying data is wrong, no one will have confidence in the tools. We learned that if we don't get it right, there will be slow adoption of the tools."
Ben noted that there is more innovation to come, including enhancements and upgrades, tablet PCs for mobile users, location database enhancements, and qualitative databases.
Attendee Feedback:
This topic was extremely relevant to what we are trying to do and the direction that we are moving. It is exciting for me to see what other people are doing to compare and contrast to our own development. It makes me want to get back to work to develop these tools now.
This is exactly what my group does. Always like to hear how other retailers are using these tools and what they are developing.
Interesting overview of GIS growth at Walgreens.
Nice toolbox item. Very effective how to use and manipulate data. This is the very thing I like to see at the Conference.
Best example today of how a retailer is using PopStats data to make real business decisions.
Very impressive work.
Always interesting to hear what others are doing.
SESSION 5 - Take "Juan" and Call me in the Morning: Hispanics as an Antidote to the Recession
Presenter - Manuel Delgado, CEO, Agua Marketing
"Hispanics are an antidote to the recession," explained Manuel during his talk about the myths, realities, and opportunities among the U.S.'s growing Hispanic population. This consumer group offers an estimated $951 billion purchasing power, which is equivalent to the GDP of Canada. He provided a wide variety of interesting anecdotal marketing examples and statistics on Hispanic growth. For example, for every non-white person over 65 there are seven white people in the same age group; but for every non-white child 10 and under there are .66 white children in the same age group.
To approach this market, companies must avoid stereotypes, advised Manual. "If you're not an expert of Hispanic culture, distrust the things you think you know." He described areas important for companies to be aware of when marketing to Hispanics:
Language. "Use Espanola impeccably. Do not merely translate the language."
Family. Consider the extended families. "Hispanics have a strong multi-generational dynamic and have high respect for their elders."
Friends. Hispanics are very social. "We are loud, fun, and love a party."
Work. "Hispanics want to work and build better lives for themselves and their families," noted Manuel. "And they want to assimilate into American culture as fast as they can."
Attendee Feedback:
Dynamic speaker!
Very effective speaker and I learned a lot. Nice explanation of how to best use without falling into stereotypes, which is quite useful for me.
Effective, fascinating, timely, and thorough.
Good and fun.
Very engaging speaker. Tips were relevant and helpful.
Of all the marketing-oriented presentations this was the best. I came away with insight and actionable information.
Manuel was fabulous - content was very interesting, needed, and presented in a very accessible way.
SESSION 6 - The Tale of Three Trade Areas: Asian, Hispanic, and Foodie
Presenter - Don Scott, Retail Research Group
Don demonstrated the combining of "non-traditional" PopStats demographics, including language spoken, mortgage risk, and families with one worker to find specific consumer groups for his wide range of grocery store clients. "We like to think beyond the standard data and use many of PopStats myriad other data to slice and dice up geographies." He overviewed how his company researched three areas for three clients by strategically applying various PopStats variables.
Asian Snobs. Used the data to determine which of two trade areas offered the greatest potential to attract "Asian Snobs." Retail Research Group determined the percent of the Asian population over 35 for each market. Then determined what percent of these consumers had incomes over $100,000. He also added Ancestry and Language to further analyze the trade areas. "We were able to suggest the best of the two trade areas with confidence," noted Don.

Hispanic Consumers. One grocer asked the company to find trade areas with the highest percent of Hispanics of Mexican and Central American ethnicity within a specific MSA. Since the area was within Los Angeles it was necessary to start with a high cutoff point. The researchers chose 70%. Then they segmented these areas by Language Spoken in the Home data, once again establishing a 70% threshold, to determine if they were first- or second-generation Hispanics. This provided the grocer with a manageable list of trade areas, with which to conduct further research based on density and on-the-ground studies.

Foodies. A gourmet health food grocer asked the company to locate areas with the highest concentration of "foodies." The research company parsed the population by first searching for populations with an above average income (a medium of $120,000), above average education (at least 50% concentration of college degrees), leisure time (no children and only one worker per household), and the Mortgage Risk Ratio.
Attendee Feedback:
---
Thursday, March 25, 2010
---
SESSION 1 - True Optimization, What's It All About?
Presenter - Robert Welch, STI
Robert stated that "optimization" is a word bantered around by many companies today. However, he noted, "optimization is a math term and true optimization can only be determined through mathematics." It means "finding the very best answer to a problem."
He said that linear programming or planning (LP), a term that goes back to the 1600s, is the process for finding an optimized answer. "It is best suited when you have to make a choice between several options, yet each option is restricted by constraints," explained Robert. For example, if a retailer has a 15 potential store sites, but can only place stores in three of them, LP can find the three sites that offer the best opportunities. Robert detailed an example of the research method for the Conference attendees.
Robert noted that LP can be used to solve four basic types of research problems:
Coverage problem. Help determine issues such as: how many stores are needed to cover our trade area?
Distribution problem. Help companies understand the spatial relationship of distributing products over space.
Allocation problem. Useful when trying to allocate service areas, for example, a store to a group of consumers.
Positioning problem. Determining where to put a store, while considering all constraints and problems.
Attendee Feedback:
I enjoy the mathematical theory presentations. Robert does a great job. Thanks for the book recommendations to supplement the content. Keep including a topic like this on the agenda.
Interesting use of math.
Love the modeling mini-lecture.
SESSION 2 - Defining Store Trade Areas Using Loyalty Cards, MS Bing, and SQL Server 2008
Presenter - Harwell Hooper, CVS
Hartwell explained that CVS has access to a rich set of geographic data from both the front of the store and the pharmacy. He overviewed how the research department has leveraged the Microsoft Bing tiling system, because "it provides a new approach for managing and visualizing geographic data via grids." He noted that "the latest version of SQL Server offers a rich set of GIS tools for analysis and data manipulation and for storing the grids." By combining these three things - store data, MS Bing, and the SQL Server - CVS has developed an automated approach for defining store trade areas.
Hartwell said that the CVS research group was attracted to this approach, because "block groups are too large in many areas and so don't capture growth well. With Bing's variable grid size options we were able to create spatial patterns in population density that is helping us better establish market share and allocate consumer supply and demand."
He added that the SQL Server Platform "does all the heavy lifting" for the company's Real Estate Research Data Warehouse, which includes corporate data, vendor data, field data, and applications.
Attendee Feedback:
Very interesting and useful way of looking at GIS info. Not certain we'd want to convert, but it's good, hearty food for thought for the future.
Great depth on the process he used so that any of us could replicate if ourselves.
Very interesting.
SESSION 3 - Drilling for Dollars: The Neighborhood Market DrillDown
Presenter - Carolina Valencia, Social Compact
Carolina presented an overview of Social Compact's original Neighborhood Market DrillDown methodology developed to analyze inner-city, minority, and low-income markets. "The Census tends to undercount these populations. Undercounting leads to undervaluing. It's our goal to determine accurate demographics for these markets to help attract private sector investments."
She explained the methodology, which includes drawing from real-time, transactional local market sources and a cash-based economic model. Four key areas of research include: households and populations, income and expenditures, businesses and leakage, and crime. Data sources include: tax assessment records, building permit records, utility hook ups and usage, credit bureau records, and home sales data.
Carolina also explained how the company executes its research, including determining a neighborhood's size (population count), strength (income and buying power), stability (homeownership and residential investment), and investment opportunity (businesses of all types). "Often what we find is different from the standard data."
Attendee Feedback:
Good social overview and social justice initiative.
Great resource for looking for areas that may be under-served, but don't know it. Will definitely keep in touch with Carolina to perhaps use Social Compact's info to help.
Interesting.
Carolina covered the topic well.
SESSION 4 - A Tale of Two Neighborhoods: Assessing Cultural Assimilation in Ethnic Communities
Presenter - Andy Verostek, Sarittarius Restaurants, LLC
Andy began his discussion on cultural assimilation by posing the question: Was I the only native English speaker who received a call from Hillary Clinton in Spanish? He then cautioned, "As researchers, we must be cognizant of our personal assumptions and let the data speak for itself."
In an effort to rely on data to more accurately determine the cultural assimilation of neighborhoods and better understand the populations surrounding Del Tacos and Captain D's restaurants, Andy created a methodology for giving trade areas an assimilation score. For the analysis, he applied specific sets of data from PopStats, including Language Spoken in the Home, Ancestry, and age-related Ethnicity.
"I've been doing a lot of work on trying to determine how ethnic communities may positively or negatively impact our businesses," notes Andy. "In order to determine how assimilated ethnic populations are in our trade areas, I am using a combination of PopStats and LandScape data to construct the assimilation profile." Andy provided interesting photographic on-the-ground proof of his methodology's results in a variety of Los Angeles neighborhoods. In the end, Andy did decided that Hillary was correct in calling him with a Spanish message, based on the cultural assimilation score of his own neighborhood.
Attendee Feedback:
Very good. Interesting and helpful.
Awesome presentation.
Great methodology. Wonderful real-world examples. Showed theory as well as practice, which is what I want in a presentation.
Great presenter. Effectively made the point.
Fascinating use of data.
Great new variable idea!
SESSION 5 - But is it Relevant?: Understanding Trade Areas
Presenter - Erica Jones, Dunnhumby USA
Erica discussed Dunnhumby's relationship with Kroger, and described how the two companies have collaborated to apply demographic data to GIS to precisely define retail trade areas - and tap into untapped potential in current markets. She showed how the research project is helping to answer questions regarding connection, potential, and relevance. Dunnhumby is an international marketing consultancy and services company.
"Our goals are to make loyal and semi-loyal customers more loyal, and to become more attractive to non-customers," said Erica. "Building loyal shoppers is very important and a great opportunity, because we know we are not getting 100 percent of their dollars. Through the research, were have been able to identify opportunities to achieve these goals that we didn't know we could or should do at both the enterprise, regional, and local levels."
Working together the companies created a research methodology designed to highlight unique opportunities in specific trade areas. Kroger's consumers were already grouped by categories using LandScape segmentation. The additional research further identifies consumers and creates a road map to best capture their grocery-store needs. The research also prioritizes tasks according to stores, departments, and initiatives. Data used in the analysis included behavioral (loyalty cards), demographics and attitudes (PopStats), the rest-of-the-market movement (Market Basket), and customer in-store research.
Attendee Feedback:
Overall a good job. This topic was very helpful in identifying topics that we need to work on to remain competitive.
A little over my head, but I pulled some wonderful nuggets from the presentation - especially about weighting trade areas and block groups.
Great topic.
SESSION 6 - Leveraging Trade Area Information: The Step to Marketing
Presenter - Cindy Reid, Mapping Analytics
Cindy discussed the importance of profiling customers to better understand who they are demographically, geographically, and attitudinally. She described how the LandScape segmentation product, in particular, can help bring define consumers, so that companies can make better decisions in a multitude of areas, including product selection, site selection, and marketing.
She outlined the three levels of segmentation within LandScape, including the unique lifestyle indicators:
The segmentation level of LandScape divides consumers into segments by traditional demographic factors, including age, income, education, and family status.
The second level of the product further segments consumers by their purchasing attitudes. The 21 lifestyle indicators help separate, for example, the conservative consumers from the non-conservative.
Finally, the product's access to MediaMark data (MRI) provides the opportunity to view the actually purchasing habits of consumer segments.
"Combining customer knowledge with trade area knowledge can be uniquely powerful," said Cindy. It can help to answer questions such as: who lives in the trade area?, what are they purchasing today?, and how can a company speak to them most effectively.
Attendee Feedback:
Great ideas. A little quick. I wish I understood more completely.
Nice examples. I enjoy that and find it useful to show real-world examples. I found it surprisingly relevant.
SESSION 7 - Census Data Update and Request for Enhancements
Presenter - Robert Welch, STI
Robert discussed the 2010 Census, its release schedule beginning in March 2011, and PopStats implementation of the new data. He also overviewed the government's changes to the Census, including replacing the long-form with the American Community Survey (ACS). He noted that the ACS has to be congressionally approved every year, and that many of the numbers provided will amount to five-year averages versus direct counts at the block group level.
Robert then opened up the discussion for requests for enhancements to STI products, including specific data clients would like to add to STI products. "Our approach to product development is to add variables our clients actually need," he noted. "Our philosophy is to add new content to our existing products, not just add more new products to our suite." Allowing customer input that guides product development also "allows us to extend our products in new directions that we would not have otherwise thought of."
Attendee Feedback:
Always interesting to hear the challenges and goals users have to conquer!
Very needed and very useful.
---
Friday, March 26, 2010
---
SESSIONS 1 & 2 - STI: PopStats Methodology
Presenter - Robert Welch, STI
Robert rounded about the two-and-a-half day Conference with explanations of the PopStats' methodology, the five-year forecasts, the 10-year projections, and PopStats Expected Value Index. Regarding the methodology, Robert said that the PopStats estimates are calculated on multiple computers working together in a pseudo-parallel processing manner. "We have created a self-correcting artificial intelligence modeling system that learns from itself." Here is a brief description of the methodology. Four models comprise the PopStats' model:
Zip+4 Model. This model is based on over 28 million ZIP+4s, representing over 116 million households. This model is the primary determinate in understanding population growth and decline. Vital to the process is that STI maintains its own street files that feed into PopStats, because "we do not want spurious third-party data entering into the calculation."
Postal Delivery Model. This model is based on postal delivery statistics provided by the postmasters in each market across the country. This model's primary purpose is to understand trends in existing populated areas.
Spread Model. This model, which is based on macro-level postal counts, performs double-duty: It both calculates populations in rural areas where ZIP+4s are limited, and serves as a checks-and-balance for the previous two models.
Census Model. This is the grand master of all the models, which STI also calls the "black box." It pulls together the other three models using an extreme set of heuristics (if-then questions). In short, it is the final decision-maker of the estimate.
The PopStats methodology includes automated processes for overcoming any and all anomalies present in the data, including ZIP+4 inaccuracies, data smoothing issues, conversions (lofts), and overrides. If a client has a question about PopStats' estimates, Robert will research the issue. The client should first gather as much detail as possible, include any third-party evidence that supports his or her position, and be patient during the evaluation process. Robert will verify the issue, check the underlying data, check soft sources, and report back to the client in a timely manner.
Attendee Feedback:
I've been a Claritas user for 14 years and have never seen a true methodologies session before! This fully allows me to better present data to my senior executive team. Fully converted PopStats user!
This is to me the most useful part of the Conference. It is great to have a detailed account.
These were informative and really show the commitment to excellence of Robert and PopStats Data.
Love the math (really)!
Enjoyed population theory.
This information was extremely helpful.
This is why I attended.
Did you notice that nearly all the questions came from people who have heard this topic 3, 4, 5 years? That included me.
The transparency vis-a`-vis methodology imbues confidence and competence in the data. Robert - this is a very important segment of the Conference.
Announcements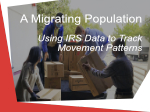 A Migrating Population - Using IRS Data to Track Movement Patterns
Check out the maps now!
Chat with us for more info
---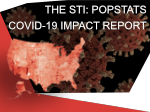 The PopStats™ COVID-19 Impact Report:
Available Now!
Chat with us for more info
---