STI: PopStats 2012 Research Conference Report
Seventh Annual PopStats Conference Receives High Ranks -
100% of Attendees Said it Met or Exceeded Their Expectations
Nearly 100 people attended the Seventh Annual STI: PopStatsT Research Conference and User Forum in Austin, Texas, on March 21 to 23, 2012 - and each attendee said that the conference either met or exceeded their expectations. Further, 94% said they would recommend the conference to others and 75% said they plan to attend again next year.
Comments from attendees on the overall conference included the following:
Among the best.
This was a great conference this year!
Very well executed.
Love the attention to detail and making the conference feel so special for attendees.
I love that everyone is together for the entire conference.
The casual nature is great, and the encouragement of questions and comments is great.
Best food, great camaraderie.
Comfortable and relaxed.
Great to get exposure to the different platforms that people are using.
Love the networking and seeing how others are using the data and technology.
Best thing since sliced bread.
This Conference Report provides an overview of the 2012 Conference, including synopses of all the sessions. This Report is a review for this year's attendees and an overview for those who could not attend the event.
TABLE OF CONTENTS
Wed. March 21, 2012
SESSION 1 - What's New and Major Initiatives Taking Place, Robert Welch, STI
SESSION 2 - Top Growth Markets for 2012, Robert Welch, STI
SESSION 3 - Market Economic Analysis for 2012, Max Fisher, STI
SESSION 4 - Social Media Data Modeling, Mike Lukianoff and Laura Martin, Czar Metrics
SESSION 5 - Future Trends and Key Learnings for the Future, Lissy Bethman, Birchwood Resultants
SESSION 6 - Reinforcing Spatial Thinking, Jillian Elder, Walgreens

Thr. March 22, 2012
SESSION 1 - Optimal Location Analysis, Dimitriy Masterov, Domino's Pizza, and Paul Sill, Forum Analytics
SESSION 2 - ACS and its Impact on PopStats, Robert Welch, STI
SESSION 3 - Taking Data Visualization to the Next Level, Andy Verostek, Del Taco
SESSION 4 - The Strength of Data, Andrew Ferensowicz, .. , Perry Ellis International
SESSION 5 - Advancing the Retail Research Department, John Orton, Advance Auto Parts
SESSION 6 - Unified Market Research: Bridging the Gap to Create Unified Decisions, Michael Sartin, SRS Real Estate Partners

Fri. March 23, 2012
SESSIONS 1 - STI LandScape Methodology, Robert Welch
SESSIONS 2 - STI PopStats Data Methodology, Robert Welch

---
Wednesday, March 21, 2012
---
SESSION 1 - What's New and Major Initiatives Taking Place
Presenter - Robert Welch, Synergos Technologies Inc.
As has become the tradition, the 2012 Conference kicked off with Robert's overview of new projects underway at STI including:
With the October 2011 release, STI: PopStats was recalibrated based on the 2010 Census. The January 2012 release incorporated ACS data for the first time. ACS has been fully integrated into PopStats. The PopStats Data Dictionary was released in 2011.
A new data extraction program was added to PopStats in the July 2011 release. Its benefits include: greater compression, faster retrieval, no exiting to DOS, better handling of NA data, and text file extraction to bypass the 250 field dBase limit.
STI: Colossus databases are growing, and will eventually encompass 20 million variables of time-series data (e.g., daily, bi-weekly, weekly, monthly, quarterly, and annually), currently at the county and point levels.
Product improvements in 2012 will include: adding economic data from Colossus to PopStats, improving reporting in LandScape, adding forecasts for key variables in Colossus, and adding consumer spending habits histories to STI: Spending Patterns.
Attendee Feedback:
Helps to hear this.
Very valuable.
Sounds interesting.
SESSION 2 - Top Growth Markets for 2012
Presenter - Robert Welch, STI
Robert's annual discussion of the top U.S. growth markets revealed the impact of the recession on U.S. population growth. Six years ago, the analysis showed nearly 60 fast-growing markets across the country, while this year only 18 markets made the cut. The criteria for this list includes: areas with an initial market size of at least 60,000; a minimum per annum growth rate of 2%; a minimum growth rate of 8,500 people; and has experienced significant growth for at least two years. Robert uses PopStats data for the analysis.
Six of the 18 top-growth areas are in Texas. Austin is the top growth market for the second year in a row. The analysis also showed that Florida markets are returning to vibrancy, Las Vegas did not shrink last year (as it had in previous years), and Phoenix was losing ground. The top five growth markets are: Austin, El Paso (TX), Fort Meyers (FL), Hamilton County (IN), and Charlotte (NC).
Attendee Feedback:
This simple presentation was explained clearly and showed that we can tailor this to our markets.
Excellent.
A highlight.
SESSION 3 - Market Economic Analysis for 2012
Presenter - Max Fisher, STI
As the product market manager for Colossus, Max demonstrated how the product works using four of Colossus's 100+ databases: local area unemployment, housing prices, credit card debt per capita, and mortgage debt per capita. All of these variables impact consumers' ability to spend and, therefore, an area's economic growth potential. Max conducted research of these variables on three representative market classes.
Max's executive summary from his research included the following findings:
While economic conditions are improving in most markets, there are still significant differences in the projected trajectories of growth across local areas.
These varying trajectories can be partially explained by the different amounts of credit card and mortgage debt held by consumers.
Moreover, movements in home prices and changes in the unemployment rate are also impacting economic growth in local areas.
Researchers can use this data and over 130 other databases in Colossus to access economic and other business conditions in their targeted markets.
SESSION 4 - Social Media Modeling
Presenter - Mike Lukianoff and Laura Martin, Czar Metrics
How can we make sense of social marketing? Mike and Laura presented an answer to this question during their session. While it can be a challenge, it's worthwhile for many companies to research social media for the following reasons:
Time. Learn the best time to communicate with your customers.
Place. Discover where your customers are when you communicate with them.
Situational Awareness. Find which situations trigger ideal customer communication.
Psychological Insight. Gain a new way to learn customers' wants, needs, and values.
The presenters outlined four primary benefits of social media data modeling:
Improve Marketing. Even if a company doesn't market in the digital space, they can still learn more about their customers from the digital world, and leverage new opportunities.
Push Trade Area Boundaries. Find customers who live beyond your customary boundaries and consider refining your trade areas.
Track Correlations. Double-check research such as Neilson with real world results and gain insights into how your customers are evaluating brands.
Hear Conversations. Learn what customers are saying about your company online.
Attendee Feedback:
Very interesting presentation!
Good context and examples to learn from.
SESSION 5 - Future Trends and Key Learnings for the Future
Presenter - Lissy Bethman, Birchwood Resultants
The speaker overviewed five key trends in real estate modeling:
Ever More Fragmented Consumers. Today's customers are more diverse and less homogenous than in previous generations. This is not always obvious, because people can look similar, but think and shop very differently. For example, soccer moms who collect fine china. As a result, lifestyle segmentation is critical.
Ever Higher Real Estate Costs. Higher costs make it tempting to seek places with lower rents. But high-quality locations nets higher profits, so aim for quality sites versus quantity.
Moving Data to the Field. Having data at their fingertips allows field researchers to view maps and simple reports. This foresight can help eliminate sites with obvious problems and target potentials for further in-house analysis.
Tracking Customer Satisfaction and Operations Metrics. Regarding bad locations, even an excellent manager and powerful marketing cannot fix a low-quality location.
The Basics Never Change. Launch into an area with high-quality stores, back it with strong operations, and build customer bases incrementally through solid management and targeted marketing.
Attendee Feedback:
Interesting approach to grouping stores.
Fantastic. Exactly the kind of presentation I find useful.
SESSION 6 - Reinforcing Spatial Thinking
Presenter - Jillian Elder and Ben Farster, Walgreens
With some of the "best corners in the U.S.," Walgreens is hoping to leverage its position through several innovative programs, based on the locations, including:
Expanding Food Choices. Adding different choices to different stores, from desserts, to smoothies, to sushi.
More Health Services. Includes a health guide in front of the pharmacy to answer questions and help people with their healthcare needs.
Healthcare Clinics. Includes a board certified nurse practitioner, currently available at 361 stores.
Senior Care. Reaching out to the growing number of seniors to fulfill their pharmacy needs.
Decisions on which services and products to add to which stores are made with always expanding GIS methodologies developed to provide a variety of analysis, including a real estate package, market strategy portal, competitor location database, and a Walgreens mapping application.
Attendee Feedback:
Very candid with research techniques.
The speaker was extremely engaging and effective.
Liked seeing how the GIS department creates awareness for itself in the company.
Nice overview of department's role in company.
The GIS marketing piece was very interesting.
---
Thursday, March 22, 2012
---
SESSION 1 - Optimal Location Analysis
Presenter - Dimitriy Masterov, Domino's Pizza, and Paul Sill, Forum Analytics
Domino's has been acquiring locations since the 1980s. As a result, it is getting harder and harder to find good locations, says Dimitriy. But figuring out where to put new stores is just one of the pizza chain's location challenges. The company is also expanding beyond its delivery service foundation to add more carry out locations. "Often these stores have to look different, because customers will be visiting them."
A third issue Domino's is addressing with its trade area research involves its franchisees. The company's locations are split between franchise-owned and company-owned stores. Sometimes difficult decisions have to be made, for example, if a store is struggling. If the management is the problem, then the company has to determine how to equitably change the store's ownership. Domino's location research process includes a wide variety of data, including: internal, sales, site attributes, external, and STI demographics.
Attendee Feedback:
SESSION 2 - ACS and its Impact on PopStats
Presenter - Robert Welch, STI
Robert presented an overview of the process of adding ACS data to PopStats. "The product is totally ACS now. We incorporated the data by January 2012." He outlined the process used to add the data to PopStats and discussed the pros, cons, and results.
Pros of ACS data:
Currency - no more than two years old.
Timely - it's annual in nature.
Accuracy - interviewers are now full-time employees.
Cons of ACS data:
Sample size - about half as many households are surveyed versus the long form.
Census relationship - there is none except at the county level.
Multi-period averaging - it smooths vital fluctuations and dollar averaging.
Data gaps - both geographically and categorically.
The PopStats-ACS challenge:
Where ACS will help - wherever straight ratio analysis is our current methodology, e.g., educational attainment.
Where ACS will hurt - anything financially oriented, such income and housing values as well as employment.
How to compensate for five-year moving averages - comparative ratio.
Attendee Feedback:
Everything Robert presents is useful and informative.
It is important to understand the changes and differences in the ACS data.
SESSION 3 - Taking Data Visualization to the Next Level
Presenter - Andy Verostek, Del Taco
Andy gave a dynamic presentation that centered around the idea of using data to gain precise answers to problems. "Do not make assumptions. Let data do the heavy lifting." One of the assumption problems Del Taco had was that all Hispanic people do not eat there. "We assumed that the majority of them ate at authentic taquerias. But the data found that this was not always true."
Andy used a combination of PopStats, LandScape, and WorkPlace data to gain insight into this issue, with a focus on employment densities, manufacturing data, and LandScape segments. "We pushed this data out to the field researchers so they could make knowledgeable decisions, versus sweeping judgments based only on past experience and gut instinct."
Attendee Feedback:
Andy always rocks!
Great job!
Andy is a good presenter!
SESSION 4 - The Strength of Data
Presenter - Andrew Ferensowicz, Jeannie Davila, and Mario Mayor, Perry Ellis International
Perry Ellis International has multiple brands in a variety of categories, including fashion, Hispanic lifestyle, and sports. Through ongoing and in-depth market research, the company tries to find out who their end consumers are for each category, always striving not to let them cannibalize each other. The company's researchers constantly dig into the data and share relevant research with several departments, including sales, marketing, retail planning, wholesale planning, and the executive board.
Andrew presented a detailed overview of how the company gains insight from PopStats and LandScape data. For example, the Size Matters attitude indicator provides the company with vital insight, because people's body size plays an increasing role in terms of which sizes land on the shelves. The company significantly supplements its STI data with data from in-store sales and online purchases.
Attendee Feedback:
SESSION 5 - Advancing the Retail Research Department
Presenter - John Orton, Advance Auto Parts
Finding new locations for the second largest aftermarket auto store is a challenge, primarily due to the saturation of the marketplace, said John Orton. The company currently has 3,500 stores in 40 states, but is still looking for more viable sites. "Our sites don't have to be flashy, because our customers priorities are that the parts they need are cheap, close to where they live, and in stock. In the past few years, the old Blockbuster and Hollywood video sites have offered us great deals."
One of the biggest challenges is getting relevant data to the field teams who scout out new locations. Some of the strategies include: exporting mapping data from the desktop to the field through cloud computing, giving field teams the ability to do forecasting and analysis, and providing dashboard views to senior management. Data includes advanced store locations, competitive locations, retail locations, and demographics.
SESSION 6 - Unified Market Research: Bridging the Gap to Create Unified Decisions
Presenter - Michael Startin, SRS Real Estate Partners
SRS Real Estate Partners helps retail clients find locations, from small retailers to large. At the start of each project, they ask four questions to bridge the gap with their clients: 1. Who are they?, 2. Who are their customers?, 3. What are their objectives?, and 4. What are their trade areas?
With each new client, the company asks themselves: How do we achieve a unified research decision? One of SRS's biggest challenge is working with the real estate brokers, whose knowledge of market research may not be that strong. "We coach the brokers how to communicate with the client and use the clients' research effectively. And it has paid off."
---
Friday, March 23, 2012
---
SESSION 1 - STI: LandScape Methodology
Presenter - Robert Welch, STI
Robert added an in-depth discussion of LandScape's methodology this year, beginning with an overview of the four reasons that neighborhood segments consistently form across the country 80 percent of the time:
Tradition. A neighborhood has been one way for a while, such as nouveau riche or retired citizens, and it stays that way.
Perceptions. Residents' attitude is "if I lived there than that's where I perceive myself living," such as a hipster or working family neighborhood.
Development. Some neighborhoods are specifically designed to fit a personality type.
Physical Environment. People who share a similar lifestyle are attracted to similar geography, such as mountains, farmland, or water areas.
Neighborhood segmentation works because the segments change slowly. But one weakness is that while the demographics may indicate a specific consumer type, such as "married with children," the attitudes of the residents may be different that what is expected. For example, some parents may raise their children according to an attitude of ensuring they are always dressed in the latest fashions. Meanwhile, other parents' attitudes could be that "our children will just outgrow their clothing, so we're just going to purchase discount items." LandScape's ten social and lifestyle indicators add a new dimension, and a way to see these attitudinal differences, to the traditional breakdown by demographics.
SESSIONS 2 - STI: PopStats Methodology
Presenter - Robert Welch, STI
Robert rounded about the two-and-a-half day Conference with explanations of the PopStats' methodology, the five-year forecasts, the 10-year projections, and PopStats Expected Value Index. Regarding the methodology, Robert said that the PopStats estimates are calculated on multiple computers working together in a pseudo-parallel processing manner. "We have created a self-correcting artificial intelligence modeling system that learns from itself." Here is a brief description of the methodology. Four models comprise the PopStats' model:
Zip+4 Model. This model is based on over 28 million ZIP+4s, representing over 116 million households. This model is the primary determinate in understanding population growth and decline. Vital to the process is that STI maintains its own street files that feed into PopStats, because "we do not want spurious third-party data entering into the calculation."
Postal Delivery Model. This model is based on postal delivery statistics provided by the postmasters in each market across the country. This model's primary purpose is to understand trends in existing populated areas.
Spread Model. This model, which is based on macro-level postal counts, performs double-duty: It both calculates populations in rural areas where ZIP+4s are limited, and serves as a checks-and-balance for the previous two models.
Census Model. This is the grand master of all the models, which STI also calls the "black box." It pulls together the other three models using an extreme set of heuristics (if-then questions). In short, it is the final decision-maker of the estimate.
The PopStats methodology includes automated processes for overcoming any and all anomalies present in the data, including ZIP+4 inaccuracies, data smoothing issues, conversions (lofts), and overrides. If a client has a question about PopStats' estimates, Robert will research the issue. The client should first gather as much detail as possible, include any third-party evidence that supports his or her position, and be patient during the evaluation process. Robert will verify the issue, check the underlying data, check soft sources, and report back to the client in a timely manner.
Announcements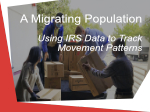 A Migrating Population - Using IRS Data to Track Movement Patterns
Check out the maps now!
Chat with us for more info
---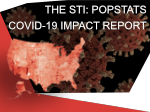 The PopStats™ COVID-19 Impact Report:
Available Now!
Chat with us for more info
---