STI: PopStats 2013 Research Conference Report
In its Eighth Year, the Annual PopStats Conference Continues to
Impress Attendees with Innovative and Insightful Sessions
Over 75 percent of the research specialists who attended the Eighth Annual STI: PopStatsT Research Conference and User Forum said they came for the content. And this year's conference did not disappoint - covering everything from an introduction of the new STI: Nimbus weather data product, to a demonstration of modeling store sales with the open-source R language, to the annual in-depth methodology lessons on STI: PopStats and STI: LandScape data products, attendees enjoyed a conference loaded with valuable content, as well as innovative insights and peer-to-peer networking.
This year's Research Conference was held on March 20 to 22, 2013, in Austin, Texas, at the Domain - a popular shopping, dining, and hotel destination about 20 minutes north of downtown. This was a new venue, and from attendee feedback many loved the change of scenery and the service at the Westin hotel.
Over 95 percent of the attendees said that the conference exceeded or met their expectations. Comments from attendees on the conference include the following:
This is always a great conference!
Very well managed and great venue.
This conference is more salient, relevant, and intimately sized than most others, and that is a good thing.
I really enjoyed the focus on modeling this year. There is no other GIS conferences focused on market research, demographics, and business needs.
This is generally one of the best.
I enjoyed being exposed to so much rigorous conceptual thinking about business practices.
I really like the math, statistics use, modeling, and predictive behavior discussion.
First time, first day, well worth my time!
Probably the greatest endorsement of the PopStats Research Conference is that 100 percent of the attendees this year said they would recommend the conference to others.
This Conference Report provides an overview of the 2013 Research Conference, including synopses of all the sessions. This Report provides a review for this year's attendees, as well as an overview for those who could not attend the event.
TABLE OF CONTENTS
Wed. March 20, 2013
SESSION 1 - What's New and Major Initiatives Taking Place, Robert Welch, STI
SESSION 2 - New Product Introduction - STI: Nimbus, Robert Welch, STI
SESSION 3 - What If?, Gary Martin, Retail Research Group, and Vladimir Eskin, Prognoz
SESSION 4 - Building a Market Inventory and Prioritization Study, Curt Newsome, REI
SESSION 5 - Assortment Optimization: Identifying Niche Opportunities to Maximize Store Profitability, Sheila Cielenski, Ace Hardware, and Paige Stover, Forum Analytics

Thr. March 21, 2013
SESSION 1 - Top Growth Markets for 2013, Robert Welch, STI
SESSION 2 - Unlocking the Web of Free Data: Techniques on Extracting Data from the Internet, Chris Hathaway, AggData
SESSION 3 - Social Media, Smart Phones, and Omni-Channel Retail: The Next Frontier in Retail Site Selection, Dave Huntoon, Intalytics
SESSION 4 - STI: Colossus and Prognoz - Online Analytics Processing, Max Fisher, STI
SESSION 5 - Logic Articulation, Andy Moncla, MTN Retail Advisors
SESSION 6 - Using the Open-Source R Language to Model Store Sales, Rod Carver, Jim King, and John Colias, Decision Analysts

Fri. March 22, 2013
SESSIONS 1 - STI LandScape Methodology, Robert Welch
SESSIONS 2 - STI PopStats Data Methodology, Robert Welch

---
Wednesday, March 21, 2013
---
SESSION 1 - What's New and Major Initiatives Taking Place
Presenter - Robert Welch, Synergos Technologies Inc.
Attendees of the 2013 PopStats Research Conference enjoyed first-hand previews of and insights into STI product development from three perspectives: new products, products under development, and products planned for the future. Here are the highlights of this session:
STI: PopStats' unparalleled accuracy was again confirmed with the U.S. Census Bureau's recent update. It showed that PopStats' April 2012 estimate of the U.S. population was off by only 1,452. The accuracy was even greater than that of the U.S. Census Bureau itself.
STI is moving PopStats in an economic direction to help companies understand the economies of markets, so they can make more informed decisions such as: where they should add stores, withdraw from the market, or shore up existing stores. To this end, STI is releasing three new sets of economic variables in PopStats, which are extensions of STI: Colossus and STI: WorkPlace:

Economic Viability. Based on the theory that if people "feel" they have a job tomorrow, they feel will more confident about spending today.
Occupational Demand. Tracks how much specific jobs are in demand in an area.
Occupational Salaries. Shows what occupations exist in an area and what the salaries are for those positions.

PopStats will be getting other new variables:

The April 2013 release will add single-year ages for years zero to 21 to five-year forecasts.
The July 2013 release will include poverty and wealth (net worth) data.

STI: Market Outlook was re-released in January with updates, including a product/industry matrix that shows which industries sell which products.
Attendee Feedback:
Very Interesting.
It's good to know what new variables and products are coming this year.
I learned about new variables we can use.
I'm always impressed with Robert's knowledge.
Great job, as always.
SESSION 2 - New Product Introduction - STI: Nimbus
Presenter - Robert Welch, STI
At last year's conference, attendees requested weather data by time-of-day at the block group level. At this year's conference, Robert announced the delivery of a new product that delivers exactly what clients asked for - STI: Nimbus. "There are a number of weather data products out there, but none of them are geo-referenceable to the half-mile," stated Robert. "STI: Nimbus is."
The benefit of weather data at the block group level with time-of-day reporting for businesses is that weather events are not always citywide events, noted Robert. "It's not uncommon to ask someone living in the same city if they `got any rain' after a shower. A couple of miles can make a world of difference when it comes to weather."
Robert described the new product, its features, and its methodology for attendees. For example, STI: Nimbus will allow stores to measure the impact of weather over time, including category management, asset management, logistics, and risk analysis. When it launches, STI: Nimbus will include:
Weather events such as hail and tornados
Temperature
Barometric pressure
Environmental measurements such as air quality, earthquakes, and terrain
Five years of historic data
Attendee Feedback:
It is very exciting to learn the nuts and bolts of Nimbus.
Great potential to expand use of this.
SESSION 3 - What If?
Presenter - Vladimir Eskin, Prognoz and Gary Martin, Retail Research Group
In market research, asking "what if?" questions are a common method for making business predictions. Researchers want to know: What will happen if I do something, such as enter a new market or change the format of a store? Two presenters shared their views of applying this research method. Gary shared the perspective of combining gravity models with real-world observations to gain insight into customer store selection. Vladimir explained his company's technology, which allows researchers to test multiple scenarios, all from the computer screen.
Gary contends that "what if" research using gravity models is part science and part art. For example, while researchers can create gravity models using mathematical inputs, such as store sales data and geographic data, observations on the ground by an experienced analyst are also vital for understanding how a particular trade area works. "Along with studying key data points, it's also important for researchers to make observations that impact what factors effect the residents' decisions to leave home and go shopping at specific stores?"
Vladimir explained how his company's predictive analytic software, Prognoz, could be used by researchers to gain valuable insight into their trade areas. The process begins by setting the parameters into the model, and changing the parameters to create different "what-if" scenarios. One of the key advantages of Prognoz is its visualization capabilities, including maps, charts, and graphics. It also allows researchers to build layers of models for more advanced analysis.
Attendee Feedback:
I enjoyed the Prognoz presentation!
Great to see the potential for visualization with the software.
Vladimir is very knowledgeable.
SESSION 4 - Building a Market Inventory and Prioritization Study
Presenter - Curt Newsome, REI
With five million active members, REI is the largest consumer co-op in the U.S. Members account for 90 percent of in-store sales. It currently has 128 stores located coast-to-coast, with the greatest concentration in the West. It opens new stores at a pace of five to six a year. Historically, REI has chosen new locations reactively, typically relying on brokers to recommend new locations. However, management decided it was time to become more proactive about new store location selection.
Curt explained to the conference attendees how he advanced REI's store location analysis process using a wide range of data, market segmentation, and model building. Considering the vast selection of potential data to apply to the challenge, Curt chose customer data such as member penetration by market, sales by members by market, and other variables. He also added PopStats population growth data to his models.
The next level was to apply his data to a market segmentation system. From this, he was able to locate the segments based on households' propensity to shop at REI. He added other layers of data, such as competitors and intersections. The proactive research results were successful. "We found store opportunities that we may never have thought about before," noted Curt.
Attendee Feedback:
Great to see how modeling techniques were basically introduced from scratch.
Very interesting.
SESSION 5 - Assortment Optimization: Identifying Niche Opportunities to Maximize Store Profitability
Presenter - Sheila Cielenski, Ace Hardware, and Paige Stover, Forum Analytics
Ace Hardware has a unique store concept: Its 4,100 domestic stores are 100 percent franchise owned and operated. And ownership includes stocking anything the owners want in their stores - from gardening to cooking supplies, and horse saddles to soap. "We want our owners to be involved and passionate about their stores," said Sheila.
Naturally this non-traditional approach creates some business challenges, especially as Ace continues to open 100 to 150 stores a year. For one thing, there is no consistent merchandising data across the network to analyze. However, Ace felt an imperative to provide some assistance to some owners who looked to them for guidance in optimizing their stores' profits. To solve this issue, Ace developed the concept of "store niches," which are store concepts that share a similar theme.
To that end, Ace conducted a research study with the help of Forum Analytics to define its dominant store niches by classifying their sales volumes and talking to the owners. Ace's goal with this approach is to provide its storeowners with lists of successful niches they can pursue, and the data to support why each niche was a success.
Attendee Feedback:
Good to see an interesting problem.
Case studies are good.
I love seeing what other companies are doing with their PopStats data.
---
Thursday, March 22, 2013
---
SESSION 1 - Top Growth Markets for 2013
Presenter - Robert Welch, STI
This is the seventh year that Robert has shared the Top Growth Markets at the PopStats Conference. The series is a testament to the economic conditions over the past several years. The first report in 2007, right before the recession, when business was booming everywhere, showed nearly 60 high-growth markets across the continental U.S. Last year showed the lowest number of high-growth markets ever - only 18 markets made the cut. This years' report shows that the country is beginning to emerge from the great recession - thanks to 25 markets making the high-growth cut.
The top growth market is, and has been, Austin, Texas. Next in line this year are: Fayetteville, NC; Livermore, CA; New Orleans, LA: E. Riverside, CA; Charleston, SC: Houston, TX; Louboun, VA; Colorado Springs, CO; and Miami, FL.
Robert uses the same methodology each year to create the report - which makes it a valuable tool for year-to-year comparisons. The criteria used to create the list includes areas with: (1) an initial market size of at least 60,000; (2) a minimum per annum growth rate of 2%; (3) a minimum growth rate of 8,500 people; and (4) experienced significant growth for at least two years. Robert uses PopStats data for the analysis.
Attendee Feedback:
Good standard year-to-year presentation.
Robert is too smart for his own good!
SESSION 2 - Unlocking the Web of Free Data: Techniques on Extracting Data from the Internet
Presenter - Chris Hathaway, AggData
Since graduate school, Chris has been finding new sources of data and getting them for free online - then he decided to create a company around his unique skill. Today, AggData provides companies with valuable data - including store locator data, which includes 2.5 million data records. He also builds custom databases of free online data based on customers' specific needs. At this year's PopStats Conference, Chris described how he finds and extracts this data.
He began by explaining the structure of the web. The trick is to understand that dynamic databases lie under HTML structures or templates, and to identify patterns in the navigation or web addresses. "When you get under the hood of the template, so to speak, you can access the data available there," he said. "Once you understand how the navigation works, you can manipulate it to extract the information you want, even data that is not easy to find by clicking on links."
Chris closed with a brief discussion of the ethics of extracting data from companies' websites. He advised people to respect the company's content, including copyrights.
Attendee Feedback:
My favorite presentation.
Lots of great info!
Good and informative.
Glad there was a discussion on legality and ethics.
Fascinating!!
Great job getting him here. A lot of people were interested last year.
SESSION 3 - Social Media, Smart Phones, and Omni-Retail: The Next Frontier in Retail Site Selection
Presenter - Dave Huntoon, Intalytics
Dave discussed the advantages and challenges of the many ways to collect customer data to predict performance and sales potential within retail stores, restaurants, banks, and healthcare organizations, versus using customer transaction data. He overviewed the following methods (abbreviated notes on the pros and cons of each are included here):
Customer Surveys. Accurate point of origin, but episodic.
Kiosks. Inexpensive, but too easily erroneous.
POS Surveys. Low cost, but opportunity for management malfeasance.
Loyalty/Membership Programs. Free, but point of origin challenges.
Affinity Credit Cards. Free, but doesn't represent entire customer base.
General Bank Cards. Good representative customer sample, but not always available.
Omni-Channel Retail. Significant differences between online and store products.
Visual Recognition Technology. Collect from any location, but captures all traffic.
License Plate Recognition. Only relevant if auto traffic is the primary transportation.
Mobile Devices. Can collect continually, but can't get exact locations.
Social Media. Free, but sample size and representative customer issues.
Attendee Feedback:
This should be more important each of the next few years.
Seriously, very interesting and informative.
Well presented; sharp guy.
Great overview of the techniques and benefit/concerns.
Very interesting discussions about pro and cons of different data collection issues, and privacy issues, gray areas, and new technologies.
SESSION 4 - STI: Colossus and Prognoz - Online Analytical Processing
Presenter - Max Fisher, STI
"The time-series format within Colossus data has a wide and diverse range of applicability," said product manager Max. "Variables can be used to spot trends that companies might otherwise not be aware of," such as the factors that contribute to the creation of STI's Top Growth Markets report. He presented his analysis of STI's Top Growth Markets using STI: Colossus data and Prognoz software's forecasting functionality.
Max's presentation demonstrate how data from Colossus can be applied to explore and analyze the underlying economic forces that enable certain markets to consistently make the top growth list, while causing other markets to fall off the list. The core focus of his research was to answer the question: What economic forces are affecting consumer decisions? The Colossus variables he evaluated were:
Local Area Unemployment - this data is a measurement of the demand for labor.
Building Permits - this data provides a proxy for investments in home building and home ownership.
Rental Vacancy Rates - this data measures U.S. rental rates.
Housing Price Index - this data measures the U.S. housing market.
Fair Market Rent - this data provides a proxy for the cost of living.
"This data allows us to pick out which markets are more connected to and affected by U.S. economic conditions," noted Max. His demonstration using Prognoz showed how efficiently the software can help companies visualize and hone in on market insights gleaned from Colossus data.
Attendee Feedback:
Would love to see how this topic progresses.
He's obviously very smart and I'd like to learn more about his research.
SESSION 5 - Logic Articulation
Presenter - Andy Moncia, MTN Retail Advisors
MTN Retail Advisors creates probability maps for sites that show the probability of attracting a household to a particular store. "If you can articulate what drives your business, we can probably put it together," noted Andy. To this end, MTN Retail Advisors took a new approach to grocers' typical use of gravity models.
Andy presented his company's research in which they tested the theory that the vast majority of customers shop at the stores closest to their homes. The analysis includes variables such as site descriptions, seasonality, daytime population from PopStats, sister store data, and competitor data. "We learned that having loyalty data is great for gaining consumer insights, especially for calculating spatial data. But too often the data is skewed by the grocers. STI: Market Outlook's consumer demand data is better for obtaining these insights."
Based on the analysis, the company built rules for every market and applied them to every database. "The insights can be applied to any grocery store to rapidly discover which grocer is a better fit for a location," said Andy. "For example, we can determine who has the opportunity to generate the most revenue with the least amount of cannibalization."
Attendee Feedback:
Good content, relevant to the group.
I enjoyed it.
Enjoyed the handful of vendor spotlights.
Love to learn more about building the model.
He did a great job!
SESSION 6 - Using the Open-Source R Language to Model Store Sales
Presenter - Rod Carver, Jim King, and John Colias, Decision Analysts
Decision Analysts gave a crash course in the R computer language, including what it is, its history, and its application for geo-analytics. R is a free language and software environment for statistical computing and graphics. It is a GNU project, which is similar to the S language and environment that was developed at Bell Laboratories (formerly AT&T, now Lucent Technologies) by John Chambers and colleagues. R can be considered as a different implementation of S. It provides a wide variety of statistical (linear and nonlinear modeling, classical statistical tests, time-series analysis, classification, clustering, etc.) and graphical techniques, and is highly extensible. The S language is often the vehicle of choice for research in statistical methodology, while the R language allows analysts to build virtually any kind of model they want. There are currently over 4,000 programs that have been contributed to the R language community.
The presenters presented a case study using R to create predictive models to evaluate retail sites using store attributes. They looked at a range of different kinds of models and compared the relative accuracy of alternative types of predictive models. They overviewed the process, including gathering data, processing data, conduct data splitting, and then testing the relevance of variables in order to identify the most relevant variables, in other words, the variables that had the greatest influence on the desired market outcome.
Attendee Feedback:
An informative demonstration of a powerful product that many of us use.
Fantastic presentation.
Very helpful, something I was interested in beforehand.
Fantastic - worth the cost of conference.
---
Friday, March 23, 2013
---
SESSION 1 - STI: LandScape Methodology
Presenter - Robert Welch, STI
Robert added an in-depth discussion of LandScape's methodology this year, beginning with an overview of the four reasons that neighborhood segments consistently form across the country 80 percent of the time:
Tradition. A neighborhood has been one way for a while, such as nouveau riche or retired citizens, and it stays that way.
Perceptions. Residents' attitude is "if I lived there than that's where I perceive myself living," such as a hipster or working family neighborhood.
Development. Some neighborhoods are specifically designed to fit a personality type.
Physical Environment. People who share a similar lifestyle are attracted to similar geography, such as mountains, farmland, or water areas.
Neighborhood segmentation works because the segments change slowly. But one weakness is that while the demographics may indicate a specific consumer type, such as "married with children," the attitudes of the residents may be different that what is expected. For example, some parents may raise their children according to an attitude of ensuring they are always dressed in the latest fashions. Meanwhile, other parents' attitudes could be that "our children will just outgrow their clothing, so we're just going to purchase discount items." LandScape's ten social and lifestyle indicators add a new dimension, and a way to see these attitudinal differences, to the traditional breakdown by demographics.
SESSIONS 2 - STI: PopStats Methodology
Presenter - Robert Welch, STI
Robert rounded about the two-and-a-half day Conference with explanations of the PopStats' methodology, the five-year forecasts, the 10-year projections, and PopStats Expected Value Index. Regarding the methodology, Robert said that the PopStats estimates are calculated on multiple computers working together in a pseudo-parallel processing manner. "We have created a self-correcting artificial intelligence modeling system that learns from itself." Here is a brief description of the methodology. Four models comprise the PopStats' model:
Zip+4 Model. This model is based on over 28 million ZIP+4s, representing over 116 million households. This model is the primary determinate in understanding population growth and decline. Vital to the process is that STI maintains its own street files that feed into PopStats, because "we do not want spurious third-party data entering into the calculation."
Postal Delivery Model. This model is based on postal delivery statistics provided by the postmasters in each market across the country. This model's primary purpose is to understand trends in existing populated areas.
Spread Model. This model, which is based on macro-level postal counts, performs double-duty: It both calculates populations in rural areas where ZIP+4s are limited, and serves as a checks-and-balance for the previous two models.
Census Model. This is the grand master of all the models, which STI also calls the "black box." It pulls together the other three models using an extreme set of heuristics (if-then questions). In short, it is the final decision-maker of the estimate.
The PopStats methodology includes automated processes for overcoming any and all anomalies present in the data, including ZIP+4 inaccuracies, data smoothing issues, conversions (lofts), and overrides. If a client has a question about PopStats' estimates, Robert will research the issue. The client should first gather as much detail as possible, include any third-party evidence that supports his or her position, and be patient during the evaluation process. Robert will verify the issue, check the underlying data, check soft sources, and report back to the client in a timely manner.
Attendee Feedback:
Best lecture of the conference.
Extremely helpful in explaining to clients and superiors how and why PopStats is superlative.
The information presented is fantastic; it enables me to confidently explain why the data is good and the nuances of variable types within the company.
Announcements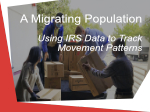 A Migrating Population - Using IRS Data to Track Movement Patterns
Check out the maps now!
Chat with us for more info
---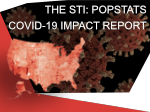 The PopStats™ COVID-19 Impact Report:
Available Now!
Chat with us for more info
---