STI: PopStats 2016 Research Conference Report
Read highlights from the 2016 STI: PopStats Research Conference sessions. This report provides an overview of the event's 13 information-packed sessions delivered by PopStats users, partners, and team members.
From introducing innovative new data sources to the traditional deep dive into STI: PopStats and STI: LandScape methodologies, the 11th annual STI: PopStats Research Conference covered a wide swath of research territory. Over 110 attendees from major U.S. retailers, restaurants, and real estate firms gained new insights on innovations in mobile data, site selection modeling, customer opinion surveys, store cannibalization, trade area research, real estate scoring, developing market strategies, municipality growth strategies, and the top U.S. growth markets in 2015. Leading-edge insights revealed this year helped the PopStats Conference maintain its tradition of being one of the best places to learn about the impact of data on a wide range of business decisions - from where to open new stores, to testing new store concepts, to optimizing cannibalization. What's more, the conference, held in Austin's new downtown Marriott, provided attendees with easy access to the vibrant (and booming) downtown scene in one of America's consistently fastest-growing markets.
Feedback from Conference Attendees!
Every year, the feedback from PopStats Conference attendees helps us understand how we performed. We're proud to say that we receive a lot of great feedback this year, including many high scores. Here are a few highlights from our attendees:
Notable Stats

Nearly 90% said the conference exceeded their expectations
Almost 94% said they would recommend the conference to someone else
Over 81% said they are planning to attend the conference next year
Highlights from attendee comments about sessions:

"Really great to understand the thought process and model behind population estimates and forecasts!"
"Outstanding! This took my data analysis to another level."
"The convex hull trade discussion was extremely interesting and worth the visit alone!"
"Brought in technologies I hadn't considered previously."
"Homerun!"
"Terrific!"
How would you rate this conference compared to other conferences of this type?

"It's better, with a more diverse crowd and with less focus on the `info commercials.'"
"Best I've been to."
"Really outstanding. I was impressed with the hands-on feel and approach."
"Love the small personable environment."
"This one is the best because of the presentation of relevant content."
"The content is much better."
What was the single best idea you gained that will help you in your job?

"Box theory, need to refocus my energy."
"Use PopStats more to my advantage."
"Robert's description of how to use housing density data and the expected values."
"Better understanding of possibilities when using cell data from UberMedia."
"May push harder for more frequent updates with my clients."
"Learning how to compare forecast from hard data to actual results and why they differ."
What was the single most important factor/issue that influenced your decision to attend this conference?

"Wanted/needed to learn more about industry and PopStats data."
"Need for knowledge on data methodology and how others users are using it."
"Haven't attended in a few years, needed a `refresh.'"
"What I get out of the content of the topics discussed."
"I am the company expert on PopStats."
"My vendor mention it to me."
"Someone from our company always attends."
"Education and supporting our partner."
What new topics did you hear about this week that you plan to investigate further?

"STI: Landscape's methodology."
"UberMedia's mobile data and ad-tracking."
"Population migration."
"Customer surveys as a supplement to demographics."
This Conference Report provides an overview of the 2016 Research Conference, including synopses of all the sessions. This Report provides a review for this year's attendees, as well as an overview for those who could not attend the event.
TABLE OF CONTENTS
Mon. April 4, 2016
SESSION 1 - Predicting Store Performance without Sales Data, Chris Hathaway, AggData
SESSION 2 - Real Estate Scoring with "The Delhaize Situs Model," Christian Ormond, Delhaize Group
SESSION 3 - Trade Areas from a QSR Perspective - What's Old and New, What's Been Tried and True, Mike Sawyer, CKE Restaurants
SESSION 4 - 7 Steps to Improve Site Selection, Ross Beaton, Rent-A-Center
SESSION 5 - Economic Impact of Retail for a Municipality Public Sector vs. Private Sector, Lacy Beasley, Retail Strategies LLC

Tue. April 5, 2016
SESSION 1 - Top Growth Markets for 2015, Robert Welch, STI
SESSION 2 - Role of Customer Opinion in Research, Danielle Yanskey, ROIC Analytics
SESSION 3 - Understanding Mobile Data, Andy Moncla, UberMedia
SESSION 4 - Developing Market Strategies Using an Analytical Approach, Brian Strickland, Signet Jewelers Ltd.
SESSION 5 - Cannibalization and Sales Accretion - How White Castle Measures, Uses and Pitfalls, Jim Smith, White Castle
SESSION 6 - PopStats in Action, Robert Welch, STI

Wed. April 6, 2016
SESSION 1 - STI PopStats Methodology, Jeremy Setty
SESSION 2 - STI LandScape Methodology, Robert Welch

---
Monday, April 4, 2016
---
SESSION 1 - Predicting Store Performance without Sales Data
Presenter - Chris Hathaway, Founder & CEO, AggData
"Data hungry." That's how Chris defined some of his customers. Once they start using data, they want more. He strives to give it to him - even data not normally in his data product offering, which is comprised of data he aggregates online. He builds custom databases of free online data based on his clients' needs. A good example is store sales estimate data. However, it's not exactly something that companies just post online. So he came up with a way to make educated predictions of store performance in a chain relative to other stores by analyzing the companies' store openings and closings history. For example, if 85 percent of the stores open where household incomes are above $30,000, he assumed other stores will also perform well in those income levels. He started with two assumptions:
Assumption 1 - If stores closed, it's probably because it was in a poorly performing location.
Assumption 2 - If stores opened, it's likely because they are located in areas that meet a store strategy based on where other well-performing stores have been located.
After overcoming several issues, such as store numbers missing, changing data, inconsistencies, and holes in the data, using machine data aggregators and a Bayesian model, he collected enough data to test his hypothesis with the help of college students. He discovered wide and interesting trends based on demographic and income changes in locations - and proved his methodology worked.
Attendee Feedback:
"Interesting research topic."
"Excited to know open/close dates are coming soon."
"An interesting new concept."
SESSION 2 - Real Estate Scoring with "The Delhaize Situs Model,"
Presenter - Christian Ormond, Director of Site Location, Delhaize Group
Christian started his talk with his favorite quote from Randall's found Robert Onstead: "You pay for a good site one day. You pay for a bad site everyday." But what is a good site? While working for Delhaize Group, a Belgian international food corporations that include Food Lion, Christian made it his mission to not only find out, but also to educate others in the company about what specific kinds of real estate is required to choose sites for conventional supermarkets. "We were dealing with people who want to open stores, but who never dealt with real estate before. We had to help them understand how to find good sites before making $20 million investments." To get started, the site research department first broke down all the components involved when rating site locations. "We put everything important into models so we could replicate our intuition mathematically," he said. Key to the process was developing a common-language real estate scoring model, called Situs, to rate existing and new locations as A, B, C, or D. This step determined the real estate quality for new locations and properly allocated capital to existing stores. They determine A, B, C, and D store grades by assessing:
Site plan issues - like visibility, parking, and proximity to significant attributes (such as a railroad or "suicide lefts")
Locational issues - including population, surrounding retail, urbanicity, and road connectivity networks
Potential attributes - such as non-overlapping drive times
Density and complexity of competition
To ensure accuracy, Delhaize processed its 1,200 locations, comprised of several different chains, through the model. The company uses this model for all of its site decisions - including capital efficiency for remodels, evaluation of relocations, lease renewals, and new store forecasting.
Attendee Feedback:
"Excellent presentation and topic."
"Engaging effective speaker."
"Garnered some great suggestions on how to structure site survey."
"Similar to constructs we use. So good to see other site selection pros approaches."
SESSION 3 - Trade Areas from a QSR Perspective - What's Old and New, What's Been Tried and True
Presenter - Mike Sawyer, Director of Market Planning, CKE Restaurants
The magic formula for trade area analysis at CKE (Carl's Jr. and Hardee's) is this: Sales = Reach x Visitor Frequency x Average Check. Mike shared this with attendees at the start of his talk on how the QSR views trade areas in market research. "It's powerful in helping us consistently define trade areas. It's a quantitative component that drives our sales, particularly, because we know that sixty percent of customers consistently come from two-mile trade areas," Mike said, before launching into a review of trade area analysis.
CKE uses trade area analytics for customer profiling and target marketing, in particular:
Developing comparative analytics for site screening
Providing analytical inputs for statistical modeling and sales forecasts
Identifying market opportunities based on selection criteria
Two broad definitions of trade areas are important in the QSR:
Deterministic trade area - all or nothing area, clear boundaries, and simplistic
Probabilistic - assigns probabilities that people will visit a particular store. The further way they are, the less likely they are to visit
Further, he shared three definitions of trade area styles:
Rule-based - commonly used and convenient, but often not the right way to go
Empirical - representative of the store's business activity
Model - empirical data to build a statistical model
Mike also mentioned a concept important to CKE's trade area analysis: Settlement Context. "This is important because it's not just the raw distance people travel from urban and rural areas, but also their traveling mindset. For example, if they live in a rural area, they will likely combine destinations into a single trip."
Attendee Feedback:
"Informative."
"Good overview of the multitudes of trade areas and how they're built and used."
SESSION 4 - 7 Steps to Improve Site Selection
Presenter - Ross Beaton, Senior Director, Rent-A-Center
In the past, real estate decisions at Rent-A-Center were made by operations managers based on existing store performance and local knowledge. However, this approach occasionally resulted in new store development in over-penetrated markets, inadequate return on investment, and premature lease termination. So, in 2013, Rent-A-Center created a new seven-step market planning process to make better data-driven decisions on real estate. "We have a limited amount of money, so we have to carefully consider several issues," noted Ross. "From throwing a dart on map to actually getting site approval, we now sequentially execute seven models when making location decisions." The process has proven to be a success. In a blind analysis of 68 recent new store openings, stores approved by the new process delivered a 50% higher Total Revenue at Month 12 than stores that were rejected.
Step 1 - Market Modeling - The process starts with asking a key question: where do we want to be? First, the company identifies the highest market potential by considering two variables:
Step 2 - Management Modeling - Rent-A-Center has a range of performance capabilities within its regional and district management. For real estate purposes, they are graded to determine their potential to support new store growth in their territories.
Step 3 - Demand Modeling - Key questions in this model is: who are our customers, where are there, and are there enough there? The company classifies markets according to 73 lifestyle segments, nine census division, and five market classifications, then targets its key customer segments.
Step 4 - Environmental Modeling - For this model, Rent-A-Center applies segmentation variables to measure the surrounding retail market and desirability of an area.
Step 5 - Complementary Retail Modeling - This model helps Rent-A-Center shape its location search strategy by looking at where other retailers are located and where there is a positive or negative co-tenancy.
Step 6 - Site Scorecards - This model involves honing in on several alternative targeted real estate options to choose the best ones. The scorecard benchmarks against six categories, and each has very specific, hard-and-fast site condition weighting factors.
Step 7 - Site Performas - Here Rent-A-Center uses triangulation to assess sales impact and financing for the targeted locations to answer the question: How much revenue will this store create?
Attendee Feedback:
"Excellent topic and speaker."
"Really enjoyed hearing A-Z process from different retailers."
"Appreciate the transparency. Very well done."
"Brought in technologies I hadn't considered previously."
"Dynamic speaker and again good to see retailer location strategy approach."
SESSION 5 - Economic Impact of Retail for a Municipality Public Sector vs. Private Sector
Presenter - Lacy Beasley, President and COO, Retail Strategies LLC
"How do you make data sexy to a municipality?" That's the challenge facing Retail Strategies, which was formed to help cities take a comprehensive approach to retail recruitment. The company conducts market research for municipalities and also acts as a matchmaker between locations and retail businesses. "Essentially we play matchmaker," said Lacy. "More municipalities are looking at economic development than ever before. Today, more than ever, they recognize that retail establishments and restaurants create a substantial economic impact in a municipality through attracting desired businesses, boosting tax collections, creating new jobs, and improving the overall quality of life of communities. Basically, they like the retail opportunities and the jobs that come with it."
But how do municipalities analyze retail recruitment opportunities, especially since they tend to have tunnel vision and don't know how to speak that language? In her presentation, Lacy highlighted the advantages and challenges of relying on either too much or too little data for developing long-term municipal real estate strategies. "Cities love graphics, including infographics," she shared. "The right data and graphics provide information and focus to make wins for communities." Retail Strategies research steps include:
Discovery stage - Begin by collecting lots of data by starting with the largest retail node in town, including demographic, retail contact information, and site selection data.
Presentation creation - Determine how to present it graphically to the cities, so they can make sense of big data.
Map creation - start from macro views and then move down into micro views down to two radius rings.
Discovery process - The firm also provides trade area total market supply and gap reports, which "mayors love," because they can discover leakage and plug holes to maintain tax dollars.
Attendee Feedback:
"Informative topic with a different perspective."
"Good speaker."
"Interesting to hear a topic that is outside the `normal' RE research process."
"Very interesting prospective topic."
"Lacy was great speaker and knowledgeable."
---
Tuesday, April 5, 2016
---
SESSION 1 - Top Growth Markets for 2016
Presenter - Robert Welch, President, STI
Robert led off the second day of the conference with his annual presentation on the top growth markets across the U.S. This annual presentation highlights those market areas that have shown strong growth in the past two years. This is always a favorite session - particularly since the research also shows top market growth since he started the research 10 years ago, because companies can make year-to-year comparisons. Robert related this annual review to the previous Top Growth Market presentations and compared and contrasted those markets.
Robert uses the same methodology each year to create the report - which also makes it a valuable tool for year-to-year comparisons. The criteria used to create the list includes areas that: (1) have an initial market size of at least 60,000; (2) have a minimum per annum growth rate of 2%; (3) have a minimum growth rate of 8,500 people; and (4) experienced significant growth for at least two years. Robert uses PopStats data for the analysis.
This year, 27 markets made the Top Growth Market Report. The top 10 are:
Myrtle Beach, SC
Austin, TX
Fort Meyers, FL
Houston, TX
Orlando, FL
Ft. Collins, CO
Charleston, SC
DFW, TX
Nashville, TN
Des Moines, IA
Attendee Feedback:
"Great topic and discussion of the methodology."
"Always a fav!"
"Loved this one."
SESSION 2 - Role of Customer Opinion in Research
Presenter - Danielle Yanskey, Managing Partner, ROIC Analytics
"Research is always about the piece you don't know," stated Danielle at the start of her presentation. "We spend a lot of time analyzing markets to try and make better business decisions," including: Who? How many? What? Where? Where else?
However, there is something that traditional data insights cannot tell you about your customers: WHY they do what they do? ROIC began wanting to understand the why, because: "Necessity is the mother of invention," said Danielle. "Understanding why became essential for us and our clients. We discovered that you can ask a whole world of questions about how customers feel about their shopping habits and they will tell you." This was proven to be true when ROIC began conducting more robust customer questionnaires via 15-minute customer surveys. They got answers to questions about store quality, variety, competition, pricing, and in-store advertising.
What they found from well-constructed customer opinion surveys involving consumers' behaviors, opinions, and preferences included insight on the entire store lifecycle - planning, opening, growth, and decline. Store insights that can be gained from customer surveys include:
Where the customers came from
What they want versus what they buy
Strength of the competition
How much money they have to spend
Why the stores were not doing well
How and why they missed their forecast
Trends emerge and change
Brand acceptance
Attendee Feedback:
"Informative and useful to any company."
SESSION 3 - Understanding Mobile Data
Presenter - Andy Moncla, COO, B.I. Spatial and Doug Shaddle, Director of Data Sales, UberMedia
Today we all use our phones more than any other device. It surpasses the time we spend on TV, radio, and print. In fact, growth is compounding at rates of 11% for all devices and 40% for mobile. Naturally, this is changing the way companies spend ad dollars. "It's important to us, because it's how we get our data," said Doug. UberMedia should know. The company tracks accurate mobile GPS data on over 270 million active devices in the U.S. (nearly 600 worldwide), extracting over 1,000 unique data points per device - including social data, interest signals, location history, and intent cues. This totals to a daily collection of 12 billion data points.
Doug explained how he accurately defines their own and competitors' trade areas, analyzes potential and actual cannibalization, and finally gets accurate insight on daytime population density. In particular, the company's UberRetail data tracks consumers' Path to Purchase for companies in automotive, hospitality, QSR, and retail industries to use in three ways:
Ad services - to better target consumers according to their Path to Purchase
Attribution - to attribute ad dollars to actual revenue.
Data - for a variety of market research needs
Andy demonstrated how the Mobile Location Data-based trade areas, coupled with PopStats demographics, fit easily into Tableau - allowing easy dissemination and use of 100 million points of consumer and market-based insight.
Attendee Feedback:
"This is a very important topic as technology speeds up."
"Excellent topic. Major implications for my company. Took a business card."
"The convex hull trade discussion was extremely interesting and worth the visit alone!"
"This made the conference for me. Great presentation."
"Very useful. Everyone's looking into what they can bring to our roles."
"Incredible. This was a home run. Best presentation of all."
SESSION 4 - Developing Market Strategies Using an Analytical Approach
Presenter - Brian Strickland, Director of Market Analytics and Systems, Signet Jewelers Ltd.
Brian presented a discussion on his self-created analytical approach to develop comprehensive market strategies focused on portfolio management, new store growth, and market entry for Signet Jewelers. He noted that these strategies are also used to drive non-real estate related initiatives, including marketing programs, store operation reviews, and financial reporting. Signet Jewelers is the largest specialty jewelry retailer in the US, UK and Canada, representing brands such as brands of Kay, Jared, and Zales.
Of the many insights Brian shared was his Nine-Box Matrix, which he created by borrowing from other disciplines and applying it to real estate strategy development. He uses the matrix to evaluate current performance in markets while looking for opportunities to build out. The seven steps are:
Step 1 - Define Market. Considers number of stores and how company views marketing today. Also, DMAs, census definitions, and aggregating non-urban areas.
Step 2 - Identify Key Performance Metrics. Uses a variety of metrics, including store sales, comp sales, customer satisfaction, operating profit, and also weighting and time periods.
Step 3 - Creating Standard Z Scores.
Step 4 - Composite Score for Performance. Stacks up markets against each other.
Step 5 - Calculate Metrics for Growth Opportunities. Includes competitive intensity, household growth, current market share, and new store opportunities, as well as weighting.
Step 6 - Use Z Scores for Opportunity.
Step 7 - Assign Every Market to an Opportunity Strategy Type. Brian has created four strategies for each of the four types of market opportunities:

Focus Markets - Start performers, where the company focuses the greatest amount of resources.
Maintain Markets - Average performers.
Gated Markets - Have doubts about the markets, opportunities but have to figure out how to unlock opportunities.
Deemphasize Markets - Unattractive markets.
Attendee Feedback:
"Excellent presentation and information"
"Good speaker. Took lots of notes."
"Very helpful example of creating methodology for segmenting. Applicable to me."
SESSION 5 - Cannibalization and Sales Accretion - How White Castle Measures, Uses and Pitfalls
Presenter - Jim Smith, Location Research Supervisor, White Castle
Jim provided attendees with a comprehensive overview of market research conducted in America's first fast-food hamburger chain. He discussed sales patterns for stores and groups, and how the company uses this data to assess cannibalization. He also overviewed cannibalization's close cousin accretion, which is what happens to sales of stores when you close a unit either temporary or permanent.
To identify cannibalization risks, Jim starts with the company's sales data calculation: Sales = Mix/Volume + Pricing + Discounts + Capacity. Capacity is the number of days a store is open or closed due to remodels, replacements, and new franchises. Sales without capacity are viewed as "real sales." Jim uses percent of sales by region as the baseline for charting cannibalization, since all products, pricing, and discounting are regionally based. From there, he finds the difference between the baseline in a region and the projected sales of a store, in other words, what the store should have done had if they had not put in new store nearby. "It's the one to two percent difference that can really help us understand the cannibalization of sales," noted Jim.
He minimizes noise in the data, such as false indicators, through the following steps:
Cleans up sales data
Talks to marketing to see what they are doing
Talks to construction and engineering to find anomalies such as roadwork or another new QSR
Other departments use the cannibalization data, including store management, capital expenditures, compensation, and accounting. The result is smarter decisions throughout the corporation.
Attendee Feedback:
"Lots of sales analytics. Need to look at this further."
"Jim knows his stuff."
SESSION 6 - PopStats in Action
Presenter - Robert Welch, President, STI
"I didn't know PopStats had that data!" Robert hears this comment more often than you would probably guess. The product is so jam-packed with valuable data, that many companies overlook some of the specialty datasets and applications. Robert demonstrated a variety of research techniques and PopStats data fields that are included with every release of PopStats, but are somehow overlooked by many users.
In this year's PopStats in Action presentation, Robert shared insights on over one dozen PopStats techniques and datasets including these:
Long-Term Growth Trends. How do you do a pictorial representation of an area's growth when the data only goes back to 1960? This technique solves the problem.
Growth Rate Analysis. How do you annualize a growth rate? This technique provides a solution.
Expected Value Index (EVI). When did growth occur in a trade area - last year or 10 years ago? EVI gives researchers a way to identify new growth, slowing growth, or plateauing growth.
Forecast Stability (aka, "the Spread). How stable is market growth? This technique weights the forecast spread to provide an answer.
Area Composite - Ethnic Mix. How has the ethnic mix of an area changed over time? This technique creates clever thematic maps that show ethnic transitions.
Economic Analysis Data - Robert presented several data sets that view economic conditions from a variety of perspectives:

Mortgage Risk Index. Identifies areas that may be potentially distressed due to high loan-to-income ratio.
Unemployment Rate Index. Identifies areas that may be potentially distressed due to high unemployment.
Industry Vitality Index. Identifies areas that may be potentially distressed due to industry vulnerability.
Occupational Demand Index. Identifies areas that may be potentially distressed due to occupational vulnerability.
Occupation Salary Index. Identifies area that may be potentially distressed do to depressed salaries.
Attendee Feedback:
"Always very interesting."
"Excellent information. Took lots of notes."
"Homerun!"
"Outstanding! This took my data analysis to another level."
---
Wednesday, April 6, 2016
---
SESSION 1 - STI: PopStats Methodology
Presenter - Jeremy Setty, STI
For the first time ever, Robert passed the torch of delivering this annual presentation to his newest employee: Jeremy Setty. Based on the positive feedback, he did an excellent job of getting into the nitty-gritty of the STI: PopStats' methodology, including the five-year forecasts, the 10-year projections, and PopStats Expected Value Index. Regarding the methodology, Jeremy explained that the PopStats estimates are calculated on multiple computers working together in a pseudo-parallel processing manner, in a self-correcting artificial intelligence modeling system that learns from itself.
Here is a brief description of the PopStats' methodology. Four models comprise the model:
Zip+4 Model. This model is based on over 28 million ZIP+4s, representing over 116 million households. It is the primary determinate in understanding population growth and decline. Vital to the process is that STI maintains its own street files that feed into PopStats to avoid any spurious third-party data entering into the calculation.
Postal Delivery Model. This model is based on postal delivery statistics provided by the postmasters in each market across the country. Its primary purpose is to understand trends in existing populated areas.
Spread Model. This model, which is based on macro-level postal counts, performs double-duty: It both calculates populations in rural areas where ZIP+4s are limited, and serves as a checks-and-balance for the previous two models.
Census Model. This is the grand master of all the models, which STI calls the "black box." It pulls together the other three models using an extreme set of heuristics (if-then questions). In short, it is the final decision-maker of the estimate.
The PopStats methodology includes automated processes for overcoming any and all anomalies present in the data, including ZIP+4 inaccuracies, data smoothing issues, conversions (lofts), and overrides. If a client has a question about PopStats' estimates, Robert or a member of his team will research the issue. The client should first gather as much detail as possible, include any third-party evidence that supports his or her position, and be patient during the evaluation process. The issue will be verified, and the underlying data and soft sources will be checked. Finally, STI will report back to the client in a timely manner.
Attendee Feedback:
"Excellent topic and presentation."
"Really great to understand the thought and model behind population estimates and forecasts!"
"Very interesting. Well presented."
SESSION 2 - STI: LandScape Methodology
Presenter - Robert Welch, STI
Robert added an in-depth discussion of STI: LandScape's methodology this year, beginning with an overview of the four reasons that neighborhood segments consistently form across the country 80 percent of the time:
Tradition. A neighborhood has been one way for a while, such as nouveau riche or retired citizens, and it stays that way.
Perceptions. Residents' attitude is "if I lived there than that's where I perceive myself living," such as a hipster or working family neighborhood.
Development. Some neighborhoods are specifically designed to fit a personality type.
Physical Environment. People who share a similar lifestyle are attracted to similar geography, such as mountains, farmland, or water areas.
Neighborhood segmentation works because the segments change slowly. But one weakness is that while the demographics may indicate a specific consumer type, such as "married with children," the attitudes of the residents may be different that what is expected. For example, some parents may raise their children according to an attitude of ensuring they are always dressed in the latest fashions. Meanwhile, other parents' attitudes could be that "our children will just outgrow their clothing, so we're just going to purchase discount items." LandScape's ten social and lifestyle indicators add a new dimension, and a way to see these attitudinal differences, to the traditional breakdown by demographics.
Attendee Feedback:
Announcements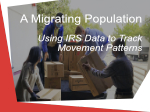 A Migrating Population - Using IRS Data to Track Movement Patterns
Check out the maps now!
Chat with us for more info
---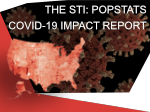 The PopStats™ COVID-19 Impact Report:
Available Now!
Chat with us for more info
---