STI: PopStats 2017 Research Conference Report
Read highlights from the 2017 STI: PopStats Research Conference sessions. This report provides an overview of the event's 13 information-packed sessions delivered by PopStats users, partners, and team members.
When you receive a 93.33% rating from attendees who said that your conference met or exceeded their expectations, you've got to think you're doing something right. That makes us feel very good, because the whole Synergos Technologies team puts a lot into planning and hosting our annual event in Austin. So, when we receive votes of confidence that let us know that our efforts were appreciated, we're very pleased.
While the core of the annual conference stays consistent each year (i.e., STI: PopStats-related insight), we also strive for a diversity of research topics. This year there was plenty of diversity. However, a theme of sorts was also present-using unique sources of data in unique ways. From Trade Area System's "New Alternatives for Measuring Competitor Performance" to Northern Tool's "Evolution of Market and Site Analysis," this year's event shared new ways to find new data sources and use innovative data to solve business problems.
Along with an overall high rating this year, we also received many wonderful comments. For example, just some of the comments attendees shared with us are: "Excellent conference." "Great mix of speakers." "Good content this year from researchers with good dialogue from the audience."
Feedback from Conference Attendees!
Here's more feedback from your peers who attended the STI: PopStats 2017 Research Conference!
Notable Stats

93.33% said the PopStats conference met or exceeded their expecations
93.33% would recommend the PopStats conference to their peers
73.33% said they plan to attend again next year
Highlights from attendee comments about sessions:

"1st year and loving it."
"A good mix of speakers."
"Great addition of technology + how it's being introduced in the retail market."
"Good content this year from researchers with good dialogue from the audience."
"Excellent conference."
"Love the venue this year! The Arboretum is beautiful."
What was the most beneficial aspect of the conference?

"Networking."
"Alternative massive mobile data presentations-more cutting edge than other conferences."
"Peer networking and methodologies."
"Learning about datasets and how to apply them."
"Methodologies not yet thought about, new variables, and techniques."
"Nice to meet vendors."
"Understanding PopStats terminology."
How would you rate this conference compared to other conferences of this type?

"Better diversity of the crowd."
"Content is stronger generally and it offers good targeted networking."
"This one has the best content."
"Much better content."
"Much better!"
What was the single best idea you gained that will help you in your job?

"Intalytics presentation."
"Adding grocery demand as a mapped theme (Hartwell)."
"Excited for eView."
"Learned new ways of interpreting mobile data."
"Peer conversations with other RE analytic folks has been super helpful."
"Using the STI: Expected Value Index."
"New macroeconomic variables. New growth metrics."
"The concepts and methods of how PopStats data is estimated."
"The hot growth markets within the U.S."
"Academy's overall presentation on how to use GIS in organizations."
What was the single most important factor/issue that influenced your decision to attend this conference?

"Information sessions."
"Massive mobile data."
"New technology focus."
"Current internal demand for mapping, GIS, and spatial analytics."
"I needed a refresher on datasets and methodology."
"Revisit methodologies and speakers."
"It is important that I understand how users work with the STI data."
"Learning about data points."
What new topics did you hear about this week that you plan to investigate further?

"New data sources from the Dept. of Homeland Security."
"LandScape segmentation data."
"Worthy credit card data."
"Migration info, STI: Expected Value Index, and STI: GDP data."
"Mobile for competitor trade areas and pop growth.
This Conference Report provides an overview of the 2017 Research Conference, including synopses of all the sessions. This Report provides a review for this year's attendees, as well as an overview for those who could not attend the event.
TABLE OF CONTENTS
Mon. March 27, 2017
SESSION 1 - In Search of Data at CVS Beyond the U.S. Census Bureau, Jenice Tom, CVS Health
SESSION 2 - New Alternatives for Measuring Competitor Performance, Hartwell Hooper, Trade Area System
SESSION 3 - Real Estate's Contribution to the Due Diligence Process in Merger in Acquisitions, Brian Quinn, Tractor Supply
SESSION 4 - The Many "Flavors" and Uses of Big Data, Catherine Manzo, StreetLight
SESSION 5 - Model Thinking with Examples from an Omnichannel Marketplace, Paige Stover, Forum Analytics

Tue. March 28, 2017
SESSION 1 - Top Growth Markets for 2017, Robert Welch, STI
SESSION 2 - How Massive Mobile Data is Powering Retail Predictive Analytics, David L. Huntoon, Intalytics
SESSION 3 - Research, Analysis, and GIS Beyond Site Selection and Real Estate, Rich Babson, Academy
SESSION 4 - From Guts to Glory - the Evolution of Market and Site Analysis at Northern Tool & Equipment, David Drymon, Northern Tool
SESSION 5 - Economic Validity Impact Estimating Wizard (eView), Kyle Day, STI
SESSION 6 - The PopStats Difference, Robert Welch, STI

Wed. March 29, 2017
SESSION 1 - STI PopStats Methodology, Jeremy Setty
SESSION 2 - STI LandScape Methodology, Robert Welch

---
Monday, March 27, 2017
---
SESSION 1 - In Search of Data at CVS Beyond the U.S. Census Bureau
Presenter - Jenice Tom, Dir. of Real Estate Market Research & Analytics, CVS Health
Jenice Tom presented a business case on estimating sales potential for a particular group of people with no supporting U.S. Census data and demographics. "Even in the today's era of Big Data, retailers still find themselves in need for specialty data for different business needs," she said. This happened at CVS when the merchandising department asked the location research department for data on what percent of the Jewish population lives and works near their stores. They wanted to plan for stocking Jewish merchandise around the annual Passover and Hanukkah holidays, because they learned they were missing out on this business opportunity. A cursory search revealed that this was not going to be a simple task, because the U.S. Census Bureau does not track the population's religious affiliations.
"In my years of working in research, I'd never been asked this question. But I decided to try and find an answer." So, the research team began a search for alternative sources to compile this specialty data. The team found a variety of sources including:
Pew Research
Assoc. of Statistician of American Religions Bodies
Assoc. of Religion Data Archive
Berman Jewish Databank
Dept. of Homeland Security
PopStats' ACS data
CVS used these resources to create a model to identify the strongest predictors of the Jewish population living near CVS stores. The model achieved five levels of store groupings that could be candidates for Jewish merchandise."It turned out to be challenging, but we accomplished our goal," said Jenice. She offered some tips for conducting an alternative research process.
Be creative. For example, consider open source data resources.
Do your research. Keep digging beyond the obvious.
Ask the right questions. Follow the feedback loop. Consult with peers.
Attendee Feedback:
"It's good to see a case where hard-to-find demo data was required for a project and how it was gathered."
"Always interesting to hear the various places where people are finding data."
SESSION 2 - New Alternatives for Measuring Competitor Performance
Presenter - Hartwell Hooper, VP Client Success, Trade Area System
Hartwell began searching for ways to research competitors and store performance to better understand market conditions. He ended up going down the proverbial data-research rabbit hole. "Competitor data is one of hardest types of data to nail down," he said. "So, I wanted to explore as many options and opportunities as I could find."
What he found is a wide variety of data, ways to apply the data to market research, and ways to use it as proxies for traditional data. Some of the types of data include:
UberMedia - mobile device data on hundreds of millions of devices
Streetlight Data - drive-time data
Arm Insight - credit card spending data
Mastercard Retail Location Insights - credit card data
Cardlytics - credit card data
CuebIQ - Real-time insights about offline consumer behaviors
He applied various non-traditional data to different research projects including:
Define Trade Area - Draw a polygon around store service area versus just the store to geofence the relative trade area. With mobile data, for example, you can study activity based on specific days and times of day.
Find Service Area Gaps - Combine mobile with drive-time data to plot spending patterns and service area gaps.
Compare Trade Areas - Use mobile data to plot two stores' data to find their unique areas and overlaps.
Identifying Potential Tenants - Use mobile data to map areas of consumer spending patterns.
Mapping Store Service Areas - Use credit card data to track how much consumers are spending in competitors' trade areas.
Transactions by Hour - Use credit card data to plot spending by day part.
Chain Spending by Customer Age Distribution - Use credit card data to view spending patterns by age groups.
Grocer Chain Spending by Income Distribution - Use credit card data to plot spending patterns by age groups across competitors.
Neighborhood Segmentation using STI: LandScape - Use credit card data to identify which segments competitors are attracting.
After his journey of discovery into new sources of data, Hartwell reviewed the pros and cons of mobile and credit card data. He recommended others also explore the possibilities of using non-traditional forms of data, because "you never know what you'll discover."
Attendee Feedback:
"Excellent end-to-end method to delivery."
"Awesome."
"He did a great job displaying and discussing data alternatives without selling."
"Great."
SESSION 3 - Real Estate's Contribution to the Due Diligence Process in Merger in Acquisitions
Presenter - Brian Quinn, Dir. of Market Planning, Tractor Supply
Brian discussed the research that went into his company's acquisition process for a pet food retail chain. During the due diligence process, Tractor Supply researched the depth and breadth and opportunities in the pet supply industry, a $63 Billion-plus category. Tractor Supply identified a target specialty niche market in natural pet foods that was open to opportunity. The company's plan was to get in fast and push it hard-so in-depth market research was essential.
Tractor has developed nine different customer profiles, including a pet profile. For this research, the company created thematic customer profiling maps of its pet customer profile, which provided a foundation for the evaluation process and making decisions around the acquisition. Along with that, research included market screening, including demographic data, store information, competitive insight, market potential information, and profiling. In particular, an important part of the sale was knowing that there were additional stores they could go after to grow the concept.
To gain univariated views of the market potential, Tractor Supply applied additional STI: PopStats datasets to its research-including STI: Spending Patterns and STI: Market Outlook. With that data, the company was able to find where they aligned, where there were holes in the marketplace, and where the "hot spots" were located. Interestingly, after the acquisition, the company found that the higher potential areas identified in the research, were the exact locations where Tractor Supply achieved its highest sales.
Attendee Feedback:
"Super interesting and relevant in today's M&A environment."
"Excellent. Brian's topic was different and extremely interesting. Exciting company to work for I'm sure!!"
"Nice to hear a retailer's perspective."
"Interesting."
SESSION 4 - The Many "Flavors" and Uses of Big Data
Presenter - Catherine Manzo, Sr. Dir. of Channel Sales, StreetLight
"Big data comes in a lot of flavors," said Catherine. "We refer to a concept called `massive mobile data,' which is data that is being generated by connected vehicles and the user's mobile device or smartphone (in different ways). It's being generated for other purposes, rather than helping real estate people. However, it can be used in retail research-in many interesting ways."
There are five primary technical characteristics of massive mobile data including:
Spatial precision
Frequency of data pings
Device ID persistence
Sample Size
Accuracy of output metrics
Each of these characteristics have different strengths and weaknesses based on location-based services (smartphone data), cellular towers, navigation-based GPS, and ad-based GPS.
Catherine overviewed several issues around the use of mobile data including these three points:
When trying to determine an ideal sample size, know that pings are a terrible way to assess sample size.
It's important to have algorithms that use contextual data, because it is easy to misidentify locations and trends.
Understand that privacy around mobile data is being discussed with various opinions on its ethical use. Currently, the U.S. has taken a back and forth stance on compliance, while some states, like California, are considering setting limits in the use of this type of data.
Attendee Feedback:
"Interesting topic."
"The future of information collection."
"Good unbiased education."
SESSION 5 - Model Thinking with Examples From an Omnichannel Marketplace
Presenter - Paige Stover, Sr. Dir. of Analytics, Forum Analytics
Paige introduced her topic on how models really work in the real world, "because they'll have limitations, and we have to understand those to gain the most value." In her presentation, she took the approach of thinking like a statistician.
Among the insights she shared are:
We have to think about data as having many dimensions and multiple relationships.
One of the challenges is that two things being studied don't always correlate.
Companies often want to simplify complicated relationships; but then you miss out on a lot of possible data.
Metrics have weaknesses, and sometimes even the best predications aren't valuable. A recurring problem is oversimplifying and, as a result, missing out on a lot of data.
Start with a solid methodology and provide valid context for it.
Every modeling method has its own set of assumptions.
The sample is representative-therefore, it may be including closed locations and locations that aren't yet built.
How do you tell if the models are good? R-squared. If you can't get to your solution, just keep adding variables to test r-squared.
Use historical data to mitigate future risk and make better decisions.
Make sure the data you arrive at is actionable, so that you can provide actual insight that people can use to solve real problems.
Paige also talked about channel switching across retail, including online retail trends. She stated that the biggest challenge is how online relates to brick-and-mortar and offered several insights including:
We found an overall trend in people's willingness to drive to a store versus shop online-it is a seven-mile distance.
Tracking customers across multiple channels allows for even more insight.
A review of trends in store openings shows positive results relative to online sales.
How you're promoting in-store and online sales makes a big difference in the success and interplay of both.
Attendee Feedback:
"Very engaging. Great talk."
"Excellent. The statistics lesson was five star. Omnichannel part was extremely interesting."
"Paige is awesome."
"She was great. I learned a lot."
"Great, engaging speaker for interesting topic."
---
Tuesday, March 28, 2017
---
SESSION 1 - Top Growth Markets for 2017
Presenter - Robert Welch, President, STI
Robert reported in this always-popular session that Top Growth Market Areas' growth levels were so exceptional they overshadowed last year's growth. This annual presentation highlights those market areas that have shown strong growth in the past two years. This is always a favorite session-particularly since the research also shows top market growth since he started the research 11 years ago, because companies can make year-to-year comparisons. Robert related this annual review to the previous Top Growth Market presentations and compared and contrasted those markets.
Robert uses the same methodology each year to create the report. The proprietary methodology uses STI: PopStats data and he evaluates U.S. markets based on the following criteria:
Have an initial market size of at least 60,000
Have a minimum per annum growth rate of 2%
Have a minimum growth rate of 8,500 people
Experienced significant growth for at least two years.
In 2017, 31 Top Growth Market Areas had all three criteria-compared to 27 in 2016. The top 10 areas are:
Myrtle Beach, SC
North Point, FL
Austin, TX
Fort Meyers, FL
Ft. Collins, CO
Central Region, FL
Fayetteville, AR
Houston, TX
Orlando, FL
Nashville, TN
Attendee Feedback:
"Definitely like the idea of adding economic growth perspective."
"Like this one a lot."
"Always a great presentation."
SESSION 2 - How Massive Mobile Data is Powering Retail Predictive Analytics
Understanding both the strengths and weakness of leveraging new data sources is essential to get the best possible use out of it, said David, as he led off his discussion on massive mobile cell phone data. He described it as basically data from cell phone providers. Cell phone pings cover a relatively large radius area, which is one of the weaknesses, because the pings come from many retailers within general areas. As a result, accuracy of pings is the single biggest issue.
Other mobile data weaknesses include:
Device counts - the number of active devices varies significantly by provider
Observations - the number of average daily pings varies significantly by provider
Representative sample - they are not usually representative of the U.S. as a whole
Purchase amount - know people stepped into locations, but not how much they purchased
Multi-story building - cannot currently isolate individual floors in large buildings
To overcome the downside of cell data, Academy chose to enter into a partnership with location-enabled automotive navigation apps, instead of cell phone data providers. David said that this data provides greater insight concerning traffic counts and vehicular traffic. However, it does not help pinpoint individual retailers being patronized by customers in shopping centers or street retail areas. Another downside is that the data doesn't include fleet vehicles and older vehicles without this technology installed.
Among the advantages of location-enabled app data are the following:
Number of active devices - experiencing steady growth
Average daily pings - getting higher every day
Location accuracy of individual pings - accuracy on the rise
Privacy considerations - currently the U.S. does not have restrictions around privacy
David concluded his session with this comment: "This data doesn't replace great in-store loyalty data and geodemographic data for marketing research. But it can add interesting insights if used correctly and the strengths and weaknesses are well understood."
Attendee Feedback:
"Excellent presentation."
"Great info."
"Learned a lot."
"Good balance of real info and sales."
SESSION 3 - Research, Analysis, and GIS - Beyond Site Selection and Real Estate
Rich explained that while Academy brought geodemographic data into the company for real estate, other departments within the company began making specific requests for geodemographic research. Some of the requests included:
Distance calculator used to determine distance from stores to outlet malls, due to concerns of being too close to some brand stores.
Calculating drive times for people who drive between stores
Creating groups of stores with like attributes
Promotions department requested map of shooting schools proximity to stores.
Advertising department asked for a lot of information, including maps of zip codes in trade areas for advertising distribution.
HR/risk department requested a map for healthcare facilities near e-commerce contract employees
For the real estate department, Rich created a Regional Analytics Group to help identify market-level attributes that have an effect on stores' GIS-sourced data, economic, competitive info, and field sources. These combine to create a profile of a stores' customer base and to identify merchandising opportunities. Buyers need to identify market-specific dynamics for each store, so they put the right merchandise on the shelves. Analytics provides insights into many aspects of each store including:
Participation level in various local sports
Local brand affinity
Customer profiles - outdoorsman, military, soccer moms, fitness, etc.
Local hunting and fishing seasons
Local-area BBQ styles - smokers, grilling, charcoal, gas, etc.
Team affinity - NFL, NBA, MLB, NCAA, MLS, NHL
Local event schedules
Attendee Feedback:
"Great job."
"Interesting."
SESSION 4 - From Guts to Glory - the Evolution of Market and Site Analysis at Northern Tool & Equipment
At end of year, Northern Tool will open its 100th store. The company is located in 19 states, primarily central and southeastern U.S. states. Its greatest competitive advantage is with the sale of small, specialty parts and the fact that it fixes equipment in its stores parts and service departments. Also, the stores do very well before and after national disasters, selling items such as generators and pumps.
Site selection advanced over the years from drive bys, owner gut instinct, and area size. By 2000, the company was using third-party consultants for data collection, fieldwork, and sale forecasts on an as-needed basis. In 2012, it advanced to another consulting firm. But along the way, Northern Tool made some mistakes. It then advanced to its new level of market research after it brought GIS in-house. After a few immediate wins and some surprises, it was time to re-tool the process.
Beginning in 2016, Northern Tool launched a re-calibrated GIS process through these steps.
Preliminary data analysis and store maturity
Disaggregate model with trade area definitions, customer profiles analysis, distance decay, and sister and competitive adjustments.
Macro Model, including beyond trade area sales and other macro factors.
Site characteristics, access, co-tenancy, highway, and traffic corridor.
Final model
Northern Tools re-calibration elicited the following discoveries:
Trade area geographies reaffirmed and updated.
Resident customer profiles across brick and mortar, ecommerce, and mail order.
Similar profiles across all channels.
Business customers profiles vs. consumers.
Know need to look for "our guy."
Research used to take days. Now it takes a mouse click.
Northern Tool is its own greatest competition.
Attendee Feedback:
"Great topic. Well presented. Very interesting!!"
"I thought this to be interesting."
"Good talk."
SESSION 5 - Economic Validity Impact Estimating Wizard (eView)
Presenter - Kyle Day, Data Analytics Manager, STI
Kyle explained a new system being created at STI that helps companies answer what-if questions. He said that PopStats and other dataset look at current conditions. And forecasts look at what happen if current trends continue. But there is no easy way to translate local knowledge into quantifiable trade area insight if, for example, you know that any specific events happening in an area, such as:
New store opening
New development being built
Local factory being expanded
The problem can be solved with input and output modeling. The economy is made up of production and consumption and, therefore, can be measured by input and output ratios analysis, Kyle explained. He also noted that ripple effects from changes in one industry impact other local-area industries and can also be measured.
Kyle overviewed how retailers can use this approach in their local-area research:
Measure the effect on current retail sales from an event.
Build a case for receiving tax credits for building or not closing a location.
Planning building or closing stores based on a known local-area business disruption.
Measure volatility, in other words, how much an area will be impacted by minor and major changes in local-area industries.
From this process, researchers will be able to identify what industries will be impacted and what that impact is going to be. STI is preparing to help answer this question industry-by-industry, commodity-by-commodity with eView. Kyle introduced STI's upcoming new eView tool, which will help researchers visualize these calculations to understand the impact automatically.
Attendee Feedback:
"Speaker knows his topic!"
"Content was good."
"Interesting."
"I continue to be impressed with Kyle and his contributions to Synergos."
SESSION 6 - The PopStats Difference
Presenter - Robert Welch, President, STI
Robert recognized that today's market researchers are pressed to do more than ever with fewer resources, including answering economic questions about their trade areas. As a result, PopStats has expanded to fill the void by adding economic data to its mix of demographic data. Synergos is "moving in baby steps in this direction beginning with economic problems clients have asked us to help them solve." The result is several powerful economic datasets, which he introduced in this session.
This session was a continuation of past year's PopStats in Action presentations. This year, in The PopStats Difference, Robert shared insights on over one dozen PopStats techniques and datasets:
STI: GDP. This is STI's newest economic dataset launched in July 2016. It brings GDP down to the neighborhood level to help companies understand the economic health and growth of a trade area.
Long-Term Growth Trend. How do you do a pictorial representation of an area's growth when the data only goes back to 1960? In the data, STI works from assumption that housing is equal to households.
Annualized Growth Rate. How do you annualize a growth rate? This technique provides a solution, plus valuable historical data.
STI: Population Migration. This data helps companies understand churn, in other words, the movement of households-by taking out birth and death counts from the mix.
Forecast Stability (aka, "the Spread). How stable is market growth? This technique weights the forecast spread by providing the numbers for the high and low end of the distribution.
STI: Ethnic Mix. How has the ethnic mix of an area changed over time? This technique creates clever thematic maps that show ethnic transitions providing a better way to track ethnic mix.
STI: Ethnic Diversity. Explains dispersion of ethnicity data.
STI: LandScape. Provides 15 color-coded segments colors to quickly discover the "lay of the land" and explain an area's character.
STI: Mortgage Risk. Identifies areas that may be potentially distressed due to a high loan-to-income ratio. Any household with a mortgage bigger than 2.5% of household income has no business getting financing.
STI: Unemployment. Identifies areas that may be potentially distressed due to high unemployment.
STI: Industry Vitality. This database assumes that if a worker feels good about his or her job, they'll probably spend money. If they don't, they'll probably stop spending. In other words, it quantifies the vitality of a trade area's industry.
STI: Expected Value Index (EVI). Illustrates how to use expected value effectively, including the kind of growth taking place. In other words, it quantifies whether the growth is growing in a new, slowing, or plateauing fashion.
Attendee Feedback:
"I'm excited about the GDP data."
"Looking for GDP data to roll up to market."
"Thank you."
---
Wednesday, March 29, 2017
---
SESSION 1 - STI: PopStats Methodology
Presenter - Robert Welch, STI
Robert rounded about the two-and-a-half day Conference with explanations of the PopStats' methodology. He said that the PopStats estimates are calculated on multiple computers working together in a pseudo-parallel processing manner. "We have created a self-correcting artificial intelligence modeling system that learns from itself." Here is a brief description of the methodology.
Here is a brief description of the PopStats' methodology. Four models comprise the model:
Zip+4 Model. This model is based on over 28 million ZIP+4s, representing over 116 million households. It is the primary determinate in understanding population growth and decline. Vital to the process is that STI maintains its own street files that feed into PopStats to avoid any spurious third-party data entering into the calculation.
Postal Delivery Model. This model is based on postal delivery statistics provided by the postmasters in each market across the country. Its primary purpose is to understand trends in existing populated areas.
Spread Model. This model, which is based on macro-level postal counts, performs double-duty: It both calculates populations in rural areas where ZIP+4s are limited, and serves as a checks-and-balance for the previous two models.
Census Model. This is the grand master of all the models, which STI calls the "black box." It pulls together the other three models using an extreme set of heuristics (if-then questions). In short, it is the final decision-maker of the estimate.
The PopStats methodology includes automated processes for overcoming any and all anomalies present in the data, including ZIP+4 inaccuracies, data smoothing issues, conversions (lofts), and overrides. If a client has a question about PopStats' estimates, Robert or a member of his team will research the issue. The client should first gather as much detail as possible, include any third-party evidence that supports his or her position, and be patient during the evaluation process. The issue will be verified, and the underlying data and soft sources will be checked. Finally, STI will report back to the client in a timely manner.
SESSION 2 - STI: LandScape Methodology
Presenter - Robert Welch, STI
Robert added an in-depth discussion of STI: LandScape's methodology this year, beginning with an overview of the four reasons that neighborhood segments consistently form across the country 80 percent of the time:
Tradition. A neighborhood has been one way for a while, such as nouveau riche or retired citizens, and it stays that way.
Perceptions. Residents' attitude is "if I lived there than that's where I perceive myself living," such as a hipster or working family neighborhood.
Development. Some neighborhoods are specifically designed to fit a personality type.
Physical Environment. People who share a similar lifestyle are attracted to similar geography, such as mountains, farmland, or water areas.
Neighborhood segmentation works because the segments change slowly. But one weakness is that while the demographics may indicate a specific consumer type, such as "married with children," the attitudes of the residents may be different that what is expected. For example, some parents may raise their children according to an attitude of ensuring they are always dressed in the latest fashions. Meanwhile, other parents' attitudes could be that "our children will just outgrow their clothing, so we're just going to purchase discount items." LandScape's ten social and lifestyle indicators add a new dimension, and a way to see these attitudinal differences, to the traditional breakdown by demographics.
Announcements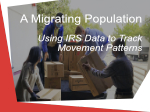 A Migrating Population - Using IRS Data to Track Movement Patterns
Check out the maps now!
Chat with us for more info
---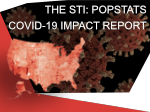 The PopStats™ COVID-19 Impact Report:
Available Now!
Chat with us for more info
---