STI: PopStats 2018 Research Conference Report
This Report contains highlights from the 2018 STI: PopStats Research Conference - held March 21 to 23 in downtown Austin, Texas. Read synopses of the event's 13 research-packed sessions delivered by PopStats users, partners, and team members.
Over this two and one-half day conference, twelve speakers shared valuable insight on a wide range of retail topics - including changing role of the retail store in a post-apocalyptic world, deploying machine learning in retail analytics, locating valuable data for the beauty industry, creating GIS solutions for disaster recovery, mobile location data, opening and closing day data insights, and more. The conference ended on Day 3 with Robert's annual deep dive into the PopStats methodology, after which one attendee stated: "This session is the reason to stay the last day."
Along with an overall high rating this year, we also received many wonderful comments. For example, just some of the comments attendees shared with us are: "Excellent conference." "Great mix of speakers." "Good content this year from researchers with good dialogue from the audience."
Feedback from Conference Attendees!
The attendees gave the 2018 conference exemplary scores:
Notable Stats

93.75% would recommend the PopStats conference to their peers
90.74% come for the unique content shared
88.89% said the 2018 PopStats conference met or exceeded their expectations
62.5% said they plan to attend again next year
How would you rate this conference compared to other conferences of this type?

"One of the best."
"Fantastic."
"This one is more intimate and stimulating."
"Always one of the best."
"As good, if not better."
What was the most beneficial aspect of the conference?

"Better understanding of data."
"Networking and sessions."
"Connections with like-minded individuals."
"Roberts talks."
"PopStats data methodologies."
"Retailer examples."
"Catching up on industry knowledge."
What was the single best idea you gained that will help you in your job?

"How to better help users."
"Using the economic data."
"Relevant and effective use of GDP."
"Site characteristics presentations."
"National Vision session."
"Learning other business models we can implement."
"Modeling techniques."
What was the single most important factor/issue that influenced your decision to attend this conference?

"Better understanding of data methodology."
"Learning more about how we can use PopStats."
"Past performance."
"I have not been in two years."
"Easy to justify cost for budgets."
What new topics did you hear about this week that you plan to investigate further?

"Economics applied to retail."
"GDP and ZIP+4."
"STI: LandScape and modeling demographics data."
"Measuring impact of site characteristics."
This Conference Report provides an overview of the 2018 Research Conference, including synopses of all the sessions. This Report provides a review for this year's attendees, as well as an overview for those who could not attend the event.
TABLE OF CONTENTS
Wed. March 21, 2018
SESSION 1 - Updates to PopStats Data, Robert Welch, STI
SESSION 2 - PopStats in Action - New Insights (Part 1), Robert Welch, STI
SESSION 3 - The Promise of Machine Learning and Deep Learning in Retail Analytics, Tango Analytics Team
SESSION 4 - The Changing Role of the Retail Store in a "Post-Apocalyptic" World, Curt Newsome, REI, and Bill McKeogh, Pitney Bowes
SESSION 5 - A Technologist's Perspective on Retail Automation, Josh Winters, IdealSpot

Thr. March 22, 2018
SESSION 1 - Top Growth Markets for 2018, Robert Welch, STI
SESSION 2 - Beauty Data is Only Skin Deep, Mark Shaffer, Ulta Beauty
SESSION 3 - Weathering the Storms: GIS Solutions for Walgreens Disaster Recovery, Ben Farster and Patrick Korellis, Walgreens
SESSION 4 - AggData: New Perspectives - What Opening/Closing Data Says About the Lifecycle of a Store, Business, and Trade Area, AggData Team
SESSION 5 - Real Estate Site Characteristics - Do the Best Sites Always Produce the Best Results?, John Fox, National Vision
SESSION 6 - Mobile Location Data 3 Years In: What We Have Learned, Andy Moncla, BI Spatial

Fri. March 23, 2018
SESSION 1 - STI PopStats Methodology, Jeremy Setty
SESSION 2 - STI LandScape Methodology, Robert Welch

---
Wednesday, March 21, 2018
---
SESSION 1 - Updates to PopStats Data
Presenter - Robert Welch | President, Synergos Technologies
As always, Synergos Technologies continues to add new data to PopStats. Robert reviewed some of the latest and greatest data added to the product - including Distance to Work and Workplace Lifestyle data.
Distance to Work Data. This dataset, which will be released in July, shows how long it takes in nautical miles for workers to travel from their homes to their workplace at the block group level. Robert showed a map of downtown Austin using the data. "I was surprised, because I thought it would be a bull's eye, but it showed that the people who work downtown primarily live in the north and south, not the east and west." The database will include about 40 variables, including eight directions that people are driving, and the number of people who travel at various distances to work, which as one mile, two to four miles, five to seven miles, and over seven miles.
Workplace Lifestyle Calibration. "We've never been able to calibrate our STI: WorkPlace dataset. We had to rely on postal data, but not a refined count. But now the Census includes new variables in its Master Business database, including every single U.S. business, its address, and employee demographic data, such as age, race, education, and how they travel to work from residence. This allows us to perform a calibration. So now we can determine if we can do better than the Census on our WorkPlace estimates, just as we have been doing with PopStats. Our clients can expect some really great new variables to come out in WorkPlace from this new Census data."
SESSION 2 - PopStats in Action - New Insights
Presenter - Robert Welch | President, Synergos Technologies
Every year, Robert overviews some of PopStats' most unique datasets, including the following at this year's conference:
Long-Term Growth Trends - creates a pictorial representation of an area's growth, assuming that built housing equals households.
Annualized Growth Rate - standardized growth rates for easy comparison.
Expected Value Index - a filtering tool for conducting a quick analysis of the type of growth an area is experiencing: exponential, linear, or declining.
Population Migration - helps understand growth by eliminating the effects of births and deaths.
Forecast Stability - uses a filtering tool to investigate five-year growths.
Ethnic Mix - provides a pictorial method to quickly identify changes in ethnic mix.
Ethnic Diversity - helps understand the ethnic homogeneity of an area.
LandScape Categories - helps understand the demographic "shorthand" of an area.
Mortgage Risk - helps understand areas that may be potentially distressed due to high loan to income ration.
Unemployment Rate - helps understand areas that may be potentially distressed due to high unemployment.
Occupational Demand Index - helps understand those areas that may be potentially distressed due to occupation vulnerability.
Industry Vitality - helps understand those areas that may be potentially distressed due to industry vulnerability.
Gross Domestic Product - monitors local area contribution to national GDP.
Housing Values - monitors local housing values.
Because he had extra time, Robert also provided insight on three U.S. markets using some of these datasets and others in the PopStats - demonstrating how they can be used to make insightful market comparisons.
Attendee Feedback:
"Great presentation."
"Robert's overview of new data and applications was very helpful."
"Always relevant, no matter how many times one hears it."
"Robert did great as always."
SESSION 3 - The Promise of Machine Learning and Deep Learning in Retail Analytics
Presenters - Mark E. Zygmontowicz | SVP-Business Development, Tango Devon Wolfe, Sr. VP Retail Analytics, Tango Sunil Suram, Ph.D., Director, AI and Big Data, Tango
The headlines are filled with a repetitive refrain: brick and mortar store closings. First it was Macy's, then Foot Locker, and now Toys R Us - and many other national and regional retailers. It's predicted that nearly 4,000 more stores will close in 2018. This reality has left retailers wondering what they need to do to survive. According to Tango, they need to adapt. "Stores closing are not the end of retail. Retailers are adapting and the ones who are adapting well are winning," stated Mark. "Imagination, creativity, and thinking outside the box are need to move forward."
He described ways that Tango is helping companies adapt with its strategic store lifecycle management analytics and software. "Artificial intelligence as a disruptor is happening now. Retailers need big data and smart retail analytic technology to react to the changes that are happening today. This is what will disrupt retail in meaningful ways." He made an analogy to IBM Watson, which is analyzing massive amounts of health data to make sense of it and find health solutions that no human brain could ever possible calculate.
Mark cited several retailers already moving into the brave new world of machine learning and AI in retail - and looking at things in a fundamentally different way - including:
Kroger's' data scientists are exploring ways to leverage data throughout the customer lifecycle, such as using apps making in-store product recommendations.
Amazon is laying the foundations for voice commerce.
Wal-Mart patented a technology that allows consumers to try on clothes virtually in their homes.
Other retailers are exploring opportunities to drive people to specific purchasing channels, testing image recognition photos, and adding new variables to site selection research, such as social media influence, cell phone use, and ecommerce sales data.
Attendee Feedback:
"Good info on what Tango is."
"Well done."
"Interesting stuff."
"Very interesting."
"Interesting topics!"
"I'm glad it wasn't a sales pitch."
SESSION 4 - The Changing Role of the Retail Store in a "Post-Apocalyptic" World
Presenters - Curt Newsome | Real Estate Research & Strategy Manager, Recreational Equipment, Inc. (REI) Bill McKeogh | Principal Consultant-Applied Analytics & Marketing Services, Pitney Bowes
Staying on the theme of the previous session, Bill and Curt also addressed the impact of online retail sales on brick and mortar stores - even conjuring the trendy expression: "retail-apocalypse." With tongue-in-cheek they discussed the reality of the "role of the retail store in a `post-apocalyptic' world. It's not a wildfire. Our industry is just clearing the brush with a controlled burn."
However, Bill stressed that scary terms and store closing headlines are a "narrative that sells. What the news is publishing is eye-catching stories for clicks. The reality is that both are growing, but 91 percent of total sales are still coming from brick and mortar sales. What's more, customers who shop multiple channels contribute three times the value of customers who shop one channel. As in all areas of life, there are winners and losers in every industry."
The speakers pointed out two converging retail trends:
Market fragmentation - "Yes, it's Amazon - and Dollar Shave and Stitch Fix and ."
Retail bifurcation - "Both low price and luxury retail are exhibiting strong growth, but the middle ground is struggling."
These trends mean that "stores can no longer be assessed solely on the transactional revenue they create. It's more important than ever to be integrated inter-departmentally. Brick and mortar stores have new roles to play today, such as distribution center, information desk, fulfillment center, and branding billboard."
Curt presented a brief case study of how REI is responding to market changes, stating that "75 percent of its online sales come from customers who live within 25 miles of a store."
Attendee Feedback:
"Interesting to hear nuts and bolts of how online sales are categorized."
"Both were strong presenters on a timely topic."
"Great case study looking at how retail is making location strategy decisions."
"Both speakers were excellent; great food for thought."
"Interesting topic, very well-presented and digestible."
"Pair up was effective at communicating a more abstract concept into applied learning."
"I like hearing from other retailers; appreciated Curt's candor."
"Interesting new perspective."
SESSION 5 - A Technologist's Perspective on Retail Automation
Presenter - Josh Winters | Director of Product and Data Science, IdealSpot
Josh presented an overview of retail store research from the perspective of IdealSpot, a company that provides research services to businesses with just one or a few stores. Over the last three years, the company has been collecting, collating, modeling, and productizing geospatial datasets for commercial real estate and retail ecosystems across the U.S., including interactive mapping platforms, self-service reporting tools, and multiple proprietary datasets, including a new source of geolocated demand data originating in search engine and social media behavior.
Josh exhibited that, even though small businesses need fewer stores, they still need powerful market intelligence. He overviewed past, current, and future intelligent tools, services, and products - from web-based GIS platforms for one-store retailers to complex adaptive machine-learning systems. He showed how these capabilities give stores the ability to open up new views of markets - thereby, unlocking the full value of geospatial data across a broad range of business situations.
Attendee Feedback:
"I think the topic is interesting."
"Refreshing to hear a millennial talk about future predictions for retail + consumer behavior."
"This is an ongoing topic of interest."
"Excellent graphics and great topics."
"Very interesting premiere and topic."
---
Thursday, March 22, 2018
---
SESSION 1 - Top Growth Markets for 2018
Presenter - Robert Welch, President, STI
Robert reported in this always-popular session that Top Growth Market Areas' growth levels were so exceptional they overshadowed last year's growth. This annual presentation highlights those market areas that have shown strong growth in the past two years. This is always a favorite session-particularly since the research also shows top market growth since he started the research 12 years ago, because companies can make year-to-year comparisons. Robert related this annual review to the previous Top Growth Market presentations and compared and contrasted those markets.
Robert uses the same methodology each year to create the report. The proprietary methodology uses STI: PopStats data and he evaluates U.S. markets based on the following criteria:
Have an initial market size of at least 60,000
Have a minimum per annum growth rate of 2%
Have a minimum growth rate of 8,500 people
Experienced significant growth for at least two years.
In 2018, 39 Top Growth Market Areas had all three criteria-compared to 31 in 2017. The top 10 areas are:
Myrtle Beach, SC
South Venice, FL
Austin, TX
Fort Meyers, FL
Boise City, ID
Fayetteville, AR
Charleston, SC
Central Region, FL
South Nashville, TN
Raleigh, NC
(Note: the names used are for reference only, the actual growth may be occuring just outside the areas mentioned)
Attendee Feedback:
"Always interested to see the methodology in action."
"Always great."
"I look forward to this every year."
"This is always an interesting topic."
"I enjoy it every year."
SESSION 2 - Beauty Data is Only Skin Deep
Presenter - Mark Shaffer | Director, Real Estate Market Research, Ulta Beauty
As one would expect, Ulta Beauty focuses on beauty enthusiasts, in other words, that segment of the population who are passionate about the beauty products category. But what you may not be fully aware of is the sheer intensity of females on social media discussing beauty products. "Millions of women love to talk about beauty products and engage with others on the topic," noted Mark. "They can't seem to get enough of us." To leverage the bounty of beauty, Ulta has created its own loyalty program, which yields "tons of rich data." The company has experienced year-over-year growth in its program - climbing from 11 million to 25 million in 2017.
However, the popularity of the beauty category has one downside: intense competition. To compete more fiercely requires having brick-and-mortar stores in the right places along with a presence on every other channel. "You can't have an omni-channel presence without having physical stores. It's that simple." Rich stated. Which means another win for brick-and-mortar! That's why the company is still adding new stores - including 200 in 2018, which will means Ulta will have over 1,200 stores across the country. PopStats data helps the company find its ideal customers, especially related to income, which correlates to higher beauty purchases.
In addition to site selection, Rich's GIS department is called upon to provide a wide range of market research across the company including:
Partner with real estate VPs to analyze markets and locations
Audit new store performance quarterly and implement insights learned
Actively update and main the latest build out list of potential stores
Track competitor store openings and closings and measure impact on Ulta store performance
Attendee Feedback:
"Very great use case of PopStats data."
"Hearing from retailers and businesses is what helps the most."
"Good speaker."
"Helpful to know how decision-making happens."
"Interesting."
"Extremely well-organized and energetic. Funny as well."
SESSION 3 - Weathering the Storms: GIS Solutions for Walgreens Disaster Recovery
Presenters - Ben Farster | Sr. Manager-Enterprise Location Intelligence, Walgreens Patrick Korellis | GIS Project Manager, Walgreens
Ben and Patrick described how Walgreens used location data in unique ways to help areas impacted by the disastrous 2017 hurricane season. The data analytics the GIS team provided helped the company achieve its primary goals: keep as many stores open as possible to serve local residents and evacuees, and deliver the supplies, including prescriptions and shots, each store needed to serve the local residents as quickly as possible. As a result, Walgreens is now equipped for rapid emergency response today and into the future.
Ben explained that the role of Walgreens' Enterprise Location Intelligence team in disaster planning and response has progressed over the last several years - from static maps sent via email to the rapid dissemination of advanced data and analysis resources on devices responders and store managers use in the field. Beginning with hurricane Harvey, the team created several critical interactive tools that achieved several advantages:
Provide mobile mapping solutions to team members on the ground within hours.
Push out publicly accessible weather feeds, flood gauges, and live traffic reports to response teams.
Build simple workflows to allow security teams manage the allocation of resources to impacted assets and patients.
Use real-time GIS technology to transform data into an instantly understandable visuals that are crucial for operating in impacted store locations.
The team is continuing to add new tools and data so that multiple departments are prepared to respond to all types of disasters around the country, including snowfall forecasts, earthquakes, fire perimeters, mudslides, smoke plumes, live radar, and evacuation zones.
Attendee Feedback:
"Love the live updating application."
"Pretty nice."
"Fantastic presentation and learned a lot."
"Most impressive segment of the conference."
"Nice unique presentation."
"This is a great addition."
"My favorite so far."
"Very interesting tool and use case."
"Great and informative."
"Great use case of GIS in a retail setting that is not related to site selection!"
SESSION 4 - AggData: New Perspectives - What Opening/Closing Data Says About the Lifecycle of a Store, Business, and Trade Area
Presenters - Chris Hathaway | Division President, AggData Jordan Roberts | Director of Client Relations Michael O'Connor | Business Development (formerly The Gap)
"Data doesn't expire. It tells us something because of its place in time," according to Chris, during his talk on how AggData has developed the ability to completely understand the timeline of locations by analyzing where stores have been, where they are, and where they are going. This insight enables retailer business to tell the more complete story about store locations' lifecycles. "AggData has been collecting data for 10 years, so now we can see context and trends that we couldn't see before," added Chris. "The numbers tell a story that's valuable. The data tells us what it means. It's interesting to see what we can do with this historical insight."
Jordan overviewed AggData's core strengths, including having the most data, more accurate data, most historical trends, most comprehensive data, and most international selection of data.
Michael overviewed how his former place of employment, The Gap, used the data for both store openings and closings. "Data is one of those rare commodities that everyone wants more of. When it's perfect no one notices. When it's off everyone notices. Finding good data sources is one of most difficult things I encountered at The Gap. One cool thing was introducing time as a dimension with AggData. It allowed us to do the types of trend analysis that were clumsy at best before. This was particularly valuable for managing store openings and closing. With our current climate, understanding the locations of store openings and closings is more important than ever. Each type of event tells us its own story."
Attendee Feedback:
"Cool to see what vendor data that's out there."
SESSION 5 - Real Estate Site Characteristics - Do the Best Sites Always Produce the Best Results?
Presenter - John Fox | Real Estate Manager, National Vision, Inc.
National Vision operates five brands selling contacts and glasses in several shopping centers across the country. The company knew that it was paying more rent for some stores that were not the most profitable. But it had no data to back up its views. Much of the data it did have was subjected, based on the opinions of regional managers. So it began a large project to analyze 600 locations to determine what each store should be paying for rent versus what it was paying. The project included correlating the stores' site attributes to sales and profits and comparable store sales.
To create the new analysis from scratch with new data and analytics, the team set specific parameters for the site characteristic data. It had to be:
Definable - we had to agree on definitions and parameters for collection.
Collectable - data was available within the timeframe required.
Measurable - data could be measured according to standards and put into categories.
Objective - eliminate or minimize subjectivity wherever possible.
From its analysis, National Vision created a rent pricing system based on 9 location characteristics that it used to determine the rent it was willing to pay for each location:
Shopping center type - mall, lifestyle center, strip center, or power center
Shopping center vacancy rates
Primary access road
Pylon and monument locations blocking visibility
Visibility from primary road
Number of shopping center entrances
Ingress and egress of shopping center (stop lights, right left turn lanes, etc)
Parking capacity of store and center (the most subjective)
Location type and position
Attendee Feedback:
"Good to see data win out."
"Great insight into store selection; very informative info on site selection."
"A very unique topic!"
"Good ideas."
"Interesting."
SESSION 6 - Mobile Location Data 3 Years In: What We Have Learned
Presenter - Andy Moncla | COO, BI Spatial, LLC
BI Spatial is a market research company that has taken advantage of mobile location data to gain an analytic advantage. Andy overviewed how his company is finding new opportunities to leverage mobile data for its clients - and shared mobile data best practices with the attendees. "Currently, there are 975 million unique devices out there and that number is growing rapidly. Data is increasing in all types of stores - department stores, malls, quick service, and sit-down restaurants. As a result, mobile data will be a huge part of the future of market research. It's something you should have in your toolbox, if you don't already."
"Every retailer uses mobile data in unique ways," stated Andy. Here are just a few that he overviewed:
To rapidly determine which areas to select.
To populate apps like weather bug.
To do a heat map.
To overlap demographic data onto geofencing data.
To do cross-shopping analysis to know who went into other tenants.
To tweak product offerings per store to better contend with competition.
He also offered a few tips for using mobile data effectively:
Data volume should be viewed as relative.
Be aware of GPS drift - smartphone are typically accurate to within 4.9 m (16 ft.).
Be aware that cell tower accuracy is typically within 300 meters.
Be aware that things get in the way of GPS, like buildings, bridges, trees, etc.
Realize that geofences won't be perfect, so just be as precise as possible.
Devices' mapping software may be faulty, incorrectly drawing maps, mislabeling businesses and other points of interest, and cite incorrect or missing roads, buildings, communities, incorrectly estimated street addresses.
Attendee Feedback:
"This has to be included on a regular basis at the conference - don't leave it out."
"Comic relief, very conversational. Interested to see where this goes."
"I like the maps and examples provided."
"Good to hear the progress this is making in the future."
---
Friday, March 23, 2018
---
SESSION 1 - STI: PopStats Methodology
Presenter - Robert Welch, STI
Robert rounded about the two-and-a-half day Conference with explanations of the PopStats' methodology. He said that the PopStats estimates are calculated on multiple computers working together in a pseudo-parallel processing manner. "We have created a self-correcting artificial intelligence modeling system that learns from itself." Here is a brief description of the methodology.
Here is a brief description of the PopStats' methodology. Four models comprise the model:
Zip+4 Model. This model is based on over 28 million ZIP+4s, representing over 116 million households. It is the primary determinate in understanding population growth and decline. Vital to the process is that STI maintains its own street files that feed into PopStats to avoid any spurious third-party data entering into the calculation.
Postal Delivery Model. This model is based on postal delivery statistics provided by the postmasters in each market across the country. Its primary purpose is to understand trends in existing populated areas.
Spread Model. This model, which is based on macro-level postal counts, performs double-duty: It both calculates populations in rural areas where ZIP+4s are limited, and serves as a checks-and-balance for the previous two models.
Census Model. This is the grand master of all the models, which STI calls the "black box." It pulls together the other three models using an extreme set of heuristics (if-then questions). In short, it is the final decision-maker of the estimate.
The PopStats methodology includes automated processes for overcoming any and all anomalies present in the data, including ZIP+4 inaccuracies, data smoothing issues, conversions (lofts), and overrides. If a client has a question about PopStats' estimates, Robert or a member of his team will research the issue. The client should first gather as much detail as possible, include any third-party evidence that supports his or her position, and be patient during the evaluation process. The issue will be verified, and the underlying data and soft sources will be checked. Finally, STI will report back to the client in a timely manner.
Attendee Feedback:
"This session is the reason to stay the last day."
"I like learning how Robert models the data."
"Great overview of methodology."
"Always the best part of the conference."
"Always relevant, no matter how many times one hears it."
"Extremely helpful in being able to answer questions from management personnel who want to know more about the methodology behind the data."
SESSION 2 - STI: LandScape Methodology
Presenter - Robert Welch, STI
Robert added an in-depth discussion of STI: LandScape's methodology this year, beginning with an overview of the four reasons that neighborhood segments consistently form across the country 80 percent of the time:
Tradition. A neighborhood has been one way for a while, such as nouveau riche or retired citizens, and it stays that way.
Perceptions. Residents' attitude is "if I lived there than that's where I perceive myself living," such as a hipster or working family neighborhood.
Development. Some neighborhoods are specifically designed to fit a personality type.
Physical Environment. People who share a similar lifestyle are attracted to similar geography, such as mountains, farmland, or water areas.
Neighborhood segmentation works because the segments change slowly. But one weakness is that while the demographics may indicate a specific consumer type, such as "married with children," the attitudes of the residents may be different that what is expected. For example, some parents may raise their children according to an attitude of ensuring they are always dressed in the latest fashions. Meanwhile, other parents' attitudes could be that "our children will just outgrow their clothing, so we're just going to purchase discount items." LandScape's ten social and lifestyle indicators add a new dimension, and a way to see these attitudinal differences, to the traditional breakdown by demographics.
Announcements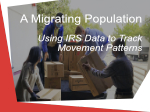 A Migrating Population - Using IRS Data to Track Movement Patterns
Check out the maps now!
Chat with us for more info
---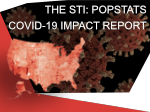 The PopStats™ COVID-19 Impact Report:
Available Now!
Chat with us for more info
---