STI: PopStats 2019 Research Conference Report
This Report contains highlights from the 2019 STI: PopStats Research Conference — held April 8th to 10th in downtown Fort Worth, Texas. Read synopses of the event's 14 Synergos Technologies' research-packed sessions delivered by PopStats users, partners, and team members.
The 14th annual STI: PopStats Conference was an event that marked a number of firsts. It was the first PopStats conference where Synergos Technologies partnered with other firms to host the event. It was also the first conference that offered attendees education tracks (three of them) instead of one single track. And it was the first PopStats conference held outside of Austin, Texas. No one has ever said that Synergos Technologies is not innovative!
This year STI co-hosted the event with partners Tetrad (Sitewise) and Trade Area Systems (TAS). On the second day of the two-and-a-half day event, attendees had three options — with sessions offered by each partner in different rooms of the Omni International hotel in Fort Worth, Texas.
It turns out that the innovative change of tradition and destination was an innovative decision — as evidence by sheer attendance numbers. This year's conference had the highest attendance of any event so far — over 140. Here is just some of the feedback attendees shared on the overall conference and on each individual session (comments included in the session highlights below).
Notable Stats

Nearly three-quarters (73%) of this year's attendees plan to attend the conference again next year
87% said this conference met or exceeded their expectations
Over 93% would recommend the PopStats conference to others
What was the most beneficial aspect of the conference?

"Learning from others."
"I appreciated the format of the sessions."
"Presentations by other companies."
"Hearing how retailers find site locations."
"Networking and sharing ideas of ways we help our companies with research and finding new opportunities."
"Great discussions of unique methodology, and the feedback and new features from STI."
What was the single best idea you gained that will help you in your job?

"Sales forecasting."
"Changes in drive-time modeling."
"How Life Time Fitness defines trade areas."
"Robert's presentation of indices and growth measures."
"Tracking online sales and mapping where they are going."
What was the single most important factor/issue that influenced your decision to attend this conference?

"Multi tracks on day 2."
"New format with Tetrad and TAS."
What new topics did you hear about this week that you plan to investigate further?

"Demographic trends by decades and generations + housing habit."
"Ethnic mix map."
"New data for new home sales and buildings."
TABLE OF CONTENTS
Monday April 8, 2019
SESSION 1 - Conference Introduction, Robert Welch, STI
SESSION 2 - Measuring Change in Neighborhoods — Using GIS and Demographics to Quantify Rejuvenation, David Spawn, Trade Area Systems
SESSION 3 - How Will Opportunity Zones Change CRE Investments?, Lacy Beasley, Retail Strategies
SESSION 4 - Leveraging Predictive Analytics and Market Optimization to Develop a Strategic Real Estate Plan for SalonCentric, Charlesie Russell, L'Oreal, and Michael Simon, Tetrad
SESSION 5 - Finding the Right Retail Mix for Your Community, Jason Claunch, Catalyst Commercial, and Deanna Sanchez, Teknion Data Solutions
SESSION 6 - Creating and Prioritizing Trade Zones in the U.S. Markeplace, Kiril Traykov, Levi Strauss & Co.

Tuesday April 9, 2019
SESSION 1 - Top Growth Markets for 2019, Robert Welch, STI
SESSION 2 - Demographic Clarity for Business, Chris Porter, John Burns RE
SESSION 3 - Measuring Change in Neighborhoods - Using GIS and Demographics to Quantify Rejuvenation, David Spawn, Brixmor, and Hartwell Hooper, Trade Area Systems
SESSION 4 - Gabe Harris, One Medical
SESSION 5 - Thinking Outside the Circle: Drive-time Analytics, Susan Beaumaster, Life Time Fitness
SESSION 6 - Market Planning Challenges in Healthcare Industry, Dave Huntoon, Intalytics

Wednesday April 10, 2019
SESSION 1 - PopStats in Action — New Insights, Robert Welch, STI
SESSION 2 - PopStats Methodology, Robert Welch, STI

---
Day 1 - Monday, April 8, 2019
---
Session 1 - Introduction and Updates to PopStats Data
Robert Welch | President, Synergos Technologies
As always, Synergos Technologies continues to add new data to PopStats. Robert kicked off the conference by introducing several new innovative datasets:
Released July 2018:.
Commuter Data - Includes the number of people who commute to an area, including how far they travel and which directions they travel in on their way to and from work, as well as their mileage.
Released April 2019:
National Totals on All Data
Released July 2019:
Social Security Income - Reports on people who receive Social Security income as well as other forms of supplemental income, which can be used for regentrification, for example.
Rent Payments - PopStats always provided housing valuing, but will also provide rental income, which can be used for affordability, for example.
Religion - Monitors propensity versus adherence and attendance, which is the likelihood that person belongs to a particular religion (adherence means they belong, and attendance means they belong and attend).
SESSION 2 - Measuring Change in Neighborhoods — Using GIS and Demographics to Quantify Rejuvenation
David Spawn | Director of Research Marketing | Brixmor
Hartwell Hooper | Vice President of Client Success | Trade Area Systems
What impact does gentrification have on selecting an ideal location? Is it possible to actually see what's happening in a region and build a tool to track it? In 2018, Brixmor and Trade Area Systems aimed to find out, creating the Brixmor's Neighborhood Rejuvenation Index, a custom tool that Brixmor uses to market its properties in up-and-coming neighborhoods.
David from Bixmor and Hartwell from Trade Area Systems shared how they created the innovation framework. "We needed a process that was replicable across the U.S. and able to be benchmarked," said David. "Everything we could find on measuring gentrification was too academically heavy. Plus, good street views were not helpful, and existing data analytics tools were clunky and not easy to use."
Here are some of their discoveries regarding measuring gentrification: Attendee Feedback:
Key variables are medium household income, educational attainment, and medium home values
Time-series data enable quantifiable measurement of demographic changes over time relative to markets
It had to be comparable to other areas, so they could create scores that measured changes
Had to be consistent in the data used to ensure comparisons were on par versus a mixed bag
Always thinking about how to make the data more simple, but still useful
Created one overall rejuvenation number, but also broke down its components
Discovered the best results were hyper-local, with one mile being the idea measurement ("Generation happens at hyper-local neighbor – house by house, street by street, and neighborhood by neighborhood," said Hartwell.)
Longer-term index produces higher results overall
Looking for new ways to apply the methodology
Session Feedback From Attendees:
"Really liked this: would like to see more details."
SESSION 3 - How Will Opportunity Zones Change CRE Investment?
Lacy Beasley | President | Retail Strategies
Many communities want retail development, but they lack the skills to know how to attract, engage, and makes deals with retailers. What's more, other communities don't look for retail opportunities, because they don't understand how the addition of retail will impact their communities in other ways, such as incentivizing industry to locate in their areas.
Enter Retail Strategies. As experts in community and commercial real estate partnering, the company helps communities across the country bridge every knowledge gaps in the process. As Lacy Beasley said, "We play matchmaker between municipalities and commerce. We exist to help communities bring retail, who want it and need it, but didn't know how to do it."
The result has included a wide range of results — from helping communities overcome lost manufacturing opportunities to attracting previously out-of-reach retailers. For example:
One community was able to attract a manufacturing plant after attract key retail shops, including preferred brands like Chick-fil-a and Target.
Retail Strategies was able to help attract a Krispy Kreme to one small community despite a "no neon signs rule" by asking city hall to change the law. The retailer created a traffic jam on opening day.
She also talked about Opportunity Zones, and how to benefit with the new tax reform bill that supports commercial investment in low-income and high unemployment "zones." "We've heard that this program has the potential to be the largest economic development program in U.S. history. Why is that?" Lacy overviewed the new retail incentive program, which impacts 12 percent of the census tracks across the country that are largely rural and where annual incomes on average are $10k.
Attendee Feedback:
"Would like to see this topic addressed next year."
SESSION 4 - Leveraging Predictive Analytics and Market Optimization to Develop a Strategic Real Estate Plan for SalonCentric
Charleslie Russell | VP Store Development | L'Oreal
Michael Simon | President | Tetrad
Charleslie overviewed SalonCentric's approach to targeting locations for its stores in light of the fact that brick and mortar is one-third of its sales, along with consultants in the field working with big salons and ecommerce. "Our ecommerce and street channels do better when supported by local stores, because many customers want to visit stores to touch, see, and smell the products," she said. SalonCentric worked with Tetrad to ensure that it was making the optimal store location decisions for each location, including a strategy for opening more stores for clients.
"We wanted a predictive analytic forecasting tool and mapping platform to develop a proactive market optimization strategy to aid in location decision making," said Charleslie. "It needed to be able to assess locations, identify voids in target markets, estimate maximum sales potential and capital spend — all so we could make more informed decisions quickly and on the fly, in seconds versus weeks."
Michael overviewed the four steps taken to develop the model to assess the targeted sites:
Step 1 - Develop seed point (centers of retail activity) target locations – identified about 180K centers of activity.
Step 2 - Evaluate seed point sales forecasts.
Step 3 - Engage in "lite" market optimization methodology – used to take store cannibalization into account (threshold about 3 miles).
Step 4 - Map targets by adding in other market-centric data insights
Charleslie and Michael concluded the presentation by overviewing four case study examples of how the forecasting process worked in the field including:
Validation of existing deals in play to assess potential in Tustin CA
Identify new in-fill sites, validate decisions, and get buy-in to open new stores in San Marcos, CA
Killing "dog sites" in the pipeline in Dresel Hill, PA
Relocate and close under-performing stores and open new stores in Pompano FL
Attendee Feedback:
"Really liked this topic."
SESSION 5 - Finding the Right Retail Mix for Your Community
Jason Claunch | President | Catalyst Commercial
Deanna Sanchez | Senior Consultant| Teknion Data Solutions
Catalyst and Teknion partnered to create an innovative approach to real estate research for municipalities using Alteryx and PopStats. "This started when we asked ourselves why we cannot adopt the traditional market research model used by retailers to identify locations and reverse engineer it to help municipalities attract retailers," said Jason. "In other words, why can't we use scientific approach to figure this out on a national level?"
Jason and Deanna overviewed the six-step workflow "proof of concept" of the innovative approach to municipality-based real estate analysis they created, called the Catalyst Model:
Market analysis and values - analysis that creates a grid for assessing the nation and placing each location in a tier-based structure
Merchandising tool vision refinements - heavy analytics, including applying a score to every grid for each retail site
Program development - spatial analysis that takes site performing many more spatial analytics to determine what retailers would fit best in each area
Strategic marketing and branding - determine what makes sense for each area
Tenant procurement - make the best deal for each area with each ideal retailer
Sustainable development modelensuring the Catalyst Model could be scaled across the country in multiple geographies
Jason and Deanna concluded their presentation with case study examples, including Downtown Roanoke Oak Tree in Virginia. Thanks to implementation of the program, results included:
Land values increased
A merchandising strategy was activate and developed
Attracted residential demand, a hotel, and about 2,000 square feet of retail
Attendee Feedback:
"She seemed very knowledgeable"
SESSION 6 - Creating and Prioritizing Trade Zones in the U.S. Marketplace
Kiril Traykov | Sr. Manager, Strategy & Analytics | Levi Strauss & Co.
Even though the USA is a vast country, when it comes to apparel consumption is heavily concentrated in urban areas. Levi Strauss & Co, for example, found that consumers living in just 10 percent of the land (50 urban trade zones) buy 68 percent of the country's pants and shorts. This figure makes a great proxy for total apparel sales. To capture and optimize this spend, Levi create a Key Cities Strategy in an effort to answer hard questions and better align its consumer profiles in each area with its sales. Kiril overviewed his process at the PopStats conference.
The company used Sitewise and PopStats counts, density, and proximity to help delineate the boundaries of its algorithmically derived Trade Zones, then identify the populations living there. By mapping its entire network of stores, wholesale points of sale, competitors, and shopping centers, Levi transformed its business, including being able to make better-informed real estate decisions. "Our consumers shop across multiple channels and we have to figure out their preferred ecosystem," said Kiril. "In other words, which channels are more effective to moving the needle? For example, how well are 501s selling in Dallas?"
This helps the legendary company, in particular, stay on top of shifts in activity and optimize its customers' omni-channel purchasing experience, which includes receiving emails, searching its website, searching for sales, and visiting stores to try on products — all of which is common with most fashion consumers today. Its ultimate goal is to discover which channels make more sense for each product in each market. Interestingly, in general, the findings point to the need for more, not less, brick-and-mortar stores.
Attendee Feedback:
"good job."
"Leanred quite a bit from this speaker."
---
Day 2 - Tuesday, April 9, 2019
---
SESSION 1 - Top Growth Markets for 2018
Robert Welch | President | Synergos Technologies
Robert reported in this always-popular session that Top Growth Market Areas' growth levels were so exceptional they overshadowed last year's growth. This annual presentation highlights those market areas that have shown strong growth in the past two years. This is always a favorite session—particularly since the research also shows top market growth since he started the research 13 years ago, because companies can make year-to-year comparisons. Robert related this annual review to the previous Top Growth Market presentations and compared and contrasted those markets.
Robert uses the same methodology each year to create the report. The proprietary methodology uses STI: PopStats data and he evaluates U.S. markets based on the following criteria:
Have an initial market size of at least 60,000
Have a minimum per annum growth rate of 2%
Have a minimum growth rate of 8,500 people
Experienced significant growth for at least two years.
In 2019, 34 Top Growth Market Areas had all three criteria—compared to 39 in 2018. The top 10 areas are:
Myrtle Beach, SC
Austin, TX
Boise City, ID
Pasco, FL
Fayetteville, AR
Fort Myers, FL
West Phoenix, AZ
South Nashville, TN
Central Region, FL
Dallas-Ft. Worth, TX
(Note: the names used are for reference only, the actual growth may be occuring just outside the areas mentioned)
Attendee Feedback:
"Found it to be very informative and great presentatoins."
SESSION 2 - Demographic Clarity for Business
Chris Porter | Chief Demographer | John Burns RE
John Burns Real Estate is in the business to help residential construction industry make smarter investments with greater confidence, minimize risk, and maximize results. They track and analyze multiple data points in about 70 markets to find what's working and what's not. The company's research includes:
Survey 220+ builders to track the residential industry in real-time
Talk with consumers about what they're looking for in their next home and community
One challenge in researching the building industry is confusion around demographics among builders. For example, the general belief is that millennials want to move to cities and live in suburbs. However, this idea raises questions on definitions: What's a millennial? What a Gen X? What's a suburb? What's a city? There's such vast disagreement in definitions that the company created its own definitions of generations based on decades, including nicknames based on major cultural shifts that occurred in each.
1930s - Savers - 79-88 y/o - largely influence by the great depression, so became big savers
1940s - Achievers - 69-78 y/o - high achieving earliest boomers faced more people, thus more competition
1950s - Innovators - 59-68 y/o - boomers who became focused on being innovators
1960s - Equalers - 49-58 y/o - more women graduated from college than men in this decade
1970s - Balancers – 39–48 y/o – this group experienced workaholic parents and high divorce
1980s - Sharers - 29-38 y/o – mentality led the disruptive shift to a sharing economy largely online
1990s - Connectors - 19-28 y/o – use their phones whenever possible, and are constantly connected to devices and the world
2000s - Globals - 9-19 y/o – globally diverse and aware while still in high school in 2019
Another unique term the company coined is "Surban." These are communities that are a combination of suburban and urban. The growth of this sector is driven by people who want the safety and housing prices of suburbs, but still want walk-ability, public transportation, and access to urban-type events. Two groups in particular are attracted to these areas: sharers and empty nesters. They want to be active and don't need a lot of space, and want to be a part of a "downtown scene."
Attendee Feedback:
"Best presentation ever."
"Excellent, need more speakers like this!!!!"
"Should have been on first day."
"My favorite/most applicable presentation."
SESSION 3 - State of the U.S. Mall Industry — 2019
Clay Hallman | Director of Real Estate Research | Simon Properties
Clay Hallman talked about what's going on in the mall industry these days from a realistic lens that countered the negative headlines about the demise of malls. Simon Properties is the largest mall owner in the world with over 200 in the U.S., one of largest in Europe, and building outlet centers in Asia. With malls of all sizes and types, the company is always poised to ride out changes in the industry. For example, premium outlets helped the company remain successful during the Great Recession.
These days, there is much speculation and conjecture around the current state and future prospects of the U.S. mall industry. However, "malls don't die easily," noted Clay. While it's true that the industry is going through a time of transition, the story is not as bleak as the rhetoric often portrays. Despite the negative headlines, Simon Properties is still building new malls, such as one in Miami. Square foot sales continue to go up. Rents are up. Occupancy is still at 90 percent. Releasing spread is about $7. Rather than just randomly dying, the reality includes a variety of variables:
There are a lot of obsolete malls
Some malls are at a disadvantage with bad real estate
The Internet changed everything
Some big-name retailers are struggling
"The retail landscape always changing — there's a cycle," added Clay. "Something new will open when others go away – the key is having good real estate and being a good operator." To stay relevant, mall owners are executing strategies that fall into three main trends:
Renovating and expanding - – Good malls are getting better; today's retailers have to be merchants, markets, and logistics experts.
Adding more food establishments - Today's malls have less apparel and less traffic because of omnichannel, but they have more food businesses because they add traffic
Adding non-traditional anchors - The traditional anchor stores on the four corners are fading into innovative new mall residents that add value and attract visitors such as fitness, theaters, co-working, libraries, residential, hotel and more.
SESSION 4 - Can Healthcare Be Convenient? Using Location Strategy, Hospitality and Design
Gabe Harris | Sr. Real Estate Manager | One Medical
"Medical is not traditionally a warm, welcoming, and comfortable experience today," said Gabe. "They are known for long wait times and impersonal service." One Medical organization is turning this outdated model around and creating a positive association for people visiting a doctor. The company delivers a unique medical membership model that focuses on lifetime treatment of patients, including smaller patient rosters and more personal doctor visits. As a result, One Medical is growing rapidly with 70 units in nine markets currently — including multiple practices in the same areas. The company will rollout 25 more units in 2019 and 40 units in 2020.
To guide the selection of new doctors' offices, the company uses very targeted site selection data including:
Medium Household Income - patient have to be able to pay the membership fees
Daytime White-Collar Workers - they are looking for convenience or have plans purchased by employers
Knowledge Workers - clients tend to be highly educate and appreciate the value proposition of time saved and more personal health care services
Urban metro Dwellers or Workers - even if live in the suburbs often seek medical care near jobs in the city
Suburb Dwellers - as grow, starting to take urban behavior and translate it into suburbs
Proximity to privare corporate sites - great proxy to understand if they can get to the facility during daytime hours, so location matters
Lower-Income Population - – in the future, the company will create options for inexpensive healthcare offering for segments of the population
SESSION 5 - Thinking Outside the Circle: Drive-Time Analytics
Susan Beaumaster | MSAT Market Analyst II | Life Time Fitness
Life Time Fitness is a champion of living healthy and happy life with 143 athletic lifestyle resort destinations in 39 major markets in the U.S. and Canada. At the conference, the company's analytics team overviewed how they are moving beyond ring studies to include drive-time analytics in their market research. They have honed this method to a well-oiled machine — and, as a result, yielded valuable insight for understanding its customers and their surrounding neighborhoods.
The Life Time team shared just some of the insights they've learned from drive-time analytics including:
Point Placement - Where you put the point makes real difference – whether on top of a building, in the street, or at an intersection. You can get two different outcomes if the point is place on the curb or on the rooftop. Placing it on the street requires considering whether it's placed on the site exit or entrance. The difference could be off by as much as a minute. One-way roads are important, as are two-lane roads on busy thoroughfare.
Drive Settings - Depending on the type of study being conducted, such as peak travel times, the settings in the appropriate drive setting is paramount to accuracy. Factors that can impact the study are speed limits, road types, direction of travel, and time of travel.
Measurable - data could be measured according to standards and put into categories.
Polygon Maintenance - The company monitors drive-time polygons through shifting methodologies and data. Factors include, for example, road network changes due to construction.
Google Benchmarking - Use Google map benchmarking as a reference to help decided which of the three above the company will use in each use case.
SESSION 6 - Market Planning Challenges in Healthcare Industry
Dave Huntoon | Principle | Intalytics
Healthcare providers have been evolving toward a more consumer-focused operating strategy, increasingly employing techniques long familiar to the retail industry to grow brand awareness and sales. However, there remain fundamental differences concerning the relationship between consumers and retailers relative to the relationship between patients and healthcare providers. In his session, Dave Huntoon addressed some of the unique challenges faced by healthcare companies — including everything from drugstores to dentists to urgent cares — in their efforts to develop successful deployment strategies.
Market planning challenges for healthcare providers include: payment source trends in the area, regional regulatory oversight, types of patient/provider relationships, visit frequency, type of trade area, sales and profit potential of local patients, and patient profiles. For example, many healthcare providers will cherry-pick their deployment plans based on reimbursement rates including:
Reults - some areas with adequate demand will be under-stored for selected healthcare providers
Reverse Scenario - some insurers will subsidize new office deployments in order to reduce reimbursement costs
Insurance Provider Incentives - some insurance providers will provide incentives for elected healthcare providers to deploy new units
Patient profiling for healthcare providers is similar to that for retail and restaurant operations including:
Demographic and psychographic characteristics, which can have a measurable impact on patient visit propensity, such as urgent care or orthopedics.
Primary challenge for patient profiling concerning HIPAA compliance.
Attendee Feedback:
"Good. This has to be included on a regular basis at the conference — interested to see where this goes."
"I like the maps and examples provided."
"Always interesting technology. Good to hear the progress this is making in the future."
---
Day 3 - Wednesday, April 10, 2019
---
SESSION 1 - STI Product Family in Action
Robert Welch | President | Synergos Technologies
Every year, Robert overviews some of PopStats' most unique datasets, including the following at this year's conference:
Long-Term Growth Trends - creates a pictorial representation of an area's growth, assuming that built housing equals households.
Annualized Growth Rate - standardized growth rates for easy comparison.
Expected Value Index - a filtering tool for conducting a quick analysis of the type of growth an area is experiencing: exponential, linear, or declining.
Population Migration - helps understand growth by eliminating the effects of births and deaths.
Forecast Stability - uses a filtering tool to investigate five-year growths
Ethnic Mix - provides a pictorial method to quickly identify changes in ethnic mix
Ethnic Diversity - helps understand the ethnic homogeneity of an area.
LandScape Categories - helps understand the demographic "shorthand" of an area.
Mortgage Risk - helps understand areas that may be potentially distressed due to high loan to income ration.
Unemployment Rate - helps understand areas that may be potentially distressed due to high unemployment.
Occupational Demand Index - helps understand those areas that may be potentially distressed due to occupation vulnerability.
Industry Vitality - helps understand those areas that may be potentially distressed due to industry vulnerability.
Gross Domestic Product - monitors local area contribution to national GDP.
Housing Values - monitors local housing values.
Because he had extra time, Robert also provided insight on three U.S. markets using some of these datasets and others in the PopStats - demonstrating how they can be used to make insightful market comparisons.
Attendee Feedback:
"Even though we've seen this several times, it always prompts new ideas."
"Informative. Helps me to think of other data points to incorporate into decision making."
"Great for a beginner like me."
SESSION 2 - STI: PopStats Data Methodology
Robert Welch | President | Synergos Technologies
Robert rounded about the two-and-a-half day Conference with explanations of the PopStats' methodology. He said that the PopStats estimates are calculated on multiple computers working together in a pseudo-parallel processing manner. "We have created a self-correcting artificial intelligence modeling system that learns from itself." Here is a brief description of the methodology.
Four models comprise the methodology:
Zip+4 Model - This model is based on over 28 million ZIP+4s, representing over 116 million households. It is the primary determinate in understanding population growth and decline. Vital to the process is that STI maintains its own street files that feed into PopStats to avoid any spurious third-party data entering into the calculation.
Postal Delivery Model - This model is based on postal delivery statistics provided by the postmasters in each market across the country. Its primary purpose is to understand trends in existing populated areas.
Spread Model - This model, which is based on macro-level postal counts, performs double-duty: It both calculates populations in rural areas where ZIP+4s are limited, and serves as a checks-and-balance for the previous two models.
Census Model - This is the grand master of all the models, which STI calls the "black box." It pulls together the other three models using an extreme set of heuristics (if-then questions). In short, it is the final decision-maker of the estimate.
The PopStats methodology includes automated processes for overcoming any and all anomalies present in the data, including ZIP+4 inaccuracies, data smoothing issues, conversions (lofts), and overrides. If a client has a question about PopStats' estimates, Robert or a member of his team will research the issue. The client should first gather as much detail as possible, include any third-party evidence that supports his or her position, and be patient during the evaluation process. The issue will be verified, and the underlying data and soft sources will be checked. Finally, STI will report back to the client in a timely manner.
Attendee Feedback:
"These topics were a big part of why I attended."
"Very interesting and informative."
"As a first time attendee, this was excellent — it really helped me to have a greater confidence in the product."
"Always a good review. I wish I could share both of these with my office."
Announcements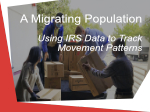 A Migrating Population - Using IRS Data to Track Movement Patterns
Check out the maps now!
Chat with us for more info
---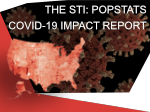 The PopStats™ COVID-19 Impact Report:
Available Now!
Chat with us for more info
---