The Synergos 2020 Census Plan
What you can expect from your data partners with the 2020 Census.
As the U.S. Census Bureau works hard to collect population data across the U.S. and its territories, the Synergos team will also be working hard to incorporate that data into our product lines. Here's what you can expect from your data over the next couple of years:
It is important to note that we expect there may be delays from the U.S. Census Bureau for the following timeline due to setbacks caused by COVID-19.
We will begin to receive information down to block group level from the census bureau by December 31st at the latest. It won't be until late spring of 2021 before they release all of the other information associated with the census. We will be able to work with the data after we receive that second wave.
Fall 2021 - we will be able to release the 2020 based numbers and block group boundaries, along with the 2010 block group boundaries in the form of two products. We do this to make your transition into the new decade's boundaries easier and more smooth. The Data Depot will also be updated with the new geographic boundaries at this time.
It is important to know that the numbers will be different between the two sets of data due to different boundaries. The 2020 boundaries will be more up-to-date.
We will support both datasets for a minimum of 6 months. We will be working closely with our vendor partners to ensure that all of our customers have a smooth transition during this time period. January 2022 will most likely be the time when we will only support 2020 boundaries.
If you have any questions, please don't hesitate to give us a call at (512) 343-1963 or simply chat with us right here.


Be sure to follow Synergos Technologies, Inc. on LinkedIn, Twitter, and
Facebook to stay up-to-date on company updates and news!
Announcements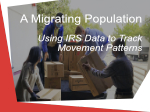 A Migrating Population - Using IRS Data to Track Movement Patterns
Check out the maps now!
Chat with us for more info
---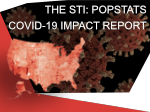 The PopStats™ COVID-19 Impact Report:
Available Now!
Chat with us for more info
---