The Synergos 2020 Census Plan
What you can expect from your data partners with the 2020 Census.
Updated February 23, 2021
The Census Bureau has been hard at work counting the United States Population as of April 2020 and we are excited to incorporate those numbers into our estimates. Here is the latest update we can provide:
State-level estimates have been scheduled to be released on April 30, 2021. The new release time for Census 2020 data is September 30, 2021.
The 2020 Census geography files are released and we currently at work getting them processed.
Assuming the Census Bureau keeps its September 30th release date, we plan to have 2010 and 2020 geography-based versions of STI: PopStats™ ready for the April 2022 and July 2022 releases, January 2022 and April 2022 estimates respectively. We hope having both 2010 and 2020 based versions of PopStats for two releases will allow for an easy transition for our customers.
The October 2022 release (July 2022 estimates), as well as future releases, will only be created using 2020 geographies.
If you have any questions, please don't hesitate to give us a call at (512) 343-1963 or simply chat with us right here.


Be sure to follow Synergos Technologies, Inc. on LinkedIn, Twitter, and
Facebook to stay up-to-date on company updates and news!
Announcements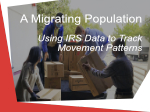 A Migrating Population - Using IRS Data to Track Movement Patterns
Check out the maps now!
Chat with us for more info
---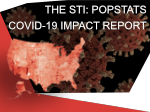 The PopStats™ COVID-19 Impact Report:
Available Now!
Chat with us for more info
---