STI: Colossus™
Analyze the Impact of Today's Leading
Economic Indicators on Your Business
Did you know that economic reports on new and existing home sales help predict if consumers are in a shopping mood? Did you know that economic reports on advanced orders for durable goods indicate positive changes in business activity? Did you know that the Consumer Price Index gauges inflation and much more at the retail level?
What do these economic insights mean to your company? The answer lies in bringing macroeconomic data down to a market-level — where it is accessible, meaningful, and usable. The STI: Colossus econometric data brings together literally millions of economic variables from over 200 leading federal and state departments and agencies in one singular source, for the first time.
When you add Colossus data to your research engine, you gain easy access to a vast universe of macroeconomic data, which you can use to meet your company's specific business needs and challenges — such as preferred market analysis, impact analysis, and economic development.
Analyze Preferred Markets from a macroeconomic perspective to gain richer insight. Economic challenges are forcing companies to be more selective when conducting Preferred Market Analysis to find new locations. By adding economic insight to the equation, companies gain a valuable set of decision criteria.

In-depth Impact Analysis reveals the economic viability of your existing markets. Every market is influenced by economic booms and busts. But what is the specific impact on your markets? And what are the short- and long-range forecasts for your markets' economic health? The wide range of data in Colossus can help reveal the answers.

Research labor pools from different angles of view. Colossus data can tell companies a lot about the labor potential in specific markets. For example, an area with a high number of degrees conferred and high income levels is likely to experience less hardship during an economic downturn due to a greater savings ability and level of discretionary spending among workers.
Colossus data is the perfect addition for companies already using the STI: PopStats data suite. While other STI data products provide companies with precise micro-level views of their consumers, trade areas, and locations, Colossus data allows them to step back and understand their trade areas from a macroeconomic perspective. With an understanding of the broader economic factors that are impacting today's trade areas, companies can make even more informed and profitable business decisions.
What can STI: Colossus data help you build today?
STI: Colossus Features and Benefits
With Colossus data's robust range of features powering your research projects, your company will gain several profitable benefits.
| | |
| --- | --- |
| FEATURES | BENEFITS |
| Millions of Economic Data Variables | Gain access to the nation's leading economic insight — all from one convenient and robust singular source |
| Leading Economic Indicators | Discover what the macroeconomic indicators mean to your markets — including Consumer Price Index (CPI), Gross Domestic Product (GDP), Consumer Confidence Survey, and more |
| National and International Economic Statistics | Find out how your markets stack up on major economic issues, such as U.S. workers' hourly wages, bankruptcy filings, unemployment filings, and more |
| New Economic Analysis | Conduct a wide range of economic research, including preferred market analysis, market impact studies, economic development comparison, and labor pool evaluations |
| Multiple Geographic Levels | Drill up or down to extract data at the national, state, and county levels |
| 10 or More Years of History | Track trends by comparing current economic data to past years' data |
| Seamless Data Integration | Gain easy access to Colossus data — which works on all existing research engines |
| Free GIS Tools | Leverage a wealth of GIS data from the online STI: Data Depot, and use STI: ISIS, an executive-level reporting software — all free to STI clients |
| Flexible Licensing Terms | Obtain generous licensing terms — including the use of previous year's data, authorized data use beyond purchase year, and minimal data-use restrictions |
| Annual Research Insight | Attend STI's Annual Research Conference — which provides a forum to share industry research, knowledge, and best practices |
| Responsive Customer Service | Enjoy STI's industry-leading customer service — the highest in the research industry |
Test STI: Colossus in Your Trade Area
Add today's only comprehensive source for millions of economic variables to your market research — and attain valuable macroeconomic insight at the market level to help your company make more informed and profitable business decisions.
To test-drive STI: Colossus data in any trade area, contact us today for a free sample.
Announcements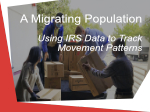 A Migrating Population - Using IRS Data to Track Movement Patterns
Check out the maps now!
Chat with us for more info
---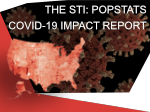 The PopStats™ COVID-19 Impact Report:
Available Now!
Chat with us for more info
---