Our Partners
Working Together — STI Partners with Today's Leading Demographic Service Providers
Like Synergos Technologies Inc., our market-leading partners are forward-thinking companies whose approach is both innovative and results oriented. Working together, we deliver demographic systems that enable market researchers to gain the maximum benefit from their market research activities. The result is better informed and more profitable decisions.
What do you want to build today? Contact any of these companies to gain access to STI's complete suite of demographic and ancillary data products.


---
Trade Area Systems
Greg Rutan
VP of Sales and Marketing
Providence, RI
www.tradeareasystems.com



(401) 272-2600 ext. 224
Trade Area Systems empowers retailers, developers, and marketers to make smarter decisions with their data by providing world-class technologies and consulting via a powerful suite of analytics, mapping, and demographic tools for the web, mobile, and desktop.

The TAS platform goes beyond mapping and demographics to enable two-way interaction with data in the system. User-generated data additions (potential sites, competitors, etc.), edits, photos, and comments are immediately available to everyone in the system. At TAS, data quality is paramount, so the ability to make yours better is an important part of the platform.

TAS is also able to scale with any organization, and a range of functionality is available, from full-power GIS to intuitive, easy-to-use online and mobile applications. TAS features full, role-based and geographic security, giving users access to only the information they need to do their jobs, and administrators the ability to control their tools.

Visit www.tradeareasystems.com, @TASnews on Twitter, and @WeAreTAS on Instagram.



---





TETRAD Computer Applications Inc.
Michael Simon
President
Ferndale, WA
www.tetrad.com



(800) 663-1334
Tetrad delivers cost-effective and flexible market analysis solutions to help small and medium businesses make critical site and market related decisions. For the past two decades, our solutions have empowered our clients from diverse industries -- including retail, real estate, and healthcare -- to make smarter decisions. We work closely with our clients to provide the right mix of data, analytical tools and services to help them solve complex business challenges with ease. Our desktop, web and mobile based solutions enable market planners and strategists to capture data, share maps, analyze sites and seamlessly deploy predictive models to executives in the field



---





Forum Analytics
Paul Sill
President
Chicago, IL
www.forumanalytics.com



(800) 689-1652
FORUM ANALYTICS, a CBRE Company has served the franchise and retail industries since 2001 and was established with a singular vision: create mission-critical analytics powered by advanced modeling and mapping tools, turning data into powerful business intelligence. Forum Analytics empowers 100+ global retail, restaurant, consumer services and private equity organizations operating over 200,000 commercial properties worldwide to maximize the value of internal data assets, deploy accurate, data-driven solutions for enhanced decision making, and integrate data resources to simplify and increase internal collaboration. Forum's clients include Verizon Wireless, ACE Hardware, Domino's, Sephora and CKE Restaurants. among many others.



---





SiteSeer Technologies, Inc.
Danielle Yanskey
Partner
Boise, ID
www.siteseer.com



(770) 864-4929
SiteSeer Technologies provides a full-service suite of software and services for site selection and market analysis. SiteSeer was formed by retail analysis firm, ROIC analytics, and market intelligence software firm, x-span results, and leverages each team's decades of experience delivering custom market solutions. Built on the proven Site Decisions Systems (SDS) platform and designed for use at the desk or in the field, SiteSeer Professional software makes market analysis and forecasting easy for the casual user and provides powerful do-it-yourself customization options for the advanced user.



---





Dakota Worldwide Inc.
Elliott Olson
CEO
Minneapolis, MN
www.dakotaww.com



(800) 475-4505
Dakota Worldwide Inc. is primarily involved in the analysis of return and the quantification of risk for capital investments with a spatial dimension. Projects include determining sales projections for stores and networks, macro overviews for planning, and expert testimony. Dakota has developed decision support software including: Quintillion, a geographical executive information system developed at McDonald's; Locus Pro, a supermarket site location system; QSL, a site location system for quick-serve restaurants; Octane, a network planning system for retail petroleum; Shipping, a site location program for postal and overnight delivery systems; and LocusPharm, a site location system for drug stores.



---





Tactician
Robert Reading
President
Andover, MA
www.tactician.com



(978) 475-4475
Tactician is a software and services provider of integrated sales, geomarketing and media solutions used for developing and executing geographically targeted resource and investment decisions. The company has been delivering groundbreaking business mapping applications and technologies since 1988. It's proprietary core analytic engine and mapping technology offers support for both desktop and web-based applications and solutions. Tactician has proven itself superior in retail analytics, performance modeling, data integration, data visualization and return on investment for its customers. Today, Tactician provides the worlds fastest, most efficient, highest capacity Geographic Resource Investment Decision (GRID) systems.



---





TerraNOVA International
David Ries
President
Slingerlands, NY
www.terranova4mapping.com



(518) 478-9525
TerraNOVA International was established in the early 1990s to provide customized digital mapping solutions for business and government using the demographic industry's maturing suite of software and data products. Today TerraNOVA International is a provider of desktop and Internet-enabled products and solutions for business intelligence applications. TerraNOVA helps companies transform information in their corporate databases into a business advantage by discovering unseen patterns and trends. This insight helps companies understand marketplace demographics, manage assets, and allocate resources more effectively.



---





DataSource Technology, Inc.
Brad Shelton
President
Naperville, IL
www.datasourcetech.com



(630) 416-9924
DataSource Technology, Inc., is a privately held company that specializes in providing project consulting, mapping services, mapping software, training, and computerized geographic and demographic data and systems for business analysis applications. With over 25 years of experience, DataSource Technology has a unique understanding of the data, software, and service components required for successful implementations of market research analysis. DataSource Technology maintains strong relationships with a wide variety of Original Software Manufacturers and data providers - and offers a wide array of products from software, to data, to roads, streets, and boundaries.



---





Environics, Inc.
Jan Kestle
Founder and President
Toronto, ON, Canada
www.environicsanalytics.ca



(416) 969-2834
Environics Analytics is the premier marketing and analytical services company in Canada-your one-stop resource for everything you need to find and keep your customers. We'll help profile your customers, identify your best prospects, provide insights into how they live and develop effective marketing campaigns to reach them. From merchandising and media planning to customer profiling and site analysis, we'll provide you with cost-effective solutions so you'll deliver the right message to the right customer with the right media — both new and traditional.



---





Biomedware
Susan Hinton
Ann Arbor, MI
www.biomedware.com



(734) 913-1098
BioMedware is a thought and research leader in the space-time analysis of real-world dynamic systems. We provide solutions in the area of geohealth — the intersection of geography, health and the environment. Our expertise involves both techniques and cross-cutting interdisciplinary approaches to solving problems.



---





RSI - Research Solutions Inc.
Michelle Lewis
Toronto, ON, Canada
www.rsiworldwide.com



(416) 760-3740
Established in 2002, RSI Research Solutions Inc., provides market analysis and consumer insights through licensed data, market analysis software, and custom project work. RSI has built partnerships with most of the leading demographic data and software providers in North America. In doing so, RSI offers its clients the ability to evaluate multiple data providers through a single knowledgeable point of contact. With the introduction of MapInSite™, RSI has taken the lead in creating a user-friendly, map-based software tool utilizing the best data sources and data engines in the business. Real estate and marketing professionals rely on our products and services to quickly derive actionable results. Our goal is to provide the industry's best customer service. Our priority is to help you meet your business information needs.



---





Tango Analytics
Mark Zygmontowicz
Dallas, TX
www.tangoanalytics.com



(586) 786-9544
Tango Analytics is a cloud-based Software-as-a-Service (SaaS) solution that combines advanced customer and location predictive modeling with robust data in a scalable geospatial analytics platform that delivers unparalleled insight. We help location-centric clients develop smarter location strategies and capital investment decisions through innovative customer and location predictive analytics coupled with real estate development and execution capabilities. Our accomplished team of modelers and data scientists allow us to deliver insight in a manner that has never been available before at a speed that was previously unthinkable.



---





Intalytics
Dave Huntoon
Ann Arbor, MI
www.intalytics.com



(734) 623-7710
Intalytics provides world-class predictive analytics tools and technologies to restaurants, retailers, financial institutions, healthcare providers, service organizations, and private equity firms that are seeking location-centric solutions. For many of our customers, we function as their internal research department, employing our analytical expertise on their behalf while serving as their trusted advisor with respect to their most capital intensive (and unforgiving) decisions - real estate.



---





Piinpoint Inc.
Jim Robeson
Tri-Cities (Waterloo), ON, Canada
www.piinpoint.com



(519) 897-4708
PiinPoint builds software to help businesses find the best locations for expansion by providing clear and actionable insights for sustainable growth. Beyond just mapping data, we work with our clients to identify new markets for expansion that are similar to their top performing locations. Our solutions are built for everyone not just analysts, allowing anyone in the organization to get the insights they need within minutes. We are committed to pushing the industry forward by exploring and developing new ways for businesses to accelerate their growth sustainably.



---




Announcements

Check out the blog
with our partner!

---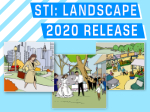 STI: LandScape 2020 Release:
Available Now!
Chat with us for more info
---

April 2020 Estimates:
Available Now!
Chat with us for more info
---