Resources
Click into a Wealth of Business Information
Synergos Technologies currently offers these resources for today's market researchers:
STI: CrossRoads. STI began creating this unique information-rich business database in the late 1990s. Today it is one of the most comprehensive repositories of business information available online — all conveniently organized in one place. STI: CrossRoads contains a wide range of links to the primary industries driving the U.S. economy — including retail, grocery, real estate, finance, and more. Here you'll find a list of the leading businesses in each sector, key industry publications, principal organizations, and related business links.

STI: Data Depot. This database offers our clients terabytes of GIS data in MapInfo formats — all free of charge — including Tiger data, USGS data, demographic data, satellite visual imagery, ISIS data (source code), and more. Clients also gain free access to STI: ISIS, an easy-to-use software program that creates basic maps and reports.

STI: Markets. To conveniently package our geographic data, STI has divided the U.S. into 165 contiguous markets that include every county in the country. To learn which counties are included in each market, we've created an easy-to-use clickable map of the U.S. Simply click on a region, then a market, to see each market's list of counties.
STI: Economic Indicator Repository. Today, there is a wealth of economic information available from a wide range of organizations - but it is all scattered across the Internet. Since many of the reports and resources offer companies' compelling insight into different aspects of the economy that could directly impact their business operations, Synergos Technologies is gathering the most valuable information all in one place - on the STI: Economic Information Repository page of our website.
Announcements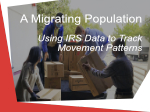 A Migrating Population - Using IRS Data to Track Movement Patterns
Check out the maps now!
Chat with us for more info
---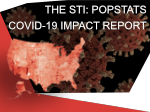 The PopStats™ COVID-19 Impact Report:
Available Now!
Chat with us for more info
---