2020 PopStast Research Conference
The 2020 PopStats Research Conference and User Forum is canceled.
It is with a heavy heart that I must announce the cancelation of the 15th Annual STI: PopStats User conference to be held March 23 - 25, 2020. As you know, the conference has always had 3 principle goals:
Provide the user with useful tips, information, and methodologies on the STI line of products.
Expose the attendee to research techniques created by the attendee's own peer group of researchers.
Create an atmosphere for networking amongst researchers so as to better understand their roles and the roles of others.
The majority of our corporate clients attending this year's conference have imposed travel restrictions on their employees due to COVID-19 preventing them from attending the PopStats conference; therefore, I feel we will not be able to adequately attain the second and third goals in a reasonable fashion.
We will be issuing a full refund for conference registrations. The refunds will be paid based on the form of payment made when the registration was executed. Since registration is separate from hotel reservations, it will be your responsibility to cancel any hotel reservations and airfare you have made. Along with that, we do not want the content that we had prepared for this year's conference to go to waste. That is why we will be preparing video presentations of the content that the Synergos Technology team would have presented. These presentations will include content prepared by Robert Welch, Kyle Day, and Dale Honeycutt.
This was a hard decision that included many factors to consider. We believe this is the best decision, and we fully appreciate the patience for any inconvenience this may have caused. The 2021 PopStats Research Conference and User Forum will be held next year as the 15th annual conference. We are ready to assist you with any questions or concerns at (512) 343-1963 or chat with us online at www.synergos-tech.com. Stay safe, stay healthy, and we can't wait to see you next year!
Robert G. Welch, President


Be sure to follow Synergos Technologies, Inc. on LinkedIn, Twitter, and
Facebook to stay up-to-date on conference news and updates!
Announcements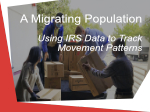 A Migrating Population - Using IRS Data to Track Movement Patterns
Check out the maps now!
Chat with us for more info
---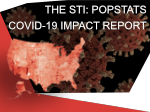 The PopStats™ COVID-19 Impact Report:
Available Now!
Chat with us for more info
---