Power Series
Discover the Power of Accuracy, Attitude, Culture, and More in Market Research
Our Power Series White Papers provide insights on how companies can enhance the potential of their market research activities in several innovative ways. Current topics include the following:
The Power of Accuracy — Finding Population Estimates You Can Count On
This white paper discusses how using the most accurate population estimates available today adds considerable benefits to any population-dependent companies' market research activities.
The Power of Attitude — Consumer Segmentation Beyond the "Balance Sheet of Life"
This white paper describes the power of consumers' lifestyle attitudes in market research and illustrates how incorporating lifestyle data into consumer segmentation delivers wider insight and greater precision.
The Power of Culture — Finding Ethnic Consumers in Neighborhoods Where They Live and Work
This white paper discusses the power of culture in market research and reveals how STI: PopStats™ data gives consumer-focused businesses the ability to track multicultural population shifts.
Announcements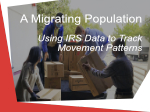 A Migrating Population - Using IRS Data to Track Movement Patterns
Check out the maps now!
Chat with us for more info
---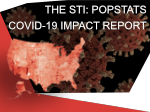 The PopStats™ COVID-19 Impact Report:
Available Now!
Chat with us for more info
---